Video Review: Korg Volca Mix
The Korg Volca synth range has reached a new level of maturity thanks to the addition of volca mix that syncs multiple volca machines. Here's the first video review of Volca Mix.
Friend of Ask.Audio, Loopop, is at the NAMM 2018 show where Korg are showcasing a number of their new music machines. Amongst them is the Volca Mix, perhaps the most requested addition to Korg's small-form factor synths and samplers ever.
Here's his in-depth video review of the Korg Volca Mix which includes an FX sound test:
The volca mix is deisgned to be an anlog performance mixer for use with the volcas, but can be used with other machines and synths too.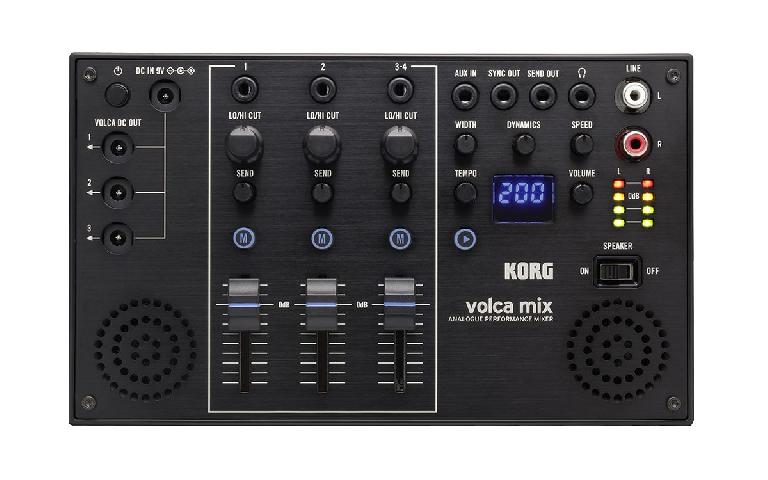 Here's the spec for the $169 Volca Mix:
Mixer
Mixer Type: Four channel analogue mixer
Number of Channels: Two monaural*1, one stereo*2 *1: Monaural output volca: volca keys, volca bass, volca beats, volca kick *2: Stereo output volca: volca sample, volca fm
Channel Controls: Lo/Hi Cut, Send Level, Mute, Volume (Available to boost +6 dB gain)
Bus: Four channels analogue mix bus, monaural mix send bus, stereo AUX In/Return bus
Master: Volume
Master Effects
Analog Stereo Width Expander (Width), Analog Dynamic Range Compressor (Dynamics, Speed)
Sync Controls
Input/Output
Mixer Input: Mixer In x 3 (1/8" [3.5 mm] stereo mini jack, 0dBu)
AUX: AUX In (1/8" [3.5 mm] stereo mini jack, 0dBu)
Send: Send Out (1/8" [3.5 mm] stereo mini jack, 0dBu)
Sync: Sync Out (1/8" [3.5 mm] stereo mini jack, Output Level: 5 V)Audio Output:
Audio Output: LINE OUT (L/R, RCA pin jack, Max 11.1 dBu) Headphone (1/8" [3.5 mm] stereo mini jack)
Speaker: Built-in stereo speakers, On/Off
Power
Power: AC adapter (DC 9 V)
Current Consumption: 300 mA
Output Power: VOLCA DC OUT x 3 (Connect with including DC-DC cable, up to 800 mA in total, 9 V)
Others
Dimensions (W x D x H): 193 mm x 115 mm x 45 mm/7.60" x 4.53" x 1.77" (including knobs)
Weight: 350g/12.35 oz.
Included Items: AC adapter, DC-DC cable x 3, Audio cable x 3
Accessories (sold separately): SEQUENZ CB-4VOLCA semi hard case (Can store up to three volcas and volca mix), SC-CABLE-6 sync cables.