Well, this goes to prove that DSI were even closer to announcing the module version of the OB-6 than we anticipated when we spied it lurking in the background of this picture they tweeted 2 days ago.
Here's what DSI have to say about the new OB-6 module, that is basically the same as the keyboard version (sans keys of course), a little cheaper, more portable, and with a new poly chain feature for potential 12-voice polyphony.
Before you dive into the press release from Dave Smith Instruments, here's Carson from DSI showing the OB-6 module to gearslutz.com at Summer NAMM 2016:
23 June, 2016–We're pleased to announce that we've created a desktop module version of our acclaimed OB-6 six-voice analog synthesizer! The module has all of the same controls as the keyboard version and provides the same immediacy and ease of use — with absolutely no menu diving.
As a bonus, we've added a poly chain feature so that any two OB-6s can be paired for 12-voice polyphony.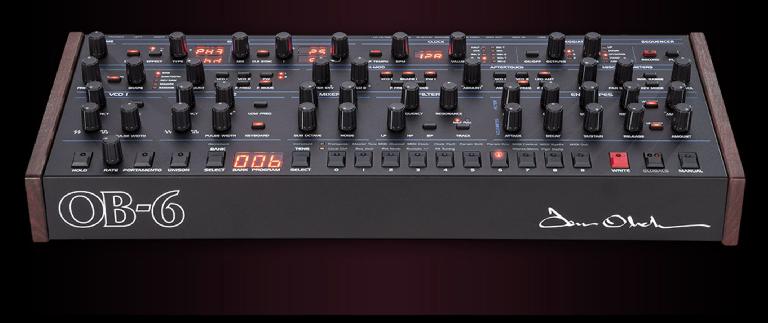 Of course, the OB-6 module sounds every bit as good as the OB-6 keyboard because, on the inside, it's exactly the same — the same VCOs, VCFs, and VCAs and the same massive, in-your-face, Oberheim poly sound that's been earning raves from musicians around the world. The module weighs approximately 13 lbs (5.9 kg) and measures 20.75" L x 7.8" W x 4.4" H (52.0 cm x 19.8 cm x 11.2 cm). It's an ideal mix of portability and power that's perfect for use on stage or in the studio.
The OB-6 desktop module will be available in the early fall. Projected MAP is $2,299. Price and specifications subject to change.
To read more about the OB-6 desktop module, click here.