Vintage Vault 3 from UVI is arguably the most comprehensive and authentic-sounding sampled and recorded vintage synthesizer collection available on the planet right now. Over 250 classic synths and drum machines and instruments have been carefully recorded and included in the making of this vast array of instrument plugins.
We caught up with the sound designers at UVI to find out more about the humans behind the instruments being used by top pro producers, famous artists, film composers and musicians in music studios around the world.
The sound design team at UVI consists of Thomas Kowalski, Louis Couka, Emeric Tschambser, Floriane Palmkrantz, Damien Vallet and Kévin Guilhaumou. For this interview all were present except Thomas and Damien.
ET : My name is Emeric, I'm 27. I started to have a real interest for musical stuff pretty late, around 15-16 with Djing. Quickly I wanted more and asked myself "how to make electronic music" and tweaked my first VSTs in Ableton. As the passion went on, I studied sound engineering for 3 years, worked 3 years in a recording studio, was an audio gear seller and studio designer for 2 years, had a few projects as a producer / arranger here and there, and today I'm in my second year at UVI as a Sound Designer!
LC : I'm Louis, I started collaborating with UVI in 2013 as a sound designer trainee, then hired as a DSP developer in 2017. I still have my Soundscan CDs (one of the old UVI brands) that I bought when I was 10.
FP: I'm Floriane, sound designer at UVI since 2016. Entering UVI was a new, challenging experience in my professional career. With UVI, I learn and improve every day in the audio world.
KG: Hi, I'm Kévin. Being a music enthusiast since I was a child, I decided to study sound engineering to understand how my favourite records were made! This brought me to UVI, when they needed someone to help them obtain the best sound quality possible for their products. It's been 7 years since I joined the sound design team now!
Vintage Vault 3 is huge. Just massive. Where do you start when deciding which hardware synths and instruments to sample and bring into this collection?
ET : Every synthesizer has its own character. When you go for a collection like Vintage Vault 3 you want a large palette of sounds. Some synths are really complete, versatile and unique, so you can dedicate a full product to them, like the Voyetra 8. Others are really interesting too, but have similarities between them, sometimes to form a legendary synth series, like JP Legacy. The final idea is to have the best selection of synths that we can preserve and offer to musicians.
FP: The final purpose is to have the quality of the real machine, but with an easy usage as a virtual instrument.
KG: Basically that's Alain, the boss, he has a vast knowledge of vintage synths and music in general and leads development.
Vintage Vault 3 seems to chart the history of synthesis. Was this one of the aims when creating each instrument?
LC: Yes, preserving the culture and the history of synthesis is one of our goals. There is obviously an educational and playful side in this collection. However, our main goal is still the sound. The work done by the eighties sound designers is immense and completely unique, influenced by the style and the technical limitations of this time. Our goal is to give this work a second life, to make it compatible with today's tools.
ET + FP : Definitely. Sampling doesn't only mean recording a synth, archiving it and making sound with it. It captures the best of the machine, with its character, but also preserves the history and the particularities of a musical period.
KG: Yes, we try to get the most out of the synth history in this collection :)
Some of the 250 original machines are very rare drum machines and synths from the 70s. Which ones were you most excited to work with and why.
ET : Well, the rarity, and maybe the size have a role there... but the Prophet 10 was something special. In another way the Jupiter 8 was also really exciting because it's an (expensive) fantastic piece of history. Bowie, Michael Jackson... Walking through the presets and the parameters was a complete and immersive step back in time.
LC: It's really exciting to see some of babies like the PX Apollo, it's a privilege we had sometimes to handle such rare synths and we're really grateful for this.
FP: OB legacy, just had two days to sample them because the owner didn't want to leave his precious rare machines. It was exciting to record these incredible machines.
KG: The most exciting one was the Mellotron for me. The machine and its sound right from the tapes create magic instantly, so it was a real joy to have this one in our hands.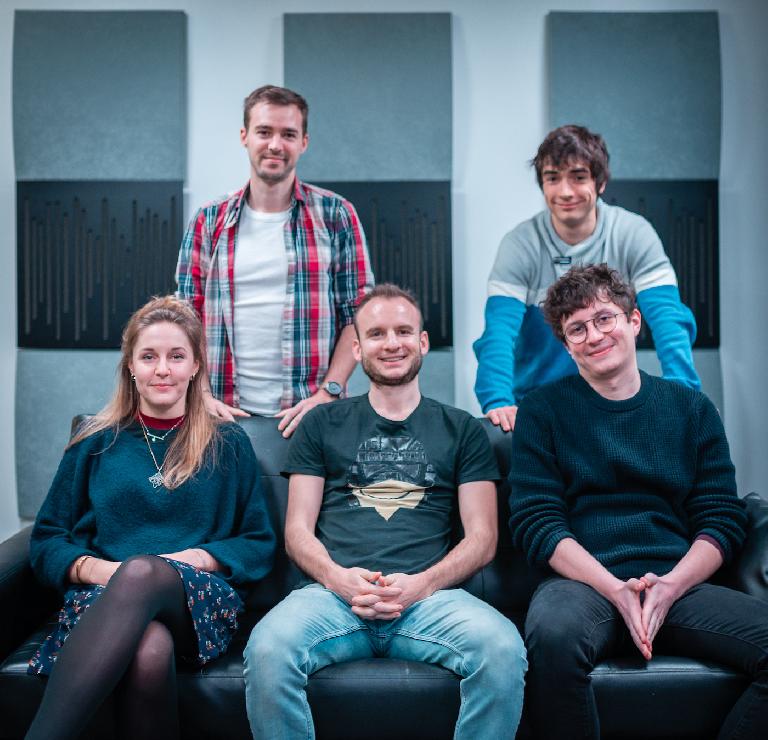 What were the greatest challenges sampling some of the iconic analog hardware synths? (e.g. tuning, etc)
ET : Synths are sometimes capricious… So dealing with those caprices is the biggest challenge, because you can't anticipate them. One day you have your master output which is overdriving at knobs position 1/10, and the next day Master is okay but the MIDI decides to stay stuck at some values for no reason, then a voice breaks down so you can't do unison sounds properly.
FP: As with the Oberheim, some machines don't have MIDI, so we have no choice but to do it by ourselves by hand! And with these old technologies, sometimes you have many surprises.
KG: When you do sample-based instruments, you have to decide what to capture. So you often face dilemmas when it's time to choose. For example with FM synthesis, when we sampled the Yamaha DX1 in FM Suite, we had to select the right velocity(ies) for each sound, so we could reproduce the sampled sound with the highest fidelity possible in combination with our engine tools.
Can you run through an overview of your synth sampling process? Did you make significant changes to your recording process with different synthesisers?
ET : First-things first: does it power up? If yes, does everything work properly? What doesn't? Can it be easily fixed? During that period of testing time, you get comfortable with the synth, start to learn its tricks and discover its sound.
Then, if you have at least a 95%-working synth, dealing with the tuning can sometimes be tricky. Some synths are moving a lot in tune, even after a long warm up time. But after those "check processes", the approach is relatively identical to every synth: find the best settings to have the lowest noise floor and the best sound possible, the necessary time to record oscillators movements in poly and unison to have a clean loop, etc.. We also have to think about what could be effective for a producer or a musician, what could easily be integrated to a mix, what makes the sound of the synth, and more. This is the subjective part of the process, no one has the same sensibilities.
KG: As Emeric said, the basics of sampling (especially obtaining the best possible sound) stay the same no matter which machine you're talking about. When it begins to be challenging is when you have to adapt your sampling method to the particularities of the synthesizer. That's when the process becomes tricky, and this is the crucial moment, when we have to decide what possibilities/sounds we will deliver to the user. For example, if the synthesizer has an integrated unison, what are the best detune values that the user would choose if he had the real machine? Or if there are distortion possibilities, which amounts of distortion do we sample? So yes, the sampling process can really be different from one synthesizer to another.
Do you have preferred microphones, audio interfaces and DAWs and software to use when recording and sampling and designing sounds?
ET : We are recording with prism audio interfaces and absolutely love them. I have never had any issues with my Titan, and get a pristine audio quality. Top notch class! For my preferred mic, I'd say the U67. It truly blew my mind each time I've used it. But always remember that the way you're using your mics, whatever they are, is the most important thing.
I personally record with Pro Tools because it's straightforward for this task, designing and producing in Ableton and with Falcon of course. UVI allowed me also to discover iZotope RX, and I can't imagine myself working without it today.
LC : Today, I'm personally using Studio One, for both recording and production. iZotope RX is an amazing tool for sample editing, and you can't go without Python when dealing with thousands of samples.
FP: Love the supercardioids, Schoeps microphones, perfect for sound design. With a prism interface in any DAW and of course Falcon!
KG: Our new to-go microphones to shape sounds are the Roswell Delphos II. They have a nice balance with the presence you expect from condenser mics, are very versatile with their different directivities, and what is important for our work is that they are low-noise. We used them a lot for Toy Suite! We also use little-known software (because they are discontinued now, sadly for us) like Audiofile Engineering Sample Manager and Redmatica KeymapPro 2 to treat our samples.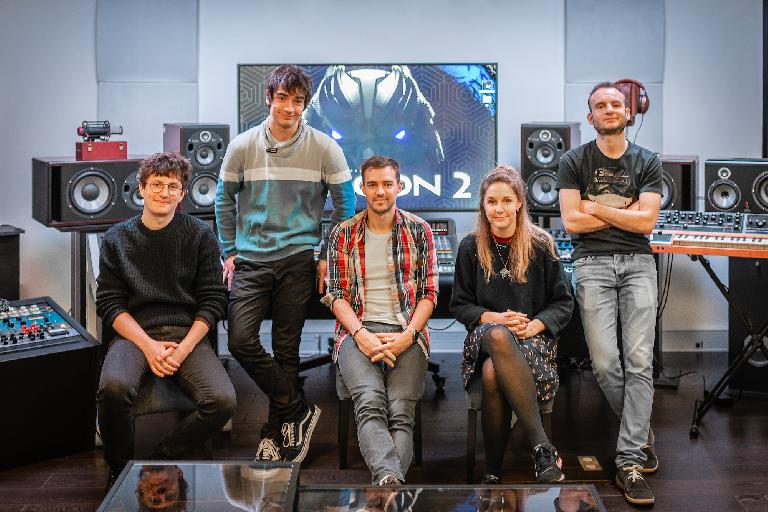 Do you have a favourite instrument? One that felt most satisfying to play and sample?
ET : Well, as previously mentioned, the Jupiter 8 was probably my favorite one. Powerful, well balanced, iconic, nicely built, etc… I'm really in love with it. For the acoustic instrument, I'd say the Hybrid Custom in Key Suite. I still remember the day I created it with all the different sounds (sustain, releases, sympathetic etc…) and started playing around on it…
LC : The Jupiter 8 sounds so huge, big and fat sounds right there. Also was the DX1, it always surprises me to see the diversity of sounds that a simple analog FM routing can handle.
FP: It's difficult to chose... Each instrument is a new discovery to sample, and each one of them can have a favourite place, it depends in which sound situation you want to use them.
KG: I had a great time with the Jupiter 4. This machine has a very simple design, but its oscillators combined to its different parts make it so enjoyable to create sounds!
Each function in this synth can be decisive, and we can put a lot of personality into the sound, especially playing with the Ensemble, the Unison, the modulations and finally get the power you want by tweaking the output level that is able to distort to will.
Did you have to make any compromises when sampling any instrument?
LC : We're constantly dealing with compromises because our synths are sample based, we can't sample everything and we have to select which sounds appear to be the most interesting. At the end we get the best of and the true sound of the machine. :)
ET : As Louis said, the fact that our synth is sample based is obviously limiting because you can't modulate a sample as you modulate a built-in oscillator.. But you can do the crazy stuff you have in mind with Falcon and have the immediate effectiveness of our sample based synths!
FP: The compromise is to choose the better way to manage each instrument, obviously to target a large public of user, but with inevitable subjective choices.
VV3 is such a complete collection of synths and drum machines… but I imagine you're working on more instruments? Can you reveal anything that's up and coming?
ET : *turns back and walks away with floating sound in the background…*
LC: A new category of drum kits for Drum Designer is coming soon, stay tuned! :D
FP: " Around the world, around the world……"
KG: Would you be surprised if I say more synths? :d