Paris, April 25th, 2019 - UVI releases Whoosh FX, a featured cinema-quality sound design tool for motion graphics, TV, film, ads, games, music and more. With a powerful 3-layer engine, Whoosh FX delivers a capable yet easy-to-master tool for generating all manner of movement and whoosh sounds, convincing environmental effects like fire, electricity, water and wind, and sci-fi sound effects. Whoosh FX simplifies the process of creating synchronized sound effects for motion graphics, television and film, moving soundbeds for music, and more, and is available now at an introductory price of $99 | 99€ through May 6th (regularly $149 | 149€).
At the core of Whoosh FX is a 3-layer engine that can be customized with a range of pure noises, synthesized sound sources and exclusive field recordings, including categories such as Air, Distorted, Electricity, Fire, Fx, Materials, Metal, Motors, Noises, Orchestral, Rocks, Sparkles, Synths, Water and Wind. The amplitude and filter of each layer can be customized with a complex envelope designer in the center of the UI, either by selecting from a variety of preset shapes or creating your own, capable of anything from subtle rise and falls to extreme contours suitable for more creative effects.
Sound duration can be set explicitly in seconds, or tempo-sync'd to your DAW in musical divisions, and looped for rhythmic effects. 3 imaging modes let you switch between mono, stereo and wide, with pass-by, speed and warp controls providing directional velocity, Doppler-style modulation effects and more, perfect for creating everything from fly-bys to sci-fi engine sounds.
A comprehensive feature set including per-layer multi-mode filters, tilt, pitch and level, a morphing vowel filter, and high-quality effect section including convolver, multiband EQ, delay, IR reverb and limiter help you fine-tune and perfect your sound quickly and without the need for additional tools or processing steps.
Whoosh FX comes with a large library of ready-made presets, providing a clear and focused tool for professionals looking to quickly and reliably create cinema-quality sound effects.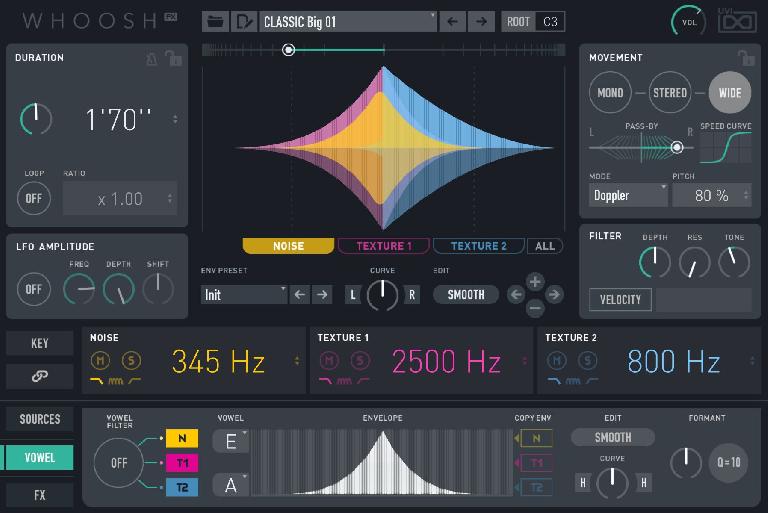 Whoosh FX offers native 64-bit standalone operation by way of Falcon or the free UVI Workstation, providing comprehensive support for all modern DAWs and simultaneous authorization on up to 3 computers or iLok keys.
PRICING AND AVAILABILITY
Whoosh FX is available immediately at a special introductory price of $99 | 99€ through May 6th from uvi.net (regularly priced $149 | 149€)