Paris, June 25th, 2015 '" UVI announces Relayer, a new creative multi-tap delay effect available now at an introductory price of $79 ($129 after July 31st). Designed from the ground-up to provide an efficient and inspiring workflow, Relayer allows the creation of everything from basic delays to radical rhythmic multi-effects with speed and precision. A clear and to-the-point user interface delivers lightning-fast control of delay time, mix and shaping effects and modulation editors, while a dynamic visualizer provides real-time graphical feedback of important settings. Clicking through tabs in the center display reveals per-tap modulation sequencers for time, gain, pan and two multi-effects, allowing an unprecedented level of customization and flexibility. Freely draw sequences or choose preset shapes and listen as your sound modulates over time, then tweak and transform to taste.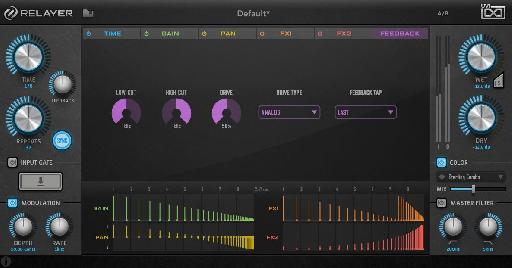 UVI Relayer feedback screen.
Relayer performs equally well in studio and live applications thanks to its playable Input Gate. Feed the delay momentarily to add dub-outs, builds or deconstructions to your performances, easily applying effects to specific lyrics or sounds. In addition to two programmable multi-effects, Relayer provides a unique Color section that can process your signal through a wide range of high-quality IRs. Choose from instrument amps, classic effect amplifiers or highly charactered models like hand-held radios, laptop speakers or telephones to instantly change the tone of your sound.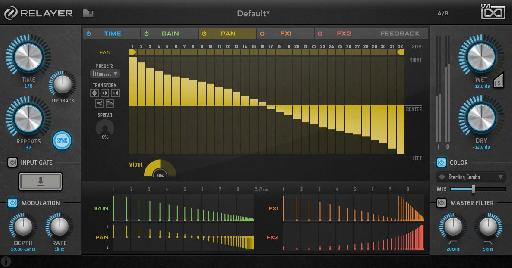 UVI Relayer pan screen.
Relayer was designed to be both a powerful and precise utility and an effortless creative mangler. A unique and versatile effect, it provides a sophisticated feature set and tremendous sound quality through an inspiring and easy-to-master interface.
Relayer is compatible with current versions of all major DAWs on both Mac and Windows platforms (VST, AU and AAX). A single license includes 3 activations that can be used on any combination of individual computer systems or iLok keys. A 15 day trial versions is available free through uvi.net.
Pricing and Availability:
Relayer is available at an introductory price of $79 through July 31st at uvi.net (regularly $129)