Como todo DJ sabe turnê, minimizando a engrenagem você depende é crucial. Não seria ótimo ter um efeito Stutter para o seu show ao vivo, sem ter que trazer um teclado junto para provocá-lo? As alegrias de uma coisa a menos para quebrar, uma coisa a menos para arrastar em torno de todo o mundo. Cabines de DJ tornaram-se experiências abarrotado de fato, com os controladores, laptops e outros equipamentos.
Passo 01
Na minha configuração ao vivo, eu tenho 5 canais de áudio, editar um stutter canal 6, e um canal 7 agrupados pista que contém cinco canais midi (8-12) que correspondem a cada canal de áudio.

Eu quero que cada um dos 5 canais de áudio para poder ter um efeito independente stutter execução. Eu carregar Editar Stutter em cada canal de áudio. Eu, então, o mapa midi Stutter Editar dispositivo "on / off" a um botão no meu controlador externo. Dessa forma, quando eu apertar o botão, o dispositivo Editar Stutter liga, e quando eu acionar os dados midi, eu vou pegar o Stutter Editar efeito sobre o canal de áudio.
Os 5 faixas de áudio deve ser definido desta forma para a E / S:
audio from set to Ext in

Monitor set to Auto

Audio to set to master

Passo 02
Em seguida, eu criar uma faixa midi, e rotulá-la "Stutter".
Definir o I / O na Stutter Editar 6 canais ao seguinte:
Midi from: your keyboard of choice (used at home, to create the clips)

Monitor: Auto

Midi To: no output
Pense no dispositivo Editar Stutter como o piano Auto Execução, que se sente em cada faixa de áudio. Pense na trilha Stutter 6, com os seus Clips Midi como "cartões perfurados", que vai contar a pianola (editar gaguejar ou seja) o que fazer na faixa de áudio.
Basicamente, em vez de jogar um teclado para acionar notas midi que então aciona Editar Stutter, vamos reproduzir clipes midi através deste canal para disparar notas midi que irá acionar Editar Stutter.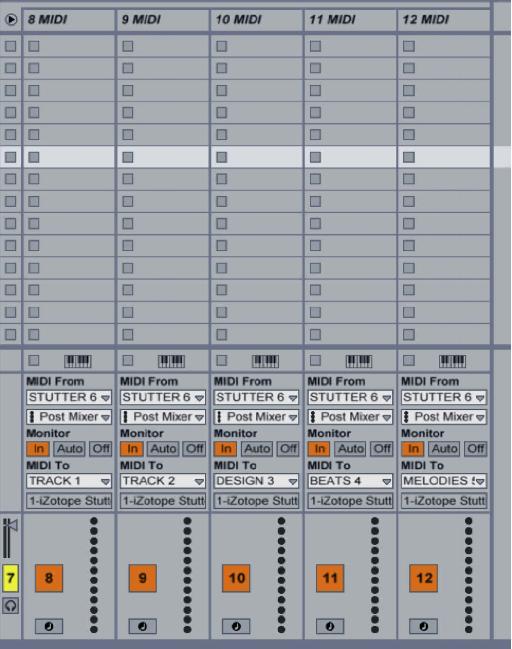 Passo 03
Agora precisamos criar algumas faixas escondidas midi para rotear o áudio de uma vez para cada
Eu agrupá-los todos em faixa 7. Faça isso selecionando os canais midi e bater G Comando para criar um grupo. Você pode ver no exemplo que tenho faixas chamado "8 midi, 9 midi, midi 10, 11 e 12 midi midi" todos agrupados sob faixa 7.
Conjunto de todos esses canais midi I / O para as seguintes definições:
Midi from: Set to Stutter Edit 6, Post mixer

Monitor: Set to IN

Midi To: This is individually set to each audio channel
Defina o primeiro a uma faixa.
No meu exemplo, 8 midi é definida como uma faixa. 9 midi está definido na Pista 2. 10 midi está definido na Pista 3, e assim por diante.
Etapa 04
Agora, minimizar a faixa agrupados 7, desde que você não precisa de olhar para estes canais midi ao tocar ao vivo.
Jogue uma faixa de áudio em um canal. Verifique se o dispositivo editar stutter é "on".
Braço gravar um clipe em Editar Stutter 6, e iniciar a gravação. Tocar uma nota no seu teclado, como os registros clipe. Você vai ouvir o efeito na pista tocando em áudio.
Agora você tem um clipe na Stutter Editar seis faixas. Quando você liga o Stutter Editar dispositivo em qualquer uma das faixas de áudio, e jogar o Stutter Editar 6 clipe, ele vai "stutter editar" a trilha de áudio.

Fazer clipes como muitos como gaguejar editar efeitos que você gosta de gravar notas de teclado diferente em clipes no Stutter Editar 6 canais.

Conclusão
Existem maneiras de configurar cada um desses clipes para que eles só jogar como você segurar o botão de disparo, e você pode configurá-los para acionar imediatamente, ignorando o ritmo global.
Ver o meu Tutorial Hub próxima Effects Clipe Trigger e Editar Stutter para algumas idéias em sintonia fina este método.
Confira esta marca novo vídeo tutorial por Bill Burgess na BT e Editar iZotope de Stutter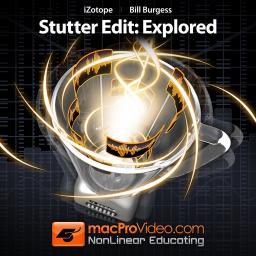 Se você estiver interessado em pegar uma cópia da edição Stutter, nossos bons amigos na iZotope ter fornecido todas as macProVideo.com membros com um desconto de 20% de desconto! Você pode baixar Editar Stutter Diretamente do www.izotope.com e obter este software incrível por apenas R $ 199 (regular $ 249).
De agora até 03 de junho (2011) tem 20% de desconto Editar iZotope de Stutter usando o código do cupom abaixo:
MPVIZOSE