Come ogni DJ tour sa, riducendo al minimo la marcia che dipende è cruciale. Non sarebbe bello avere un effetto Stutter per il vostro spettacolo dal vivo, senza dover portare una tastiera lungo per innescare questo? Le gioie di una cosa in meno da rompere, una cosa in meno da portare in giro in tutto il mondo. Cabine DJ sono diventati esperienze davvero angusti, con i controllori, computer portatili e altri attrezzi.
Passo 01
Nel mio setup live, ho 5 canali audio, una balbuzie modificare canale 6, e un raggruppati canale 7 traccia che contiene cinque canali midi (8-12) che corrispondono a ciascun canale audio.

Voglio che ognuno dei 5 canali audio per poter avere effetto in maniera indipendente balbuzie in esecuzione. Mi carico Modifica Stutter su ciascun canale audio. Ho poi la mappa midi Stutter Modifica dispositivo "on / off" per un pulsante sul mio controller esterno. In questo modo, quando premo il pulsante, Stutter Modifica dispositivo si accende, e quando ho innescare i dati midi, vado a prendere il Stutter Modifica effetto su quel canale audio.
Le 5 tracce audio deve essere impostata in questo modo per l'I / O:
audio from set to Ext in

Monitor set to Auto

Audio to set to master

Step 02
Successivamente, ho creato una traccia midi, e l'etichetta è "Stutter".
Impostare l'I / O sul Stutter Edit 6 canali a quanto segue:
Midi from: your keyboard of choice (used at home, to create the clips)

Monitor: Auto

Midi To: no output
Pensate al dispositivo Stutter Modifica come il pianoforte Sé gioco, che si trova su ogni traccia audio. Pensate alla pista Stutter 6, con le sue clip MIDI come "schede perforate" che racconterà la pianista (modifica balbettare cioè) che cosa fare sulla traccia audio.
In pratica, invece di suonare una tastiera per attivare le note midi che innesca poi Modifica Stutter, giocheremo clip MIDI da questo canale per far scattare le note midi che attiveranno Modifica Stutter.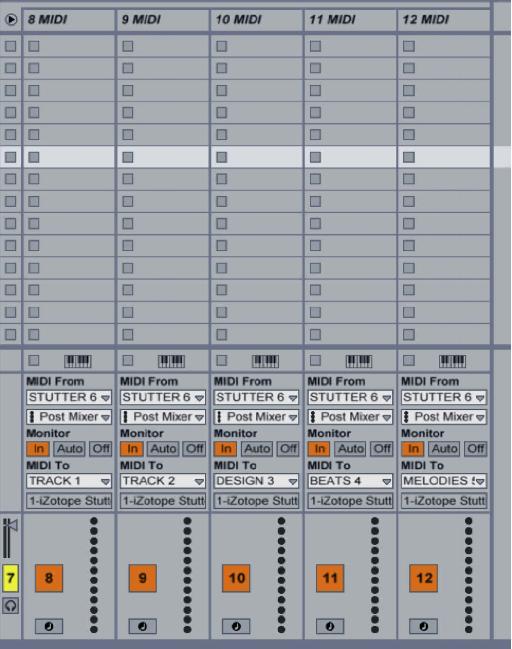 Step 03
Ora abbiamo bisogno di creare alcune tracce nascoste midi per indirizzare quella audio alla volta per ogni
Io gruppo tutti su pista 7. Farlo selezionando i canali midi e colpire G Comando per creare un gruppo. Si può vedere nell'esempio che ho tracce di nome "8 midi, 9 midi, 10 midi, 11 e 12 midi midi", tutti raggruppati sotto traccia 7.
Impostare tutti questi canali MIDI I / O per le seguenti impostazioni:
Midi from: Set to Stutter Edit 6, Post mixer

Monitor: Set to IN

Midi To: This is individually set to each audio channel
Impostare il primo a traccia One.
Nel mio esempio, 8 midi è impostata su una traccia. 9 midi è impostata su traccia 2. 10 midi è impostata su Traccia 3 e così via.
Passo 04
Ora, ridurre al minimo la pista raggruppate 7, dal momento che non avrà bisogno di guardare a questi canali midi durante il gioco dal vivo.
Gioca una traccia audio sul canale uno. Assicurarsi che il dispositivo modificare balbuzie è "on".
Braccio Registrazione di un clip su Stutter Modifica 6 e avviare la registrazione. Suonare una nota sulla tastiera, come i record clip. Sentirete l'effetto sulla riproduzione delle tracce audio in uno.
Ora avete un clip sul Stutter Edit 6 tracce. Quando si accende il Stutter Modifica dispositivo su una qualsiasi delle tracce audio, e riprodurre il Stutter Edit 6 clip, sarà "balbettare edit" che traccia audio.

Fai la clip quanti balbettano modificare gli effetti che ti piace di registrazione note della tastiera in diverse clip sul Stutter Modifica a 6 canali.

Conclusione
Ci sono diversi modi per impostare ciascuna di queste clip in modo da giocare solo quando si tiene premuto il pulsante di comando, ed è possibile impostare per attivare immediatamente, ignorando il tempo globale.
Vedi il mio prossimo tutorial Hub sugli effetti di trigger clip e Modifica Stutter per alcune idee sulla messa a punto questo metodo.
Dai un'occhiata a questo nuovo video tutorial di marca da Bill Burgess su BT e iZotope Modifica Stutter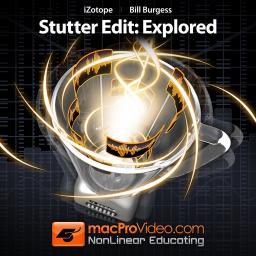 Se siete interessati a prendere una copia di Modifica Stutter, nostri buoni amici di iZotope hanno fornito tutti i macProVideo.com membri con un sconto del 20%! È possibile scaricare Modifica Stutter Direttamente dal www.izotope.com e ottenere questo software stupefacente per soli $ 199 (regolarmente $ 249).
Da oggi fino al 3 giugno (2011) sconto del 20% Modifica iZotope Stutter utilizzando il codice coupon qui sotto:
MPVIZOSE