Como todos los DJ gira sabe, lo que minimiza el equipo que dependen es crucial. ¿No sería genial tener un efecto de tartamudeo de su show en vivo, sin tener que recurrir a un teclado, junto a lo provocan? Las alegrías de una cosa menos de descanso, una cosa menos que cargar con todo el mundo. Cabinas de DJ se han convertido en experiencias de hacinamiento en efecto, con los controladores, ordenadores portátiles y otros equipos.
Paso 01
En mi configuración en vivo, que tiene 5 canales de audio, un tartamudeo de edición del canal 6 y canal 7 agrupados pista que contiene cinco canales midi (8-12) que corresponden a cada canal de audio.

Quiero que cada uno de los 5 canales de audio para poder tener un efecto independiente tartamudear en funcionamiento. I Edición de carga tartamudeo en cada canal de audio. Entonces mapa midi el tartamudeo Editar dispositivo "on / off" a un botón en mi controlador externo. De esta manera, cuando pulso el botón, tartamudeo dispositivo Editar se enciende, y cuando me disparo de datos midi, voy a conseguir el tartamudeo Editar efecto en ese canal de audio.
Las 5 pistas de audio se debe establecer de esta manera para la E / S:
audio from set to Ext in

Monitor set to Auto

Audio to set to master

Paso 02
A continuación, crear una pista midi, y la etiqueta "tartamudeo".
Establecer el I / O en el tartamudeo Edición de 6 canales a lo siguiente:
Midi from: your keyboard of choice (used at home, to create the clips)

Monitor: Auto

Midi To: no output
Piense en el dispositivo de tartamudeo Editar como el piano Yo juego, que se encuentra en cada pista de audio. Piense en el tartamudeo 6 pistas, con sus clips MIDI como "tarjetas perforadas" que le dirá al pianista (es decir, editar tartamudeo) lo que debe hacer en la pista de audio.
Básicamente, en vez de jugar un teclado para disparar notas MIDI que se desencadena Editar tartamudeo, vamos a reproducir clips MIDI de este canal para activar las notas midi que activará Editar tartamudeo.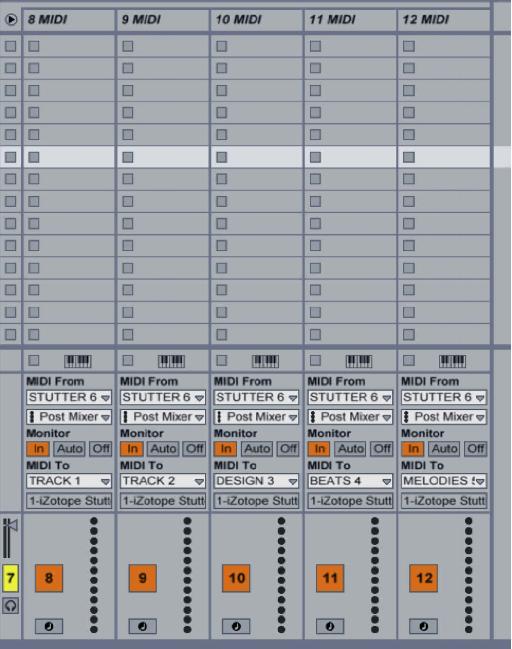 Paso 03
Ahora tenemos que crear algunas pistas midi ocultos para dirigir el audio a la vez para cada
El grupo I a todos juntos en la pista 7. Para ello, selecciona los canales midi y golpear G Comando para crear un grupo. Se puede ver en el ejemplo que he pistas llamado "8 midi, midi 9, 10 midi, midi 11 y 12 de midi", todas agrupadas bajo la pista 7.
Conjunto de todos estos canales de E / S MIDI con la siguiente configuración:
Midi from: Set to Stutter Edit 6, Post mixer

Monitor: Set to IN

Midi To: This is individually set to each audio channel
Establecer el primero en una pista.
En mi ejemplo, 8 midi está en una pista. 9 MIDI está en la pista 2. 10 MIDI está en la pista 3, y así sucesivamente.
Paso 04
Ahora bien, reducir al mínimo la pista agrupadas 7, ya que no tendrá que mirar en estos canales MIDI al mismo tiempo tocando en vivo.
Reproducir una pista de audio en el canal uno. Asegúrese de que el dispositivo de editar tartamudez es "on".
Brazo de grabar un clip en el tartamudeo Edición 6, y empezar a grabar. Toque una nota en el teclado, como indica el clip. Usted escuchará el efecto sobre la pista en reproducción de audio en uno.
Ahora usted tiene un clip en el tartamudeo Edición 6 pista. Cuando se activa el dispositivo de tartamudeo Editar en cualquiera de las pistas de audio, y reproducir el tartamudeo Edición 6 clip, que se "salte editar" que la pista de audio.

Hacer clips de hasta tartamudeo editar los efectos que te gusta mediante el registro de las diferentes notas de teclado en los clips de la Tartamudez Edición de 6 canales.

Conclusión
Hay formas de configurar cada uno de estos clips por lo que sólo juego a medida que mantenga pulsado el botón de disparo, y se pueden configurar para activar de inmediato, ignorando el tempo global.
Ver mi Tutorial Hub siguiente sobre los efectos de activación de Clip y editar tartamudeo de algunas ideas sobre la puesta a punto este método.
Echa un vistazo a este tutorial de marca nuevo vídeo de Bill Burgess en BT y Edición de iZotope tartamudeo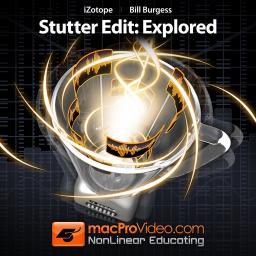 Si usted está interesado en recoger una copia de la Edición de tartamudeo, nuestros buenos amigos de iZotope ha proporcionado toda la macProVideo.com miembros con un 20% de descuento! Usted puede descargar directamente desde el tartamudeo Editar www.izotope.com y conseguir este increíble software por sólo $ 199 (precio regular $ 249).
Desde ahora hasta el 03 de junio (2011) 20% de descuento Editar tartamudeo iZotope, utilizando el código de cupón:
MPVIZOSE