Soundtrack Pro is one of the most powerful and under-utilized apps in the Logic Studio suite. Many folks who open it up for the first time think that Soundtrack Pro may be redundant, since Logic is going to be the go-to tool for multitrack audio production.
Soundtrack Pro started off as a post-production tool in the film industry. Not only does it have a very capable multitrack audio editing and mixing system, it has a phenomenal 2-track audio editor as well. I liken it to 'photoshop for audio'. It deserves respect!
Today I'd like to show how to use Soundtrack Pro as a batch editor. We are going to open a sound in Soundtrack Pro, apply effects, and create a batch editor using an applescript.
Step 1 - Open an Audio File in Soundtrack Pro
To open an audio file in Soundtrack Pro, simply Control-click on the audio file, and choose 'Open With Soundtrack Pro':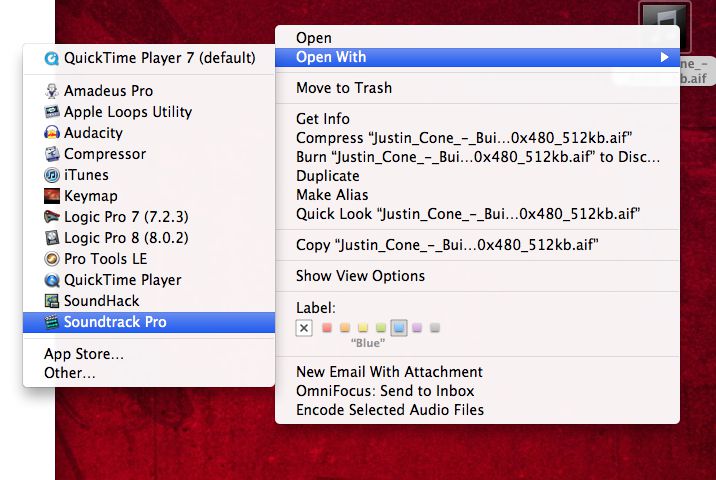 You can also open an audio file in Soundtrack Pro directly from a Logic session by using the key command Shift-W.
Once in Soundtrack Pro, we get a classic 2-track audio editor: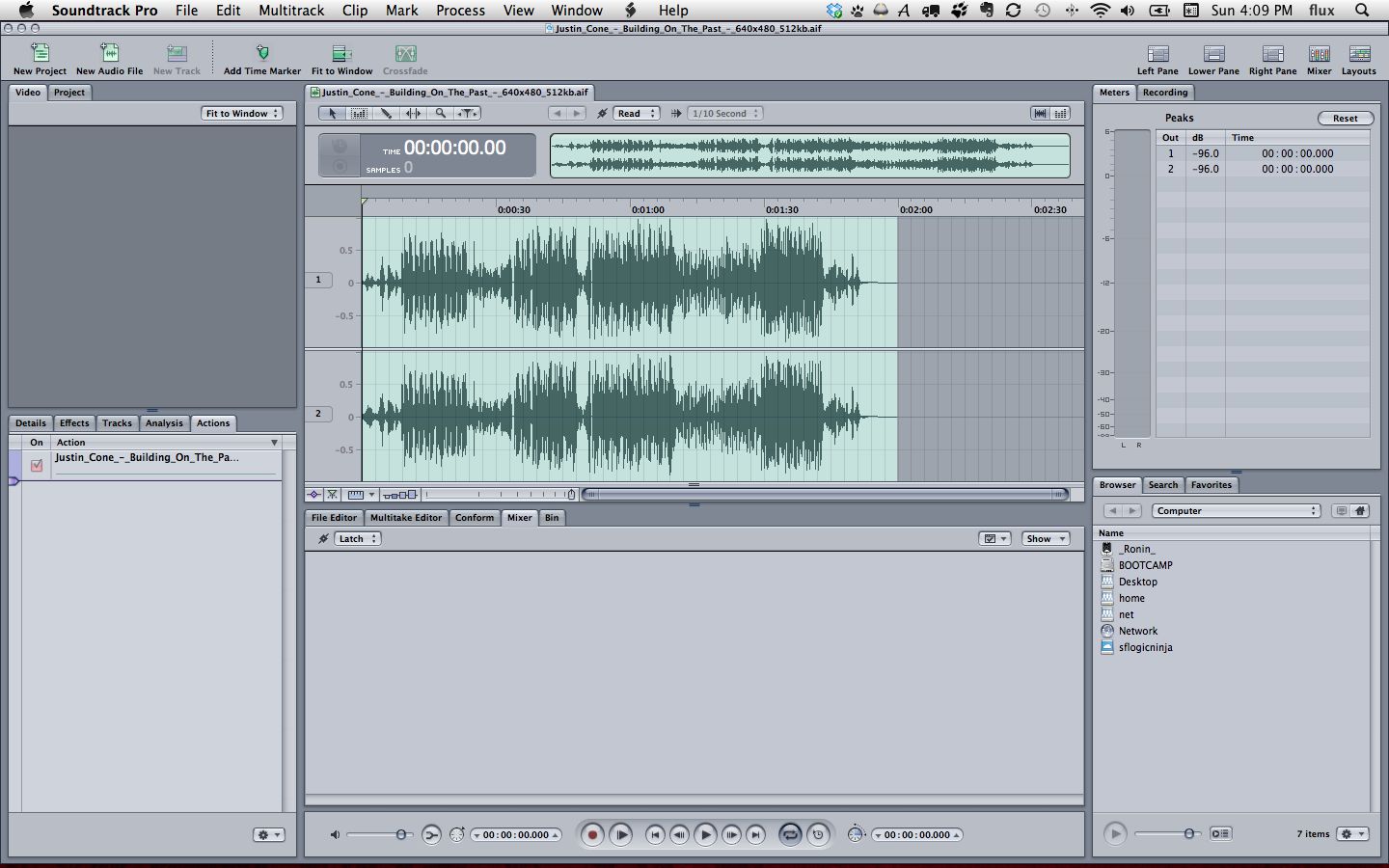 Step 2 - Adding Effects
To add an effect, use the key command Command-A to select all of the audio file, and go to the 'Process' menu. We're going to choose 'Reverse':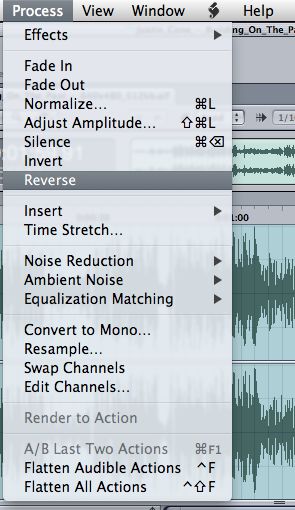 Now the entire audio file is reversed. Let's now go to Process > Effects > Reverb > PlatinumVerb: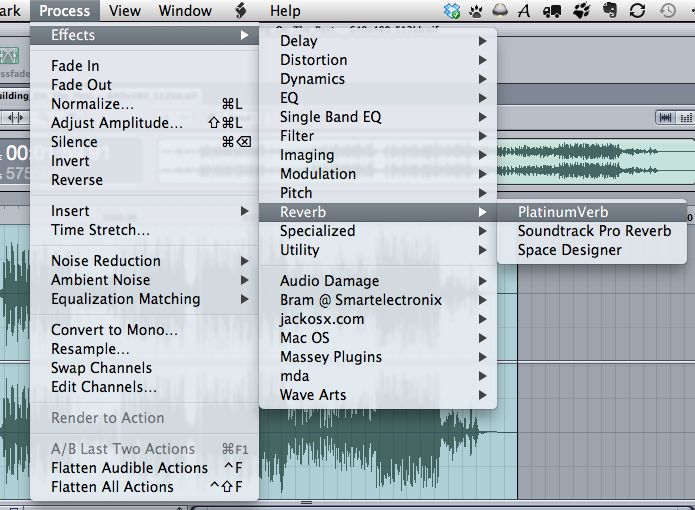 Now we see the reverb plugin. To apply the reverb, choose 'Apply' in the lower right hand side of the plugin window.
Next, let's reverse the audio again! Press the spacebar to hear the new reverse-reverb effect.
On the left-hand side we are shown a list of the processes we are applying. Feel free to re-order the list of processes. It will re-process the file and you can hear reverb before reverse, after reverse, or un-check the box, and we get no reverb at all. This is the magic of Soundtrack: we are given several layers to the sound.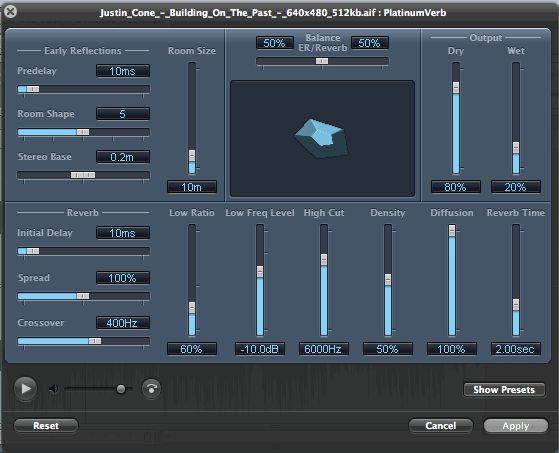 Step 3 - Create An AppleScript
Now that we have a nice little process for quickly making a reverse reverb, let's add this process to our AppleScript library so that we can simply select the preset process, rather than set it up every time from scratch.
Go to File > Save as AppleScript...
Name this AppleScript 'Reversed Reverb'. Note that the AppleScript is automatically going into a folder dedicated to Soundtrack Pro Applescripts.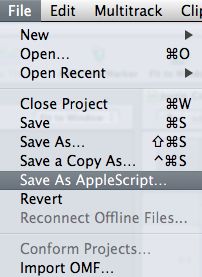 Now you can access this Applescript from your AppleScript Menu in Soundtrack Pro: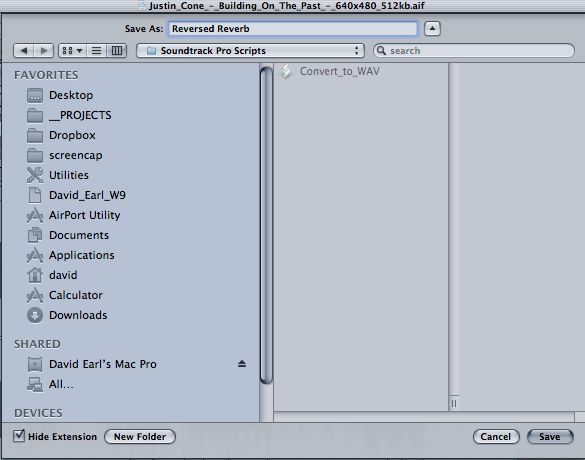 Now let's batch convert an entire folder of audio quickly and easily.
Step 4 - Batch Converting a Folder Using AppleScript
Now save another AppleScript to your desktop, instead of the folder Soundtrack Pro has made for you already. You'll see this icon on your desktop now:

If you grab an entire folder of audio files over this icon, all of the audio in the folder will automatically have the settings applied that we created before. No need to open up Soundtrack Pro. Simply drag the folder of audio files onto the applescript icon, and watch it go! (Or go make yourself a drink)
The only caveat is that you need to use PCM audio files. Not OGG, MP3, or any other compressed format. Soundtrack may not recognize them.
Have fun!