Sometimes the simplest processor can be the best one for the job. To demonstrate this theory I'll be covering the legendary SPL (Sound Performance Lab) Transient Designer, which is now available in native plug-in form.

Step 1 - The Transient Designer's Interface
There's no getting 'round it, this is a simple plug-in. We are looking at a total of three knobs and six buttons here and that makes it sound more complex than it really is! Having said that, don't let this simplicity fool you, this is an extremely powerful plug-in with a long list of uses.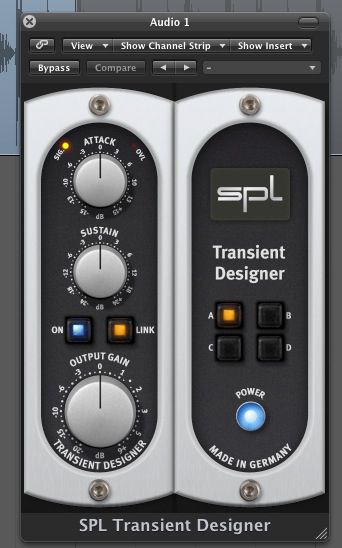 SPL Transient Designer's simple interface.
A transient designer is a device that can accentuate or attenuate the attack and sustain phases of just about any sound. This means you can make things sharper, duller, tighter or more energetic just with a few tweaks.
There are other plug-ins on the market (some bundled with DAWs) that do the same job but in reality, the SPL is simply the best. It has been modeled on tried-and-tested hardware devices and their pedigree really shines through.
So without any further chat, let's take a look at few real world examples of how this thing works'