Comme son nom l'indique, Groupes Région dans Pro Tools vous permettent de créer des régions macro à partir de plusieurs régions. Ceux-ci peuvent être audio, régions MIDI ou vidéo dans n'importe quelle combinaison sur une seule piste ou englober plusieurs pistes. Ils ont de nombreux usages: en composition et arrangement, l'édition, et le groove / tempo de manipulation.
Création de groupes de la région
Sélectionnez les régions requise (utilisez Maj avec le Grabber pour ce faire à travers pistes non contiguës.)
Cinq différents types de groupe Région sont possibles qui sont désignés par les symboles suivants:

Groupe de région audio.

Groupe de région MIDI.
Groupe de la région Vidéo.

Groupe de la région non-contigus.

Groupe mixte région multipiste.
Remarque: Lors de la création des groupes de régions multipiste, les régions sont regroupées par la première piste, et ces derniers sont ensuite combinés pour créer le Groupe Région multipiste.
Dans la liste des régions
Lorsque vous créez un groupe de la région, il sera ajouté à la liste des régions, au bas de la liste. Si vous dissociez le Groupe Région
Vous pouvez écouter des groupes de régions de la manière habituelle en cliquant et en maintenant la touche Option enfoncée, sur le nom du groupe dans la Region List.

Icônes de groupe Région dans la liste des régions

La capture d'écran ci-dessus montre les différents icônes de groupe Région. De haut en bas: vidéo, audio, non contiguës audio multipiste mixte et MIDI. Notez que des groupes de la région non contiguës obtenir leur icône en fonction de leur contenu.

Dissocier et de se regrouper
Pour dégrouper, sélectionnez le groupe de la région sur la piste et choisissez la playlist Région
Si vous souhaitez effectuer une édition sur les différentes régions au sein d'un groupe, puis continuer à manipuler le groupe, vous devriez dissocier d'abord, effectuer la modifier, puis choisissez Région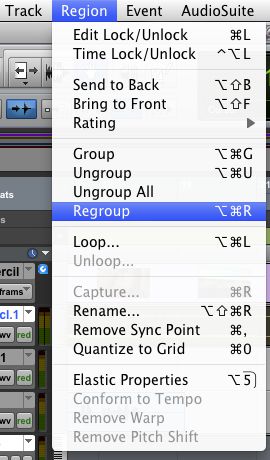 Regroupement des régions, après une édition.
Utilisation des groupes Région

Groupes Région rendre le montage des spectacles de grandes beaucoup plus facile. Par exemple, un enregistrement multipiste tambour qui a été tranché en utilisant de Beat Detective consistera peut-être des centaines de très petites régions, dont le calendrier par rapport aux autres est essentiel, une fois regroupés, vous pouvez facilement atteindre les objectifs suivants sans déranger la position des différentes régions au sein de cette groupe:
Move the Region Group with the Grabber tool

Perform Cut, Copy, Paste and all other Edit menu commands

Trim the Region Group with the Trimmer tool

Apply AudioSuite effects: this will render a new audio file that replaces the region group in the track playlist (the Region Group will still be listed in the Region List)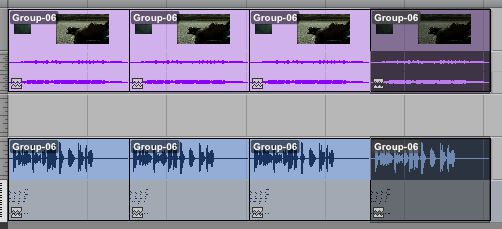 Duplication des groupes.
Groupes Région: Tempo et Groove
Un groupe de Région va changer la longueur de suivre un changement de tempo si son contenu est basée tiques. Un exemple typique de ce serait le cas d'un groupe composé de la Région des pistes de batterie multiples qui ont été tranchés en utilisant Beat Detective (voir Fixation de la batterie avec de Beat Detective dans Pro Tools ), et ce groupe est déplacé vers une autre section de la session où le tempo est différent. Cela est également utile lorsque vous travaillez avec des modèles Groove:
A Groove Template can be extracted from the parts that make up a drum performance that has been recorded onto multiple tracks, if those tracks are grouped first and Beat Detective is set to work on the Region Group.

A Groove Template can be applied to a whole drum performance in one go, if the regions are grouped first.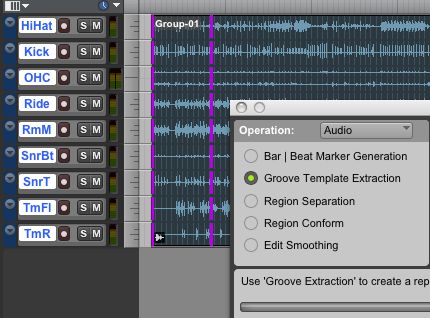 Extraction d'un modèle de groove d'une région regroupés performances tambour.
Vous voulez obtenir plus profondément dans la région Groupement et bien plus encore? Consultez la gamme complète de Pro Tools Tutoriels vidéo ici .