Wie der Name andeutet, Region Groups in Pro Tools können Sie Makroregionen aus mehreren Regionen zu schaffen. Diese können Audio-, MIDI-oder Video-Regionen in beliebiger Kombination auf einer einzigen Spur oder über mehrere Spuren werden. Sie sind vielfältig einsetzbar: in Komposition und Arrangement, Bearbeitung und Nut / Tempo Manipulation.
Erstellen Region Groups
Wählen Sie die gewünschte Regionen (mit Shift mit dem Grabber auf diese über nicht zusammenhängende Spuren zu tun.)
Fünf verschiedene Arten von Region Gruppe möglich sind, die sich durch folgende Symbole gekennzeichnet:

Audio Region Gruppe.

MIDI-Region-Gruppe.
Video Region Gruppe.

Nicht zusammenhängende Region Gruppe.

Mixed Mehrspur-Region-Gruppe.
Hinweis: Beim Erstellen Mehrspur-Region Groups, die Regionen werden von track erste, gruppiert und diese werden dann kombiniert, um die Mehrspur-Region-Gruppe zu erstellen.
In der Region List
Wenn Sie eine Region Gruppe erstellen, wird die Region List hinzugefügt werden, am unteren Rand der Liste. Wenn Sie die Gruppierung der Region Group
Sie können Gruppen Region in der üblichen Weise Vorsprechen durch Anklicken und Festhalten mit der Option-Taste gedrückt, auf den Namen der Gruppe in der Region List.

Region Gruppe Symbole in der Region-Liste

Der Screenshot oben zeigt die verschiedenen Region Gruppe Symbole. Von oben nach unten: Video, Audio, nicht zusammenhängende Audio, Mixed Mehrspur-und MIDI. Beachten Sie, dass nicht zusammenhängende Region Gruppen ihre Ikone erhalten nach ihrem Inhalt.

Gruppierung aufheben und neu gruppieren
Um die Gruppierung, wählen Sie die Region Group auf der Strecke Wiedergabeliste und wählen Sie Region
Wenn Sie Links auf einzelne Regionen innerhalb einer Gruppe durchzuführen, und dann weiter zu der Gruppe bearbeiten möchten, sollten Sie zunächst die Gruppierung, führen Sie die bearbeiten, und wählen Sie dann Region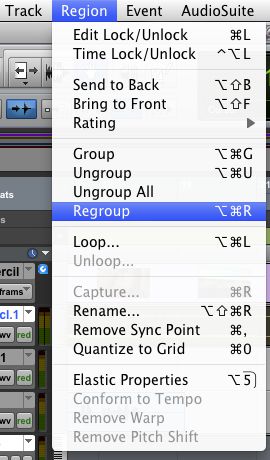 Umgruppierung Regionen nach bearbeitet.
Mit Region Groups

Region Groups machen das Editieren von großen Auftritten viel einfacher. Zum Beispiel wird ein Mehrspur-Drum-Aufnahme, die in Scheiben geschnitten hat mit Beat Detective von vielleicht Hunderten von sehr kleinen Regionen, deren Timing zueinander ist entscheidend bestehen; einmal zusammengefasst kann man leicht die folgenden, ohne die Position der einzelnen Regionen innerhalb dieser Gruppe:
Move the Region Group with the Grabber tool

Perform Cut, Copy, Paste and all other Edit menu commands

Trim the Region Group with the Trimmer tool

Apply AudioSuite effects: this will render a new audio file that replaces the region group in the track playlist (the Region Group will still be listed in the Region List)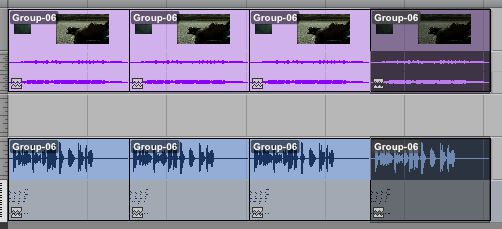 Duplizieren von Gruppen.
Region Groups: Tempo und Groove
Eine Region Group wird ihre Länge ändern, um eine Änderung im Tempo zu folgen, wenn der Inhalt durch Zecken beruhen. Ein typisches Beispiel hierfür wäre, wo eine Region Gruppe bestehend aus mehreren Drum-Tracks, die in Scheiben geschnitten haben mit Beat Detective (siehe Fixierwalzen mit Beat Detective in Pro Tools ), und diese Gruppe in einen anderen Abschnitt der Sitzung, wo das Tempo bewegt wird ist anders. Dies ist auch nützlich bei der Arbeit mit Groove Templates:
A Groove Template can be extracted from the parts that make up a drum performance that has been recorded onto multiple tracks, if those tracks are grouped first and Beat Detective is set to work on the Region Group.

A Groove Template can be applied to a whole drum performance in one go, if the regions are grouped first.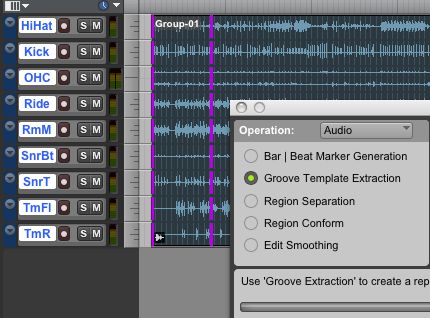 Extrahieren einer Nut-Vorlage aus einer Region gebündelt werden Drum-Performance.
Willst du tiefer in Region Gruppierung und vieles mehr? Schauen Sie sich die volle Palette von Pro Tools Video Tutorials hier .