Native Instruments公司释放8终极的音色库冻胀帮助。当我最初把它打开并安装,我最初感到遗憾的是有没有新的工具,本身...只是新的图书馆,和球员。一点也不,我知道我是发现在这些库,预置,和球员。一个精心设计的图书馆名副其实的聚宝盆,带来这么多的新工具,以我的表,我几乎被淹没。 (许多)我目前最爱的新KONTAKT 5图书馆是修道院路鼓系列。让我们看看他们有什么。

第1步 - 选择右鼓图书馆工作
修道院路系列有几种口味:60桶,70桶,80桶,与现代。每个套件都提供了自己独特的音色和可能性。该库将自动安装安装后对您的KONTAKT界面的左侧。
The 60's kit is very open and natural sounding, bringing to mind pre-multitrack studio recordings.

The 70's kit is very tight and dry. Think Fleetwood Mac, and when it's opened up and less dry - The Who.

The 80's kits are indicative of the time when reverb was gated, and drums were just... HUGE.

The modern drums are simply well recorded kits that work well in many environments. Good, straight-up tones for modern productions.

第2步 - 探索修道院路接口
当遇到与修道院路接口,我们为自己鼓的图片。鼓的元素都在这里表示,鼓偏好自动选择作为默认MIDI音符。请记住,它需要一小会儿的样品加载。不要气馁,如果一些鼓不打右。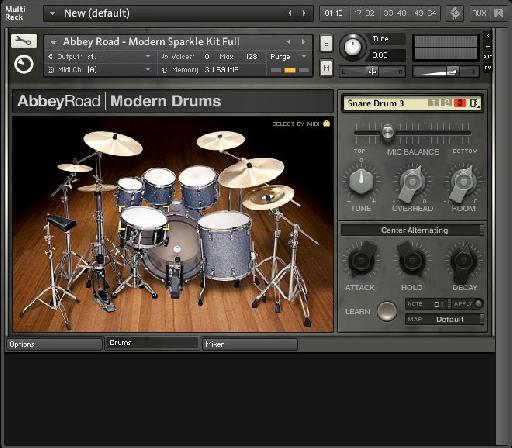 到鼓包的图片的右侧,我们给出了仪器的选择,麦克风平衡和调整,衔接菜单。
第3步 - 探索仪器和麦克风
鼓特定的仪器设置。在下面的截图的情况下,我们可以看到,我们已经选择了圈套3。有2个其他的圈套,我们可以使用与已匹配套件包。如果我们选择1或2个圈套,将改变图片的圈套,将使用一套新的圈套样品。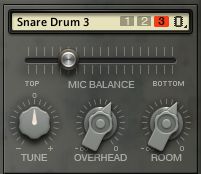 根据仪器的名称,我们有麦克风设置。在网罗的情况下,我们有一个顶级的麦克风和底部的麦克风。我们可以选择两者之间的话筒组合,也可以拨打多少开销和室话筒正在使用。是这里调谐旋钮以及微调鼓...必须像大鼓的东西。将针对鼓话筒,和一些麦克风的设置将是不同的每个鼓。
第4步 - 探索接合菜单
在关节"菜单上,我们显示了所有可用的关节为鼓的名单。每个关节可以有不同的攻击,按住,和腐烂的信封。我们还可以重新分配鼓,我们希望我们的控制器上的任何键。套件设置默认情况下,通用MIDI标准。我们可以自由选择从一组流行的MIDI映射以及从地图菜单选择。这是为那些使用MIDI鼓包,如V型鼓的天赐良机。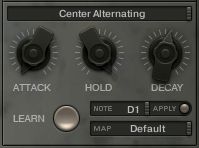 步骤5 - 探索搅拌机
混频器的按钮,给了我们一个美丽岁的混频器,让我们混在KONTAKT我们的鼓包。我们得到的主要混合团体,可以平移,调整相对体积,增加和减少的立体声的开销话筒和室话筒的宽度。在每个通道的底部,我们还包路由到Kontakts内部混频器,其配置KONTAKT所有仪器设置的能力。解释说,路由认股权证的另一篇文章!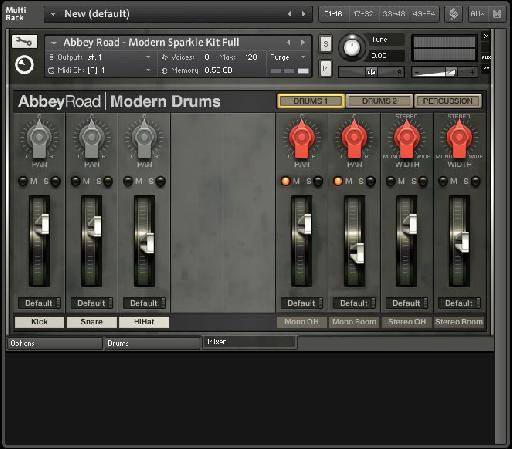 我觉得艾比路鼓包得非常好设置出了大门,和一个小的调整,他们躺在很容易几乎任何一种音乐的进出口创造。希望你跟他们有尽可能多的乐趣,作为IM有。
哦,如果你几乎像一个更加英国的声音?压缩生活其中的#$%^出。嘿。