One of things the that differentiates a real amp from a guitar amp plug-in is that you can put multiple mics on an amp, delivering a variety of tones. But with many plug-ins, you are stuck with a single 'modeled' mic and/or cabinet. So why not take that factor and turn it into a positive, by mixing the sound of two different amp plug-ins with a variety of mics and cabinets.

For the sake of this article, we will use Pro Tools as the DAW, along with Avid's Eleven plug-in and Line 6's Amp Farm. But in reality you could use any DAW and combination of amp simulator plug-ins to get the job done. The principles are the same.
Don't be limited
To begin with, you'll need a guitar track recorded directly into your computers DAW (or you can of course play live). Normally, you would have an amp plug-in inserted on the track . Then you would dial in your tone and take it from there. But that is limiting, and in the software-world, it's no problem to set up a second complete amp chain.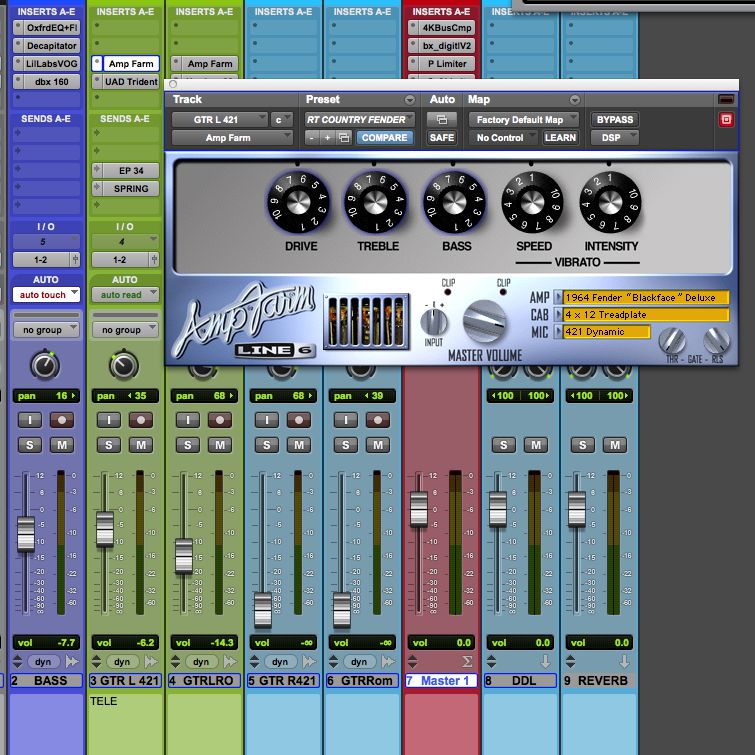 Inputs and Outputs
The first step is to create two Aux (auxiliary) tracks on your DAW, and assign the output (say – Bus 1, or rename it 'Guitar Bus') of the Guitar track to the input of both Aux tracks. At this point, the output of the DI'ed guitar track (Bus 1) is going to the input (also Bus 1) on both of the mono Aux tracks. Then assign your choice of amp plug-ins to each of the Aux tracks. Bam, you've got a stack happening!
Let's say you wanted an edgy, blues-rock sound. You could dial up a '64 Black Panel Lux Vibrato with Eleven on Aux 1, and a 1960 Vox AC-30 Top Boost with Amp Farm on Aux 2.

Mics and Cabs
Next, you can choose the mic and cabinet for each plug-in. With Eleven, you could select a Ribbon 121 mic and assign that to a '59 Fender Tweed Deluxe 1X12" cabinet with a Jensen P12Q speaker. That will be a darker, creamier sound. On Amp Farm, you can select a 4X10 Tweed Cabinet with a Shure SM57 mic set to Off Axis. That will be a bit brighter with more midrange. Then dial in the amount of distortion and adjust the individual tone controls as needed.
Imaging
For the widest stereo imaging, pan Aux 1 (Eleven) and Aux 2 (Amp Farm) to opposite sides. If you want to narrow your image, pan them in tighter. You could even pan them directly on top of each other, simulating the sound of 2 mics on an amp. Using the fader of each Aux channel, you can create your own sonic blend to best fit the song.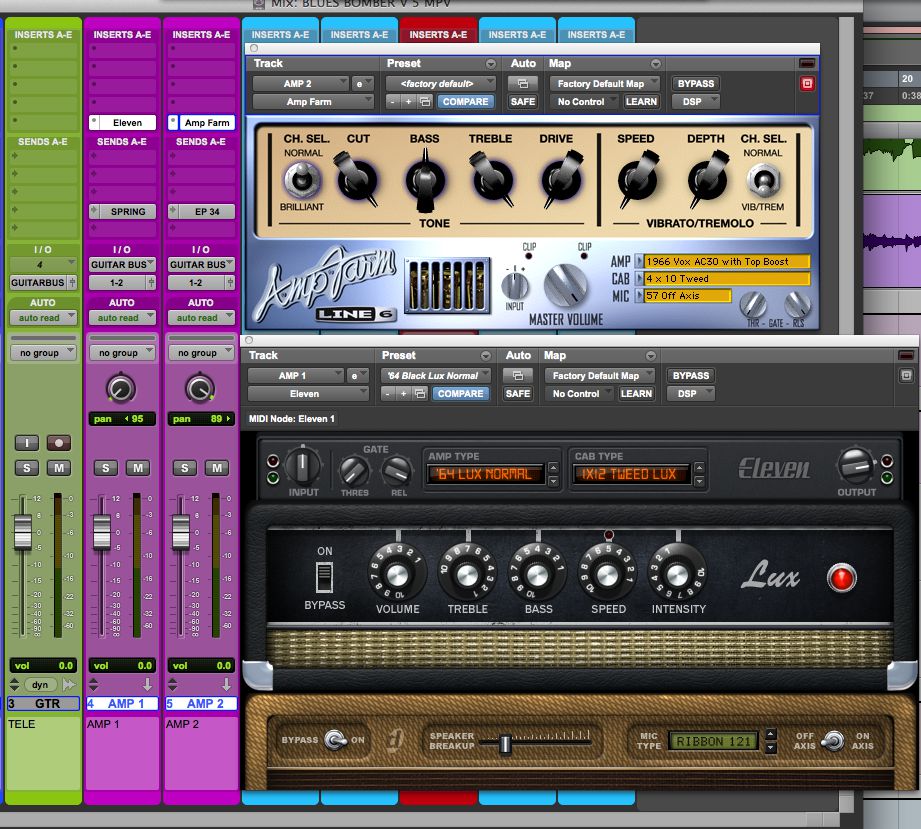 More is Better
Taking it a step further, you could create a full second set of amps for a doubling guitar part, and pan those opposite your first rig. That would give you 2 guitar parts with 4 different amp setups to choose from. With the power of today's computing, the processing shouldn't be a problem for such a setup. Go for it!