Whether you are using Cubase 6 to remix, record bands or simply to create original music it's highly likely that you'll see time stretching as an important part of your production tool kit. In this short tutorial we'll take a look at a really quick way to perform time stretching from right within Cubase's arrange window.

Step 1 - Identify the Audio you Want to Process

You can time stretch just about any raw audio file, as long as it's not in musical mode or sliced in anyway you shouldn't run in to any obstacles. Here I have opted for a drum loop that is obviously not in time with our project.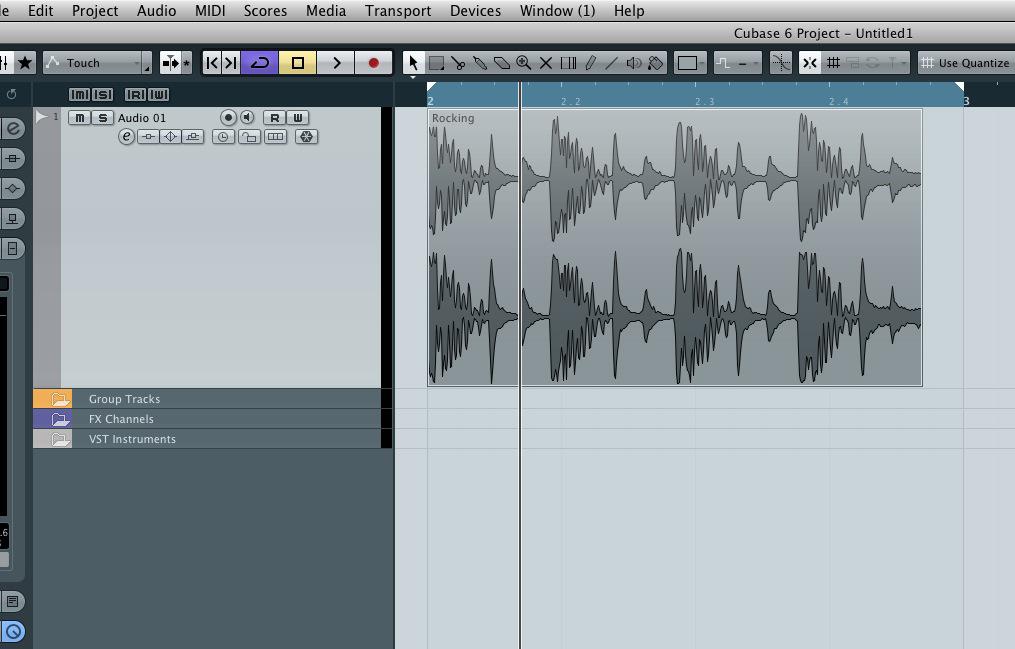 This drum loop needs to be stretched to bring it into line
The traditional route is to select your audio part and then head to the process list in the 'Audio' menu. Here you would find the time stretch option and all the tools needed to bring your audio into line.
This route is ok but it takes some time and is an offline process. If you want to try something a little more streamlined that will speed up the process and possibly give you more accurate results then read on...
Step 2 - Activate the Time Stretch Tool

By right clicking anywhere in the arrange screen you should bring up the Cubase Tool Box. The first tool in the box is the standard cursor / selection tool, by selecting this and left clicking you should be presented with three options. One of these is "Sizing applies time stretch".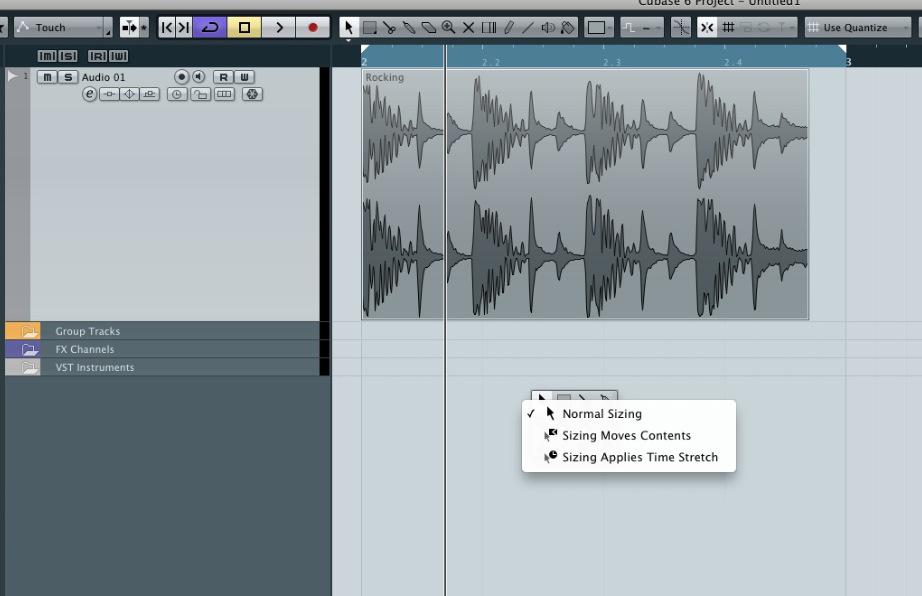 The time stretch tool is activated
By selecting this new mode the icon of the tool i changed and you gain the ability to simply resize the part and perform an instant time stretch by doing so. It really is as simple as dragging the part out to the nearest bar (or where ever you like) and waiting for the very brief process to complete.
In this case we have moved a pretty drastic 10bpm and although there is a difference in the audio quality the audio remains completely useable. This is a great tool for when you are working with vocals drums, effects and instrumental grooves.

The loop is stretched and copied at the new BPM
The loop at its original BPM:
... And then stretched to 10 BPM slower:
Step 3 - Changing Time Stretch Modes

In the preferences you can actually change the mode that this time stretch tool uses. By default it will be set to 'Realtime' (which is what we used in the previous step) but if you feel you want to try some of the CPU intensive algorithms then opt for the appropriate flavor of MPEX.
These may take slightly longer to complete but on the right type of audio some pretty stunning results can be achieved. The key here is to experiment until you find the right one for your particular situation.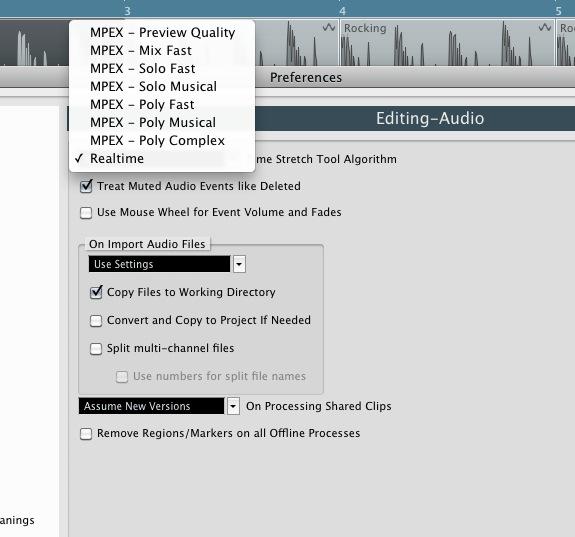 Changing mode may help you get cleaner results