So we all know that Guitar Rig is probably the best way to process your guitars 'In the Box'. The breaking news is that Native Instruments are now trying to convince us that the platform is also a great platform for production based processors.
Fortunately, they know what they are talking about over there in Berlin and NI have released some truly gob smacking plug-ins that run exclusively within Guitar Rig. You might think this is all a bit convoluted but it works very well. Let's take a look at what's on offer...
What You'll Need
To run all of the plug-ins I'll be looking at here you'll need an install of Komplete 8 Ultimate, which will have everything you need included and installed. I you don't have the ultimate package you can run these plug-ins by purchasing them individually from the Native Instruments web site.
Regardless of how you get these installed on your system, you will need either Guitar Rig Pro 5 or the free Guitar Rig 5 Player. The latest version is always available through the NI web site.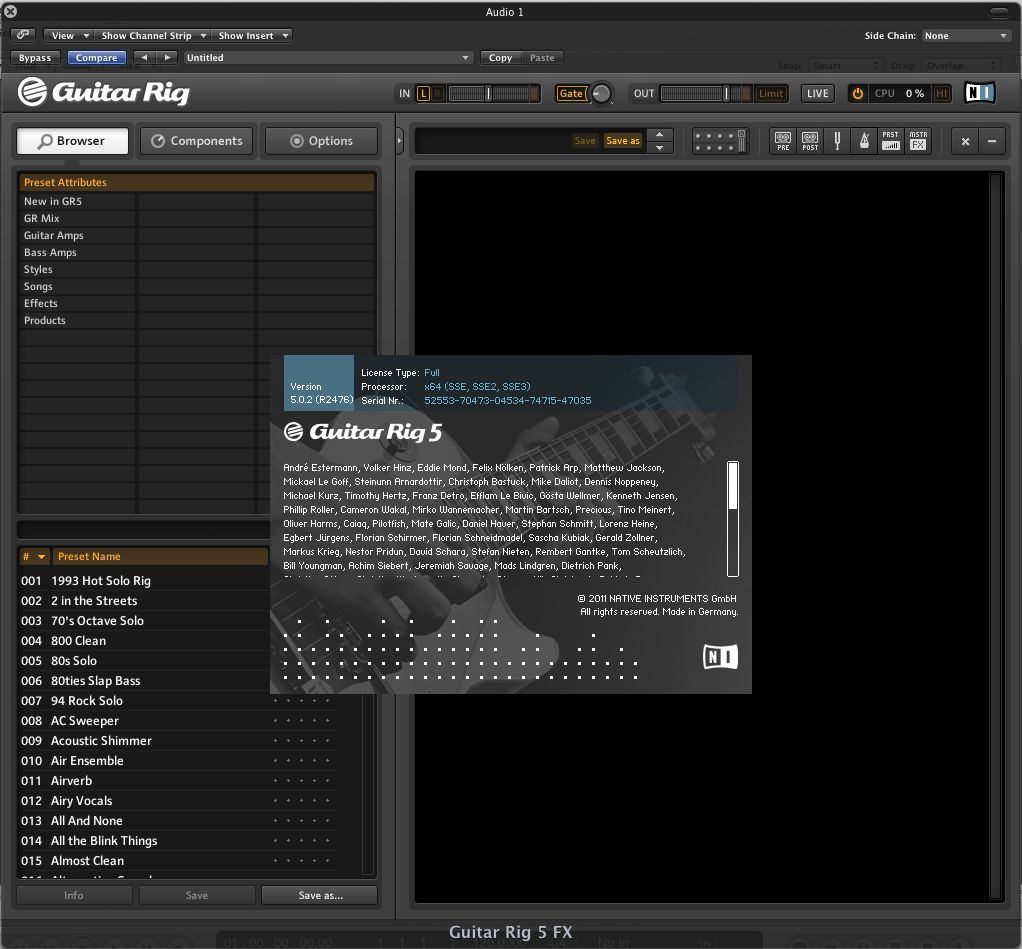 Guitar Rig Pro comes with Komplete or as a standalone purchase.
Of course, then you'll need to decide which plug-ins you actually want or need! There is a pretty large list but we'll be focusing on the Producer / Studio effects that consist of Vintage Compressors, Solid Mix Series, Traktor's 12, Reflektor and Transient Master.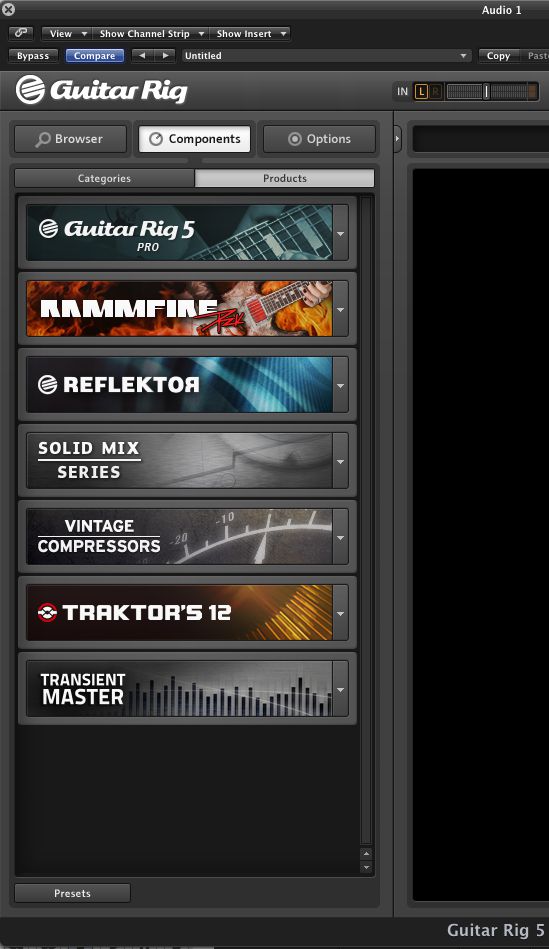 The products we'll be looking at.
Once you have all of the necessary components you will have a pretty formidable collection of plug-ins at your disposal. Let's take a look at the everything that's included in the new producer collection and what we can achieve with each group of processors.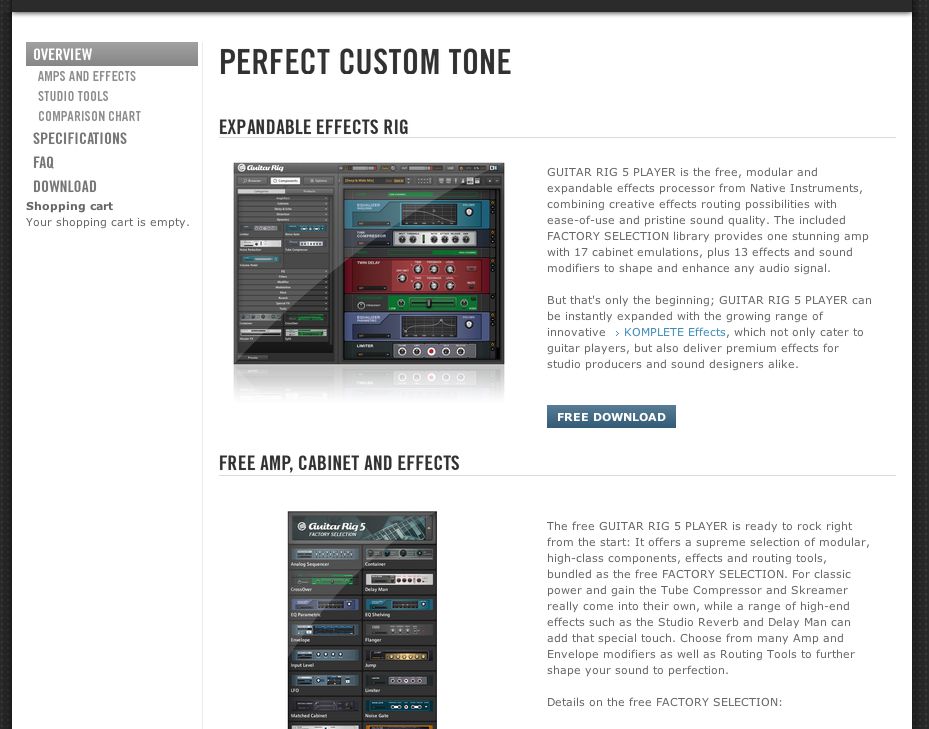 The free Guitar Rig player is also a great choice for loading and demoing the products.
From Dance Floor To Studio...
The first group of 'production' processors I'd like to look at are the 'Traktor's 12'. There are twelve plug-ins here (surprisingly) and they are pulled directly from NI's Traktor Pro DJ software.
It's hardly surprising then that the majority of these effects seem to be performance based and work extremely well when tweaked in real-time. This collection may not be ideal for serious production tasks and problem solving but there is no denying these little effects are a lot of fun.
The range here is also really impressive. A lot of thought has obviously gone into ensuring that every base is covered with Traktor's 12. Everything from distortion to reverb is here, with the usual filtering and modulation effects thrown in for good measure. Creating phased, lofi, resonant beats should be a breeze.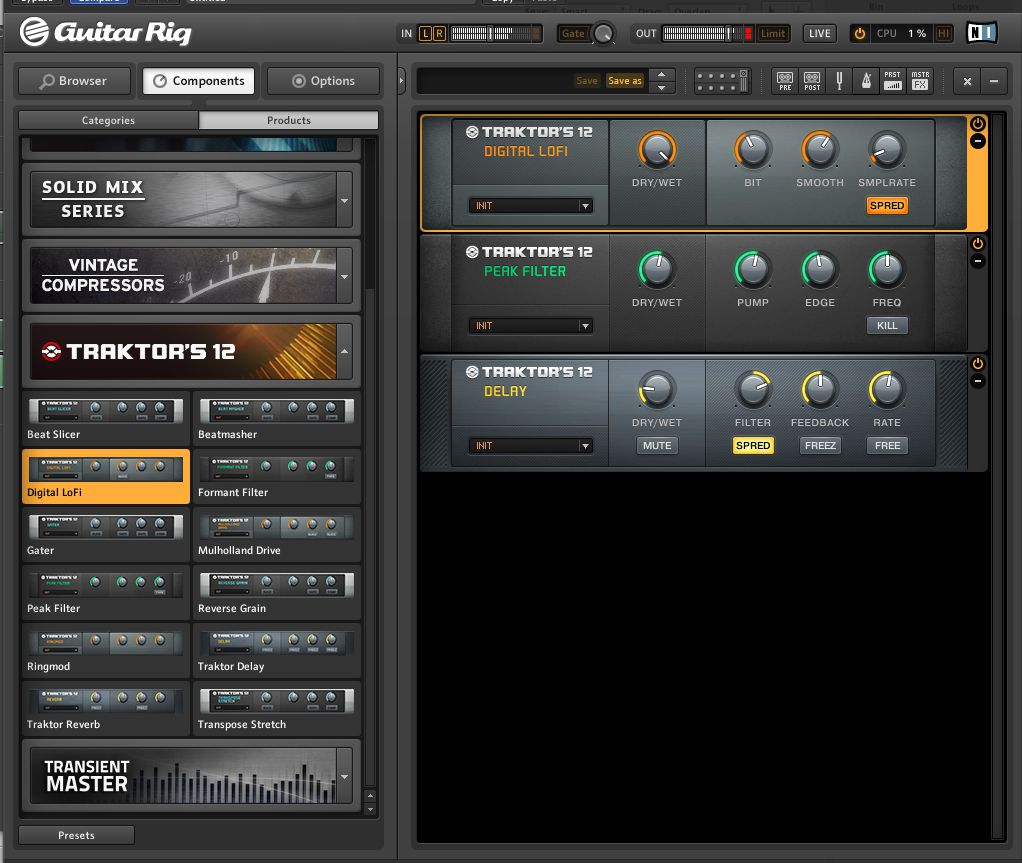 Traktor's 12 in action!
The real surprises here are the plug-ins you wouldn't expect to find such as 'Transpose Stretch', 'Beat Slicer' and 'Reverse Grain'. These supply true special effects and can completely transform pretty much any audio. Try mapping these to an external controller and get tweaking to see them at their best.
A dry groove before treatment:
The same groove with some of Traktor's effects added:

Although these plug-ins aren't going to be go-to mix tools that you can't live without, they are certainly awesome creative effects and really different from anything we have ever seen in Guitar Rig up until now.
The Classics
Moving away from creative processing and towards true mix tools, we come to the 'Vintage Compressors' selection. When it comes to essential mix based tools, compressors really have to take the prize.
Of course the vast majority of us now have access to really great, transparent digital dynamics processors but only a few companies really get vintage emulation right. One of the companies that have nailed it time and time again are Softube. Luckily, they have teamed up with NI to give us a truly awesome trio of vintage style compressors for Guitar Rig.
The three compressors included here are actually digital recreations of extremely sought after analog processors. A few companies actually supply their own versions of these compressors, UAD, Waves and IK Multimedia have all produced all of these models.
Softube and NI have actually done an excellent job here. I have used all of the software versions of these devices and two of the actual hardware versions as well and I can tell you these emulations stand up as well as the rest.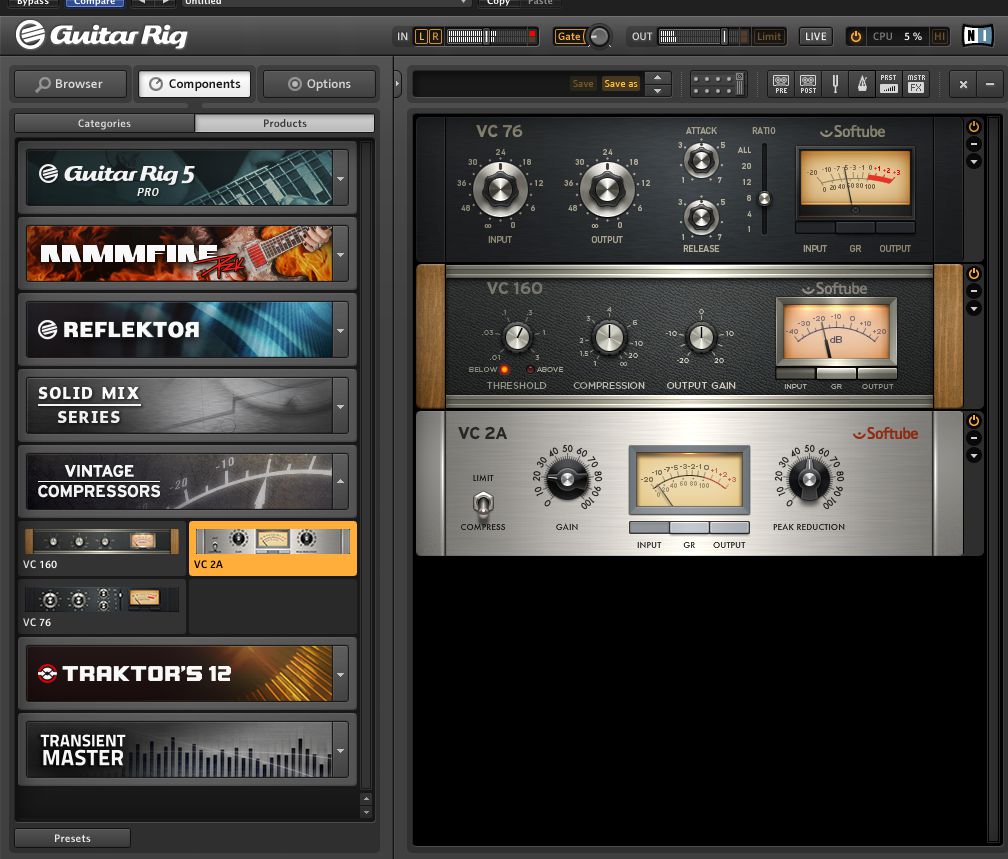 The Vintage Compressors in all their glory.
You'll find the LA-2A, 1176 and DBX160 all covered here (all with names slightly altered to protect the innocent ;). These three compressors can cover just about any situation. Try the VC2A on vocals, the VC76 on drums and the VC160 on just about anything and you'll find that just about everything sounds better!
The V76 treating an entire drum bus:

Vintage emulation doesn't get much better than this and now you have it right inside Guitar Rig. Nice.
Solid As A Rock
The emulation party doesn't end with these three compressors, NI have also decided to supply us with digital carbon copies of SSL (Solid State Logic) hardware as well. Obviously they don't say that these processors are modeled on specific SSL hardware, at a guess this most likely avoids some sticky licensing issues.
Again there are three plug-ins here Solid Dynamics, Solid EQ and Solid Bus Comp. The Dynamics plug-in represents all the dynamics control from a typical SSL channel strip, while the EQ deals purely with equalization. The Bus Comp represents the master Bus compressor found on many SSL consoles and is perfect for treating entire instrument groups or the master output.
The Solid Mix Series in it's entirety.
If you are after a classic sound but hanker for something a little more transparent in nature these plug-ins are a great alternative to the Vintage Compressor collection. Personally, I find these to be a great staple group of processors to replace stock DAW plug-ins.
The Solid Mix Series treating a whole mix:
The Best Of The Rest
The production tools that can be run in Guitar Rig are not limited to groups of compressors and equalizers, there are actually quite a few other products you can purchase from NI that only comprise of only one plug-in a piece.
Two products really stand out here, Transient Master and Reflektor. Transient Master is a transient design tool that allows you to change the attack and decay sections of a sound. Essentially this means you can perform tricks like making snares snappier, removing reverb and elongating the sustain of cymbals and all with two knobs!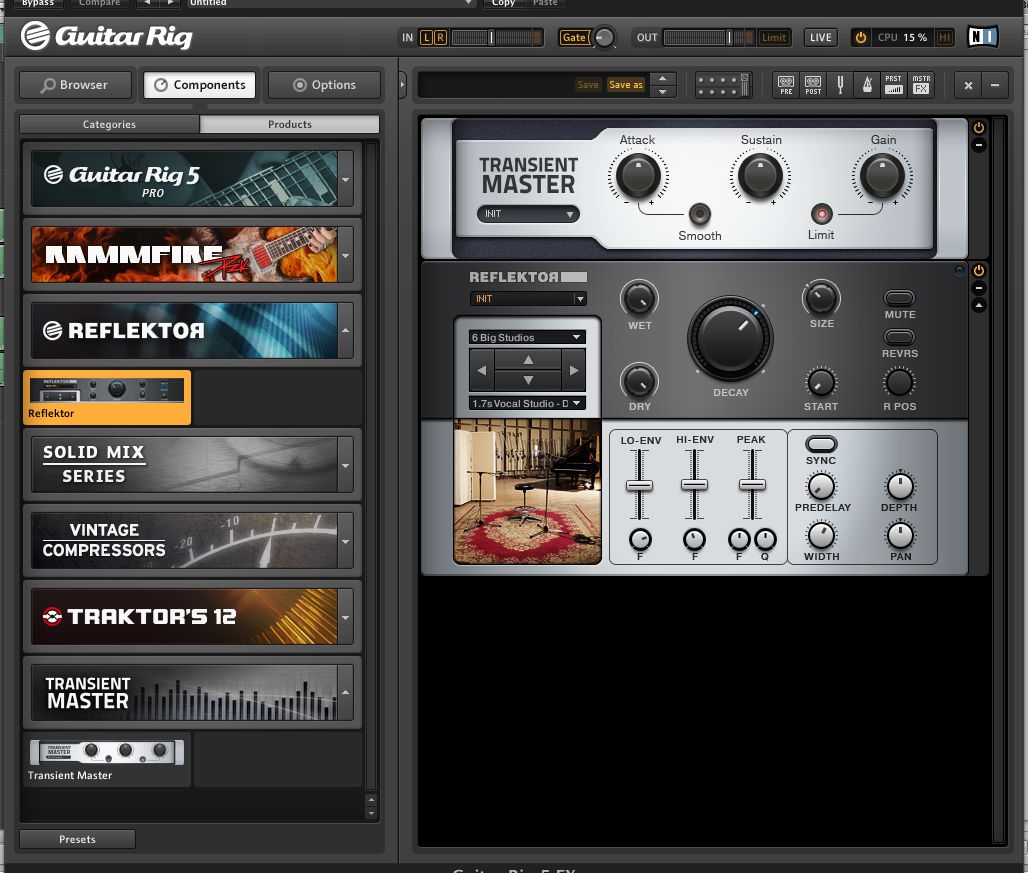 The rest of the production effects.
The Reflektor is a very different beast and offers state of the art convolution reverb in a simple to use and very attractive interface. Reflektor comes with around 350 impulse responses and is actually nice and light on your CPU, so extremely realistic spaces are only a few mouse clicks away.
The interesting thing about this whole range is that NI are offering demos on everything. They are limited and don't allow saving and cut out after a short time but it gives you a great idea of how Guitar Rig can work for you as a production processor. Get over to the NI site and give them a whirl. Thats an order!!