Subscription plans are the new business model being embraced by many software companies. EastWest's subscription implementation allows you to subscribe to a monthly or yearly plan. The monthly plan allows you to opt in to or opt out at any time on your "my account" page, including pausing your subscription should you take a break from making music. There is even a limited free trial. But given that you can subscribe for a month and try it for less than a buck a day and then opt in or opt out whenever you want, where is the downside to trying it on for size? Seems like the ultimate no brainer to me.
So now that you have decided to try it on for size, let's walk through it.
1- Install and Setup
The first thing you will want to do is to download the Installation Center with the link that is provided to you in the email you receive after purchasing the subscription. Alternatively, you can download it from here:
http://www.soundsonline.com/Support?section=updates&article=
Once you install it and open it, you can sign in with your EastWest email and password. It will look like what you see in Pic 1.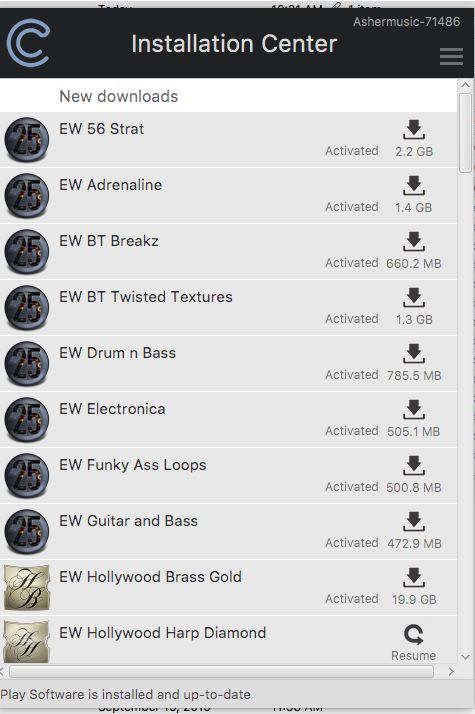 Pic 1
If you have not yet installed the latest version of Play you can then download it from the Installation Center and install it. Then you can click the activate button and select a computer (machine) based license or your iLok2 security key for the three libraries you wish to try (see #2 below), or more if you have gone "all in" with either the monthly or yearly plan, and start downloading the more than 9000 virtual instruments included in the plan. If you are doing a bunch of them, you may want to have your computer do it overnight as there is a lot of content to download. But hey, that's why you are subscribing, right? ☺
Unless you have purchased the Composer Cloud Plus, which already provided you with the content on a high performance drive, you will want to install your libraries on a dedicated fast drive, minimally a 7200 RPM non-energy-saving drive installed internally or with a USB 3.0 connection. I recommend SSDs for the demanding libraries, like the Hollywood Series and ProDrummer.
2- Syncing Your iLok Account if you selected a iLok2 key
Yes, Virginia, you still need an iLok "account", but no, you do not have to have a physical iLok2 key (iLok1 is not supported). You now have the option of using a "Machine license" that is tied to your computer instead. At the time of purchase you were asked to provide your iLok account name. If you did not have an iLok account, EastWest created one for you that is listed on your "my account" page at soundsonline.com. After purchasing the Composer Cloud subscription licenses are automatically deposited in your iLok account, which can also be accessed and managed through iLok.com.
Unless you selected a "machine license" you need to go to iLok.com and download the iLok License Manager. Open it up and it looks like what you see in Pic. 2.
Once you sign in, you will see any physical iLok security keys that are connected to your computer and your licenses, which you can simply drag and drop to your intended destination, then hold the right mouse button down on the destination and choose synchronize. Easy-peasy. See Pic 3 and Pic 4.
You can now quit the iLok License Manager.
Make Some Noise!
Now that all the grunt work is done, it is time to begin to use your instruments. You can do so in standalone or in the DAW of your choice. I am using Logic Pro X in these pics.
In Pic 5, you can see that I have created a software instrument channel strip in a new empty Logic Pro X project and instantiated Play, the software EastWest provides to play its instruments. When you do so, you should see all your libraries in the Favorites panel.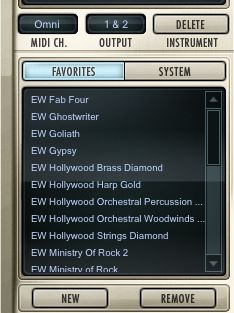 Pic 5
If you don't see your product's title in Play's Favorites window or you accidentally removed it, there are two ways to fix it.
Installation Center:
1. Launch the Installation Center and Login.
2. Hover your mouse over the Product panel to reveal the Gear icon to the far-right and click on it, then click on "Locate Directory and Reinstall" from the pop-up menu.
3. When the window asks you to "Select the Instrument Directory" for the product, navigate to the Instrument folder (within the Main Library folder), highlight it, and click "Open"
Play Software:
1. Launch PLAY in a stand-alone mode.
2. Click the Browser button located near the top of the PLAY interface.
3. In the lower-left corner of PLAY find the Favorites window pane. Click on the Favorites Tab.
4. Right-click or control-click in the Favorites window and select "Add Another Product Library" from the pop up menu.
5. Find your product title from the list and click on it. (If your product isn't listed here either or no list appears, use the Installation Center to add your Favorite.)
6. This will bring up a window that asks you to "Select the Instrument Directory" for the product
7. When the window asks you to "Select the Instrument Directory" for the product, navigate to the Instrument folder (within the Main Library folder), highlight it, and click "Open". All should now be well.
Back to Play in Logic Pro X and I think I will begin with ProDrummer. I choose ProDrummer Joe Chiccarelli in the Favorites panel and decide to load a preset from Kit 1-EW Studio 1 named EWPD Joe C Kit 1 Tape Kit.
I switch to the Player view and I play it from my keyboard and man, that sounds good! I can build an arrangement right in the interface but if I click on grooves there are a bunch to choose from. See Pic 6.
Stud that I am, however, I decide to play in my own.
I now open a second instance of Play and in the Favorites, I navigate to Fab Four > Bass and select Come To Bass Master, for that iconic sound of Paul McCartney's bass in "Come Together" on the Abbey Road album. See Pic 7. I then play in a part.
But I want a more effect driven sound to match the drums, so I open the Play Mixer and there are the included SSL FX (Pic 8) where I can add some compression, EQ, transient shaping, etc. for a more colored sound.
Ten minutes later, following the same process, I can add guitars, piano or organ, brass, strings, choir, whatever my muse dictates to with literally thousands of great instruments at my disposal. All very affordably mine with the Composer Cloud subscription from EastWest.
Have fun!
NOTE: Jay Asher is a Certified Logic Pro X trainer and composer and also provides part-time services to EastWest as an Online Coordinator.