A janela Beat Detective no Pro Tools reúne em um local conveniente uma gama de ferramentas e processos que se prestam muito bem ao trabalho com tambores. Sulco quantização, que é o empréstimo do sulco de uma fonte e aplicá-lo como um modelo quantização para outro material, é algo que você pode conseguir na maioria dos DAWs, mas Beat Detective torna o processo particularmente simples.

Identificar o material de origem
Neste exemplo, vamos aplicar o groove de bateria de abertura do Superstition Stevie Wonder para alguns e não estéreis gravações tambor soando. Ouvir Stevie (sempre um deleite) você vai ouvir que existem dois bares clara de groove de bateria, sem outros instrumentos tocando no topo. Com a região Superstition solod use Tab para Transient para colocar o cursor de edição no início de duas barras, em seguida, segurando o botão shift Pressione a tecla Tab repetidamente para selecionar até o final da seção de barra de dois. Verifique que você selecionou exatamente 2 bares por audições em loop modo de reprodução (Opções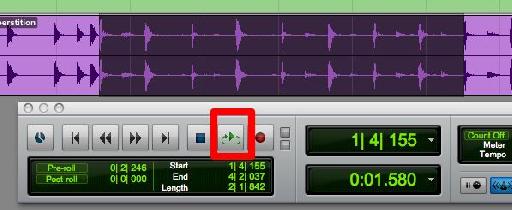 2 barras de groove selecionada; teste em loop modo de reprodução.
Em seguida, Beat Detective aberto a partir do menu do evento e escolher o Groove Template Extraction na seção Operation. Na seção Seleção digite 1 1 para o Bar em Iniciar | Beat e 3 1 para o Bar end | Beat. Na seção de Detecção marque o botão Sub-Beats e clique em Analisar. Mova o controle deslizante sensibilidade para que todos os sub-beats são reconhecidas. Se alguns são perdidas você pode clicar neles com a ferramenta Grabber, ou clique com opção Grabber para excluir marcadores desonestos, mas essa etapa não deve ser necessário de que você está usando um arquivo de áudio com uma sensação forte rítmica.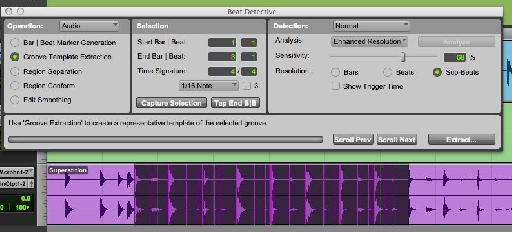 Análise de marcadores de batida por Beat Detective.
Por fim, clique em janela de diálogo que se abre Extract.The permite que você digite o nome do canal (se você salvá-lo), bem como notas, se necessário. Você pode adicionar o sulco para a área de groove, ou você pode salvá-lo para posterior utilização em outras sessões.
Como em tutoriais anteriores sobre Beat Detective, ele é altamente recomendado que você divide a sessão a ser quantizados-se em significativas (verso ou seja, chorus, etc) e seções manejáveis ​​(4 ou 8 compassos, por exemplo), e para alinhar estas seções para a grade de tempo, encontrando o tempo exato de cada um. No meu tutorial anterior, Fixação tambores com Beat Detective no Pro Tools, eu descrevi como fazer isso usando Beat Detective, então aqui está um método alternativo:
Used Tab to Transient to identify the start of each section.

Ensure the Edit cursor is flashing in all drum tracks to be divided by shift+ clicking in each one.

Use Command-E to divide the regions.

Select all the regions in the section using the Object Grabber.

From the event menu choose 'Identify beat…' (Command-I).

Enter appropriate start and end locations (1|1|000 and 5|1|000 for a four-part section starting on the first beat of the first bar, for example).

Click OK – a tempo will be entered in the tempo ruler at the start of the section.

Repeat this process for each section in the session.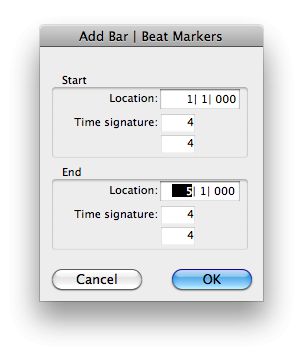 Entrando no início e locais final na caixa de diálogo Bata identificar.
Sulco quantização com Beat Detective: Passo 1 - Separação
Select the region to be quantised,

Open Beat Detective from the Event menu (Command+8 on the numeric keypad).

Cheese Region Separation in the Operation section.

Enter appropriate values for Start and End bars and beats.

Ensure that Sub-beats is selected in the Detection section and click Analyse.

Again when you are happy that the analysis is correct click 'Separate" as before.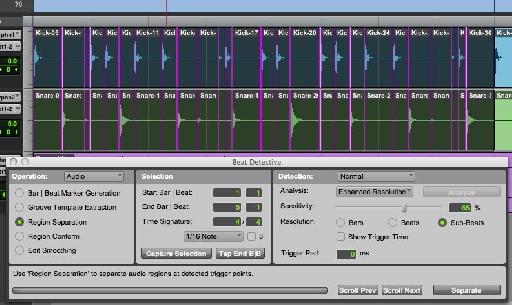 Seleção separados em regiões em transientes.
Passo 2 - Conform
In the Operation section choose 'Regions Conform'.

Over in the Conform section choose 'Groove' from the drop-down menu.

A further drop-down menu will then appear - from this one choose 'Groove Clipboard'.

Se você marcar Timing, você também terá acesso a um recurso potencialmente útil chamado Processo de Pré-padrão usando Conform. Isto quantise regiões separadas em primeiro lugar com sua escolha de subdivisão (e triplet opcional) na seção de Seleção, em seguida, com o conteúdo do clipboard Groove. Isto pode ser muito útil se o áudio estiver processando se beneficiariam de arrumar antes de mudar o seu sentir. Uma combinação de tentativa e erro e experiência, no entanto, a única maneira de avaliar se isso é necessário em cada caso.
Escolha conformar.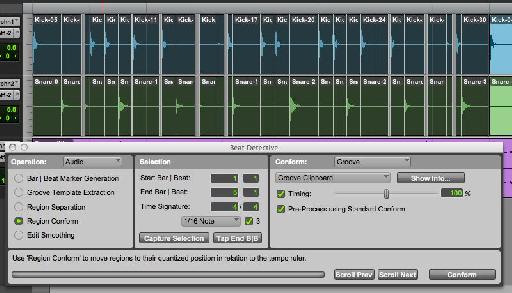 Regiões conformado para o Groove modelo quantização Área de Transferência, com pré-processamento habilitado (a 16 de trigêmeos nota).
Passo 3 - Lacunas Smoothing
Lacunas, sem dúvida, têm aparecido entre as regiões separadas de áudio como um resultado de conformidade, que pode causar clique audível. Editar Smoothing pode ser usado para preencher essas lacunas e adicione cross fades, se necessário.
Click 'Edit Smoothing' in the Operation section.

In the 'Smoothing' section choose 'Fill gaps' or "Fill and Crossfade' (and the crossfade length).

Click 'Smooth'.

Don't panic if you can't see the crossfades. The default 5 ms crossfades won't show up at normal levels of zoom!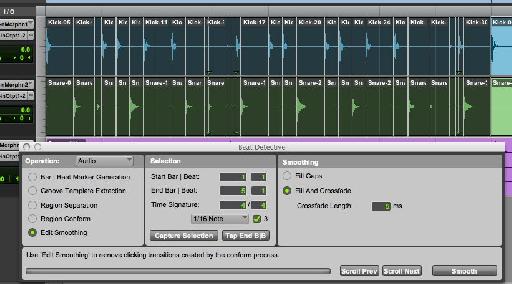 Lacunas preenchidas e crossfades de 5ms aplicada.
Agora sentar e apreciar o momento de Stevie Wonder interpretado por um garoto de 15 anos de idade na banda da escola que você acabou de gravar!
Saiba mais sobre Beat Detective em Ferramentas macProVideo.com 's Pro 204 - Video Tutorial Bata Detective .