프로 도구 합병 탐정 창이 편리하게 한 위치에서 함께 드럼 작업에 매우 잘 자신을 빌려 도구와 프로세스의 범위를 제공합니다. 하나의 소스 및 기타 자료 quantising 템플릿으로 적용에서 홈의 대출입니다 홈 quantising는, 대부분의 DAWs에 달성할 수있는 일이지만, 합병 형사는이 과정이 특히 간단합니다.

소스 재료를 식별
이 예제에서 우리는 스티비 원더의 미신에서 다소 살균 들리는 드럼 녹음에 오프닝 드럼 그루브를 적용하려고하고 있습니다. 당신이 상단에 재생없이 다른 악기와 드럼 그루브의 두 명확한 바있다는 것을 듣게 될 것입니다 스티비 (항상 치료) 듣기. 미신 영역이 solod와 함께 다음 두 막대 섹션의 끝 부분까지 선택 반복 탭 키를 눌러 아래로 이동 버튼을 누른, 2 개의 바의 시작에서 편집 커서를 배치 과도로 탭을 사용합니다. 당신은 루프 재생 모드 (옵션 오디션에 의해 정확하게 2 개의 바를 선택 확인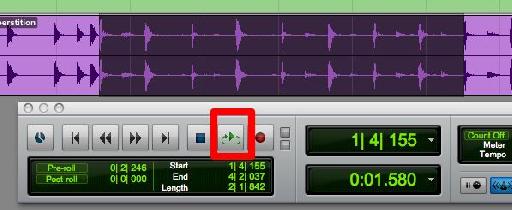 선택된 홈 2 막대, 루프 재생 모드에서 오디션.
다음 열기를 합병 이벤트 메뉴에서 탐정과 작업 섹션에 그루브 템플릿 추출을 선택합니다. 최종 표시줄에 대한 비트 및 3 1 | | 비트는 선택 섹션에서 시작 표시줄에 대한 1 1을 입력하십시오. 감지 구역에서 하위 비슷한 라디오 버튼을 선택하고 다음 Analyse를 클릭하십시오. 모든 하위 비트가 인식되도록 감도 슬라이더를 이동합니다. 일부보고있다면 당신은 그래버 도구를 사용하여 그들을 클릭하거나 악성 마커를 삭제하는 옵션 - 그래버로 클릭하지만,이 단계는 강한 리듬 느낌과 오디오 파일을 사용하는 중 필요하지 말아야합니다.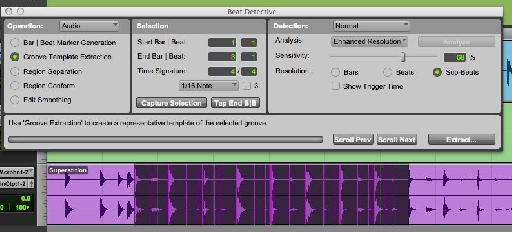 비트의 탐정에 의해 비트 마커를 분석.
마지막으로, 당신이 홈의 이름 (당신이 그것을 저장하는 경우)뿐만 아니라, 더 필요한 경우 메모를 입력할 수 있습니다 열리고 Extract.The 대화 상자를 클릭합니다. 당신은 홈 클립 보드로 홈을 추가하거나 다른 세션에 대한 사용을 위해 저장할 수 있습니다.
비트의 탐정에 대한 이전 튜토리얼에서와 마찬가지로, 그것은 매우 당신은 의미로까지 quantised 수 세션 (즉, 우주, 코러스 등) 및 관리 섹션 (예 : 4 또는 8 바) 나눌 것을 권장의, 그리고이 섹션을 정렬하기 위해 각각의 정확한 템포를 찾는하여 타이밍 그리드. 내 이전 튜토리얼에서, 프로 도구 합병 형사와 드럼을 고정, 내가 사용하는 비트의 탐정을 수행하는 방법 설명, 그래서 여기서 대안 방법입니다 :
Used Tab to Transient to identify the start of each section.

Ensure the Edit cursor is flashing in all drum tracks to be divided by shift+ clicking in each one.

Use Command-E to divide the regions.

Select all the regions in the section using the Object Grabber.

From the event menu choose 'Identify beat…' (Command-I).

Enter appropriate start and end locations (1|1|000 and 5|1|000 for a four-part section starting on the first beat of the first bar, for example).

Click OK – a tempo will be entered in the tempo ruler at the start of the section.

Repeat this process for each section in the session.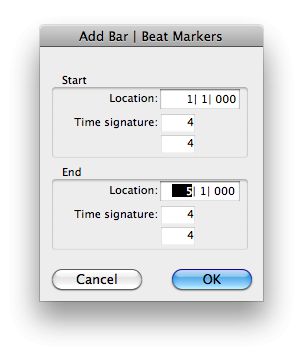 확인 비트 대화 상자에 시작과 끝 위치를 입력.
비트의 탐정과 Quantising 그루브 : 1 단계 - 분리
Select the region to be quantised,

Open Beat Detective from the Event menu (Command+8 on the numeric keypad).

Cheese Region Separation in the Operation section.

Enter appropriate values for Start and End bars and beats.

Ensure that Sub-beats is selected in the Detection section and click Analyse.

Again when you are happy that the analysis is correct click 'Separate" as before.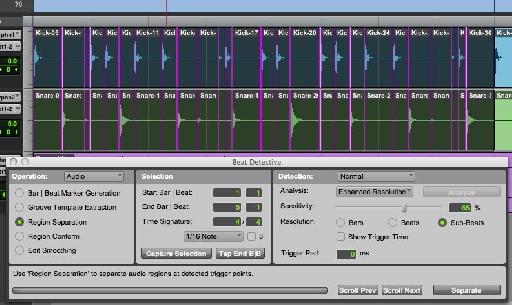 선택 과도에서 지역으로 구분됩니다.
2 단계 - 준수
In the Operation section choose 'Regions Conform'.

Over in the Conform section choose 'Groove' from the drop-down menu.

A further drop-down menu will then appear - from this one choose 'Groove Clipboard'.

당신은 타이밍을 체크하는 경우도 표준 준수를 사용하여 사전 절차라는 잠재적으로 유용한 기능에 액세스할 수 있습니다. 이것은 그루브 클립 보드의 내용으로 다음 선택 섹션의 하위 구분의 선택 (및 옵션 삼인승)로 우선 구분 영역을 quantise 것입니다. 당신이 처리하고있는 오디오는 느낌을 변경하기 전에 정리하는 작업에서 이익이 될 경우 매우 유용할 수 있습니다. 시행 착오와 경험의 조합은 그러나이 각각의 경우에 필요 여부를 평가할 수있는 유일한 방법입니다.
일치를 선택합니다.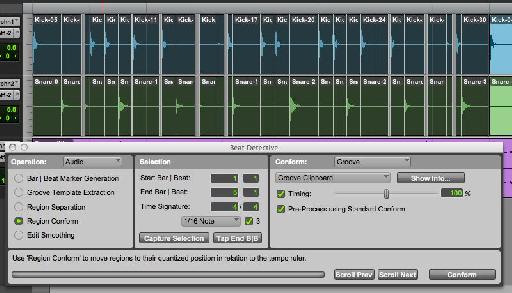 지역별 사전 처리 활성화 (16 노트 세 쌍둥까지)와 그루브 클립 보드 quantisation 템플릿 맞췄나.
3 단계 - 스무딩 격차
간격은 의심할 여지없이 음성 클릭을 일으킬 수 부합하는,의 결과로 구분하여 오디오 영역 사이에 등장합니다. 편집 스무딩 이러한 격차를 입력하고 필요한 경우 크로스 페이드를 추가하는 데 사용할 수 있습니다.
Click 'Edit Smoothing' in the Operation section.

In the 'Smoothing' section choose 'Fill gaps' or "Fill and Crossfade' (and the crossfade length).

Click 'Smooth'.

Don't panic if you can't see the crossfades. The default 5 ms crossfades won't show up at normal levels of zoom!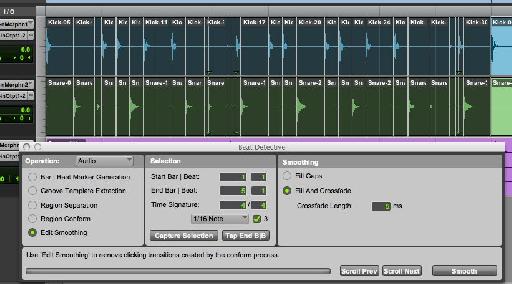 빈틈은 채워 5ms의 crossfades이 적용.
이제 앉아서 같이 방금 기록이 학교 밴드에서 15 살짜리 아이로 연주 원더 스티비의 타이밍을 즐기세요!
의 비트 형사에 대해 자세히 알아보십시오 비트 형사 비디오 자습서 - macProVideo.com의 프로 도구 204을 .