La fenêtre Beat Detective dans Pro Tools regroupe en un seul endroit pratique une gamme d'outils et de processus qui se prêtent extrêmement bien à travailler avec les tambours. Groove quantification, qui est l'emprunt de la rainure d'une source et l'appliquer comme un modèle de quantification d'autres matériaux, est quelque chose que vous pouvez réaliser dans la plupart des logiciels audionumériques, mais Beat Detective rend le procédé particulièrement simple.

Identifier votre matériel source
Dans cet exemple, nous allons appliquer le groove de batterie d'ouverture de la Superstition de Stevie Wonder à certains enregistrements plutôt stérile tambour retentit. Écoute de Stevie (toujours un régal), vous entendrez qu'il ya deux barres claires de la rainure du tambour avec aucun autre instrument jouant dans le haut. Avec la région Superstition Solod utilisez Tab pour Transient pour placer le curseur au début Modifier des deux barres, puis en maintenant le bouton Maj enfoncée Appuyez sur la touche Tab pour sélectionner jusqu'à la fin de la section deux bars. Vérifiez que vous avez sélectionné exactement 2 cafés par auditionner en mode Lecture en boucle (Options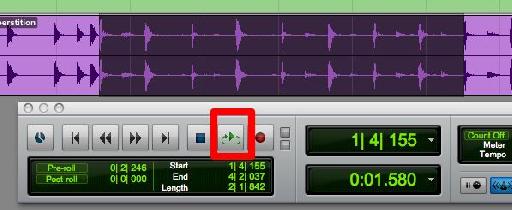 2 barres de groove sélectionné; auditionné en mode Lecture en boucle.
Puis Beat Detective ouverte à partir du menu de l'événement et choisissez d'extraction Modèle Groove dans la section Fonctionnement. Dans la section Sélection entrez 1 1 pour la barre de démarrage | Beat et 3 1 pour la barre d'extrémité | Beat. Dans la section Détection cochez le bouton radio Sous-Beats et puis cliquez sur Analyser. Déplacez le curseur de sensibilité afin que tous les sous-beats sont reconnus. Si certains sont manqués, vous pouvez cliquer dessus avec l'outil Grabber, ou cliquez avec Option-Grabber pour supprimer les marqueurs voyous, mais cette étape ne devrait pas être nécessaire de vous utilisez un fichier audio avec un fort sentiment rythmique.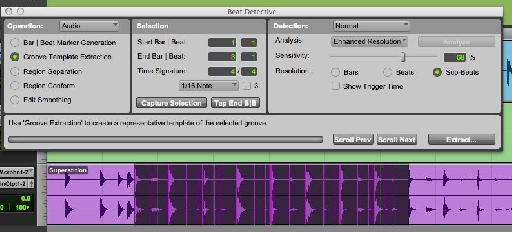 L'analyse des marqueurs de temps par le Beat Detective.
Enfin, cliquez sur la fenêtre de dialogue qui s'ouvre Extract.The vous permet d'entrer le nom de la rainure (si vous l'enregistrez) ainsi que des notes supplémentaires si nécessaire. Vous pouvez ajouter de la rainure pour le presse-papiers cannelure, ou vous pouvez le sauvegarder pour une utilisation ultérieure dans d'autres sessions.
Comme dans les didacticiels précédents sur Beat Detective, il est fortement recommandé que vous divisez la session pour être quantifié en place significative (verset-dire, chorus, etc) et les articles gérable (4 ou 8 bars par exemple), et d'aligner ces sections pour la grille de synchronisation par trouver le tempo exact de chacun. Dans mon précédent tutoriel, la fixation de batterie avec Beat Detective dans Pro Tools, j'ai décrit comment faire cela en utilisant Beat Detective, alors voici une méthode alternative:
Used Tab to Transient to identify the start of each section.

Ensure the Edit cursor is flashing in all drum tracks to be divided by shift+ clicking in each one.

Use Command-E to divide the regions.

Select all the regions in the section using the Object Grabber.

From the event menu choose 'Identify beat…' (Command-I).

Enter appropriate start and end locations (1|1|000 and 5|1|000 for a four-part section starting on the first beat of the first bar, for example).

Click OK – a tempo will be entered in the tempo ruler at the start of the section.

Repeat this process for each section in the session.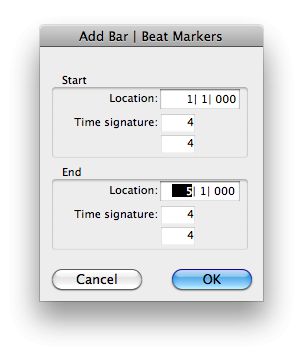 Saisie du début et de fin de lieux dans le dialogue Battre Identifier.
Quantification Groove avec Beat Detective: Etape 1 - Séparation
Select the region to be quantised,

Open Beat Detective from the Event menu (Command+8 on the numeric keypad).

Cheese Region Separation in the Operation section.

Enter appropriate values for Start and End bars and beats.

Ensure that Sub-beats is selected in the Detection section and click Analyse.

Again when you are happy that the analysis is correct click 'Separate" as before.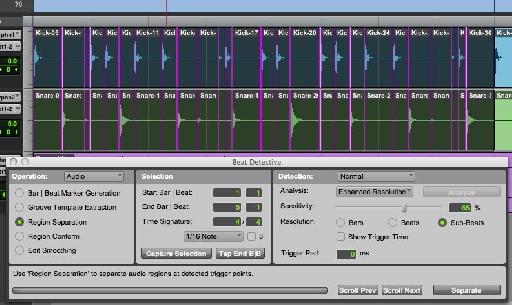 Sélection séparées dans des régions moins transitoires.
Étape 2 - Conforme
In the Operation section choose 'Regions Conform'.

Over in the Conform section choose 'Groove' from the drop-down menu.

A further drop-down menu will then appear - from this one choose 'Groove Clipboard'.

Si vous cochez Timing, vous aurez également accès à une fonctionnalité potentiellement utiles appelée pré-traiter à l'aide standard Conform. Ce sera quantise les régions séparées d'abord avec votre choix de lotissement (et triplet optionnel) dans la section Sélection, puis avec le contenu du presse-Groove. Cela peut être très utile si l'audio que vous traitez bénéficieraient de rangement avant de changer son toucher. Une combinaison d'essais et erreurs et l'expérience est cependant le seul moyen d'évaluer si cela est nécessaire dans chaque cas.
Choisissez conformer.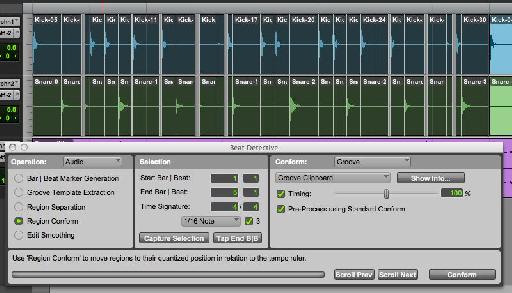 Régions conforme au modèle de quantification Groove Presse-papiers, avec pré-traitement a permis (au 16 triolets).
Étape 3 - Lacunes de lissage
Des lacunes seront sans doute paru entre les régions séparées audio comme un résultat de conformité, ce qui peut causer des claquements audibles. Modifier lissage peuvent être utilisées pour combler ces lacunes et d'ajouter des fondus enchaînés, si nécessaire.
Click 'Edit Smoothing' in the Operation section.

In the 'Smoothing' section choose 'Fill gaps' or "Fill and Crossfade' (and the crossfade length).

Click 'Smooth'.

Don't panic if you can't see the crossfades. The default 5 ms crossfades won't show up at normal levels of zoom!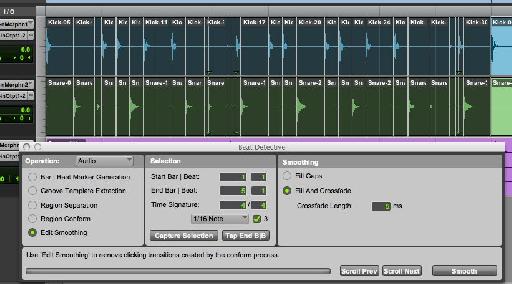 Lacunes comblées et des fondus enchaînés de 5ms appliquée.
Maintenant, asseyez-vous et profitez du moment de Stevie Wonder que joué par un gamin de 15 ans dans l'orchestre de l'école que vous venez d'enregistrer!
En savoir plus sur Beat Detective dans Pro Tools macProVideo.com 's 204 - Tutoriel vidéo Battre détective .