La ventana Beat Detective en Pro Tools reúne en un mismo lugar una amplia gama de herramientas y procesos que se prestan muy bien para trabajar con los tambores. Ranura de cuantificación, es decir, el préstamo de la ranura de una sola fuente y su aplicación como modelo de cuantificación de otro material, es algo que se puede lograr en la mayoría de aplicaciones musicales, pero Beat Detective hace que el proceso sobre todo sencillo.

Identificar el material de origen
En este ejemplo vamos a aplicar la ranura del tambor de apertura de la superstición de Stevie Wonder a algunas grabaciones de batería que suena bastante estéril. Escuchando a Stevie (siempre un placer) se oye que hay dos barras claras de la ranura del tambor con ningún otro instrumento de juego en la parte superior. Con la región de la superstición solod usar el tabulador para transitoria para colocar el cursor de edición en el inicio de dos barras, manteniendo pulsado el botón de mayúsculas Pulse la tecla Tab para seleccionar hasta el final de la sección de barra de dos. Compruebe que ha seleccionado exactamente 2 barras de audición en el modo de reproducción en bucle (Opciones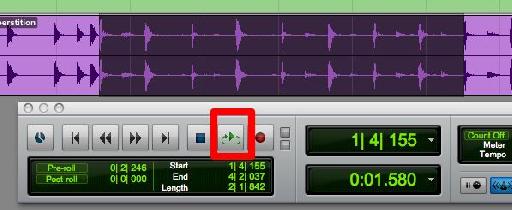 2 barras de la ranura seleccionada, audicionó en el modo de reproducción en bucle.
Entonces Beat Detective abierta en el menú de evento y elija la extracción surco de plantillas en la sección de operación. En la sección Selección de entrar en un 1 para la barra de Inicio | Beat y 3 1 de la Barra de final | Beat. En la sección de detección de comprobar el botón de radio Sub-Beats y luego haga clic en Analizar. Mueva el control deslizante de sensibilidad a fin de que todos los tiempos sub-son reconocidos. Si algunos se pierden se puede hacer clic en ellos con la herramienta de mano, o haga clic con la opción-de mano para eliminar los marcadores gigantes, pero este paso no es necesario de que está utilizando un archivo de audio con un fuerte sentido rítmico.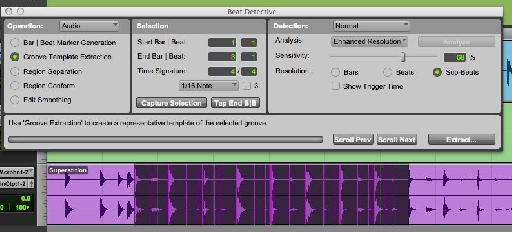 Análisis de los marcadores venció por Beat Detective.
Por último, haga clic en la ventana de diálogo que se abre Extract.The le permite introducir el nombre de la ranura (si se guarda), así como las notas, si fuera necesario. Puede añadir la ranura en el portapapeles de ranura, o se puede guardar para su posterior utilización en otras sesiones.
Al igual que en anteriores tutoriales sobre Beat Detective, que s muy recomendable que se divide la sesión que se cuantifica hasta en significativa (es decir, el verso, coro, etc) y las secciones manejables (4 u 8 bares, por ejemplo), y para alinear las secciones de la red de sincronización de encontrar el tempo exacto de cada uno. En mi tutorial anterior, la fijación de tambores con Beat Detective en Pro Tools, que se describe cómo hacer esto utilizando Beat Detective, asi que aquí hay un método alternativo:
Used Tab to Transient to identify the start of each section.

Ensure the Edit cursor is flashing in all drum tracks to be divided by shift+ clicking in each one.

Use Command-E to divide the regions.

Select all the regions in the section using the Object Grabber.

From the event menu choose 'Identify beat…' (Command-I).

Enter appropriate start and end locations (1|1|000 and 5|1|000 for a four-part section starting on the first beat of the first bar, for example).

Click OK – a tempo will be entered in the tempo ruler at the start of the section.

Repeat this process for each section in the session.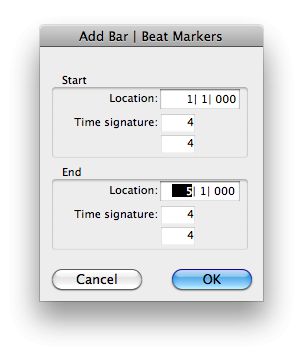 Entrando en el inicio y final en lugares del cuadro de diálogo Identificar golpe.
Cuantificación de la ranura con Beat Detective: Paso 1 - Separación
Select the region to be quantised,

Open Beat Detective from the Event menu (Command+8 on the numeric keypad).

Cheese Region Separation in the Operation section.

Enter appropriate values for Start and End bars and beats.

Ensure that Sub-beats is selected in the Detection section and click Analyse.

Again when you are happy that the analysis is correct click 'Separate" as before.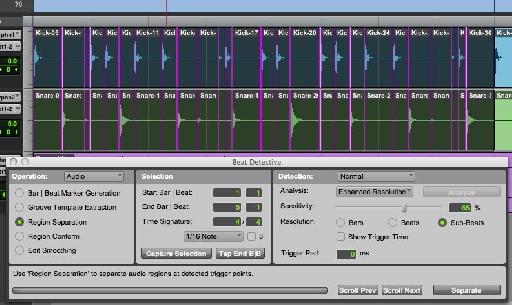 Selección separados en las regiones en los transitorios.
Paso 2 - Conforme
In the Operation section choose 'Regions Conform'.

Over in the Conform section choose 'Groove' from the drop-down menu.

A further drop-down menu will then appear - from this one choose 'Groove Clipboard'.

Si marca sincronización, también tendrá acceso a una característica potencialmente útil llamado Pre-Proceso de uso de las reglas Conform. Esto cuantizar las regiones separadas en primer lugar con la elección de la subdivisión (y triplete opcional) en la sección Selección y luego con el contenido del portapapeles Surco. Esto puede ser muy útil si el audio se va a procesar se beneficiarían de poner en orden antes de cambiar su ambiente. Una combinación de ensayo y error y la experiencia es, sin embargo la única manera de evaluar si esto es necesario en cada caso.
Elija cumplir.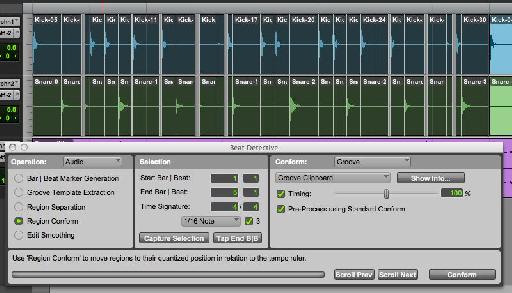 Regiones ajustadas a la plantilla de Groove cuantización Portapapeles, con pre-procesamiento permitido (hasta el 16 de tresillos).
Paso 3 - Lagunas Suavizado
Vacíos, sin duda, han aparecido entre las regiones separadas de audio como resultado de la conformidad, que puede causar clic audible. Edit Smoothing se puede utilizar para llenar esos vacíos y agregar fundidos cruzados si es necesario.
Click 'Edit Smoothing' in the Operation section.

In the 'Smoothing' section choose 'Fill gaps' or "Fill and Crossfade' (and the crossfade length).

Click 'Smooth'.

Don't panic if you can't see the crossfades. The default 5 ms crossfades won't show up at normal levels of zoom!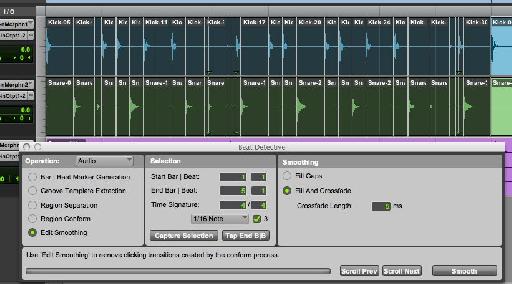 Llenar los vacíos y aplicar fundidos de 5ms.
Ahora siéntate y disfruta el momento de Stevie Wonder interpretado por un niño de 15 años en la banda de la escuela que acaba de grabar!
Aprenda más acerca de Beat Detective en macProVideo.com 's Pro Tools 204 - Tutorial Batir vídeo detective .