Ableton Live abrite un certain nombre de bons effets, mais un de mes favoris personnels est le Beat Repeat plug-in. Cette petite beauté m'a suivi partout et chaque fois Ive a joué vivre sa été un pilier de mon rack d'effets.
Jetons un oeil à la façon d'obtenir cette mise en place pour créer des accumulations, des problèmes et le chaos piste de danse! Ive gardé les choses assez basique ici, donc même si vous n'avez jamais utilisé l'effet que vous devriez être en mesure de se coincer po
Étape 1 - Charger le Beat Repeat
Le Beat Repeat plug-in des charges jusqu'à tout comme aucun effet Ableton autres. Il suffit de naviguer vers la section des effets audio en utilisant le navigateur sur la gauche de l'interface de vies et de localiser les Beat Repeat.
L'effet peut maintenant être glissées et déposées sur n'importe quel canal audio, un instrument ou de retour. Une chose que je dirais est que ce qui fonctionne le mieux comme effet d'insertion, au moins il le fait pour la technique suivante!
Avec votre Beat Repeat chargé et une boucle audio en place, nous sommes bons pour aller et peut commencer à composer dans certains paramètres appropriés. Bien sûr, vous pouvez utiliser n'importe quelle source audio que vous voulez ici: un modèle MIDI, vocale ou une barre de batterie entier. Pour montrer le Beat Repeat à son meilleur Ive allé pour une boucle musicale ici, cela va du chemin à émuler un mix entier.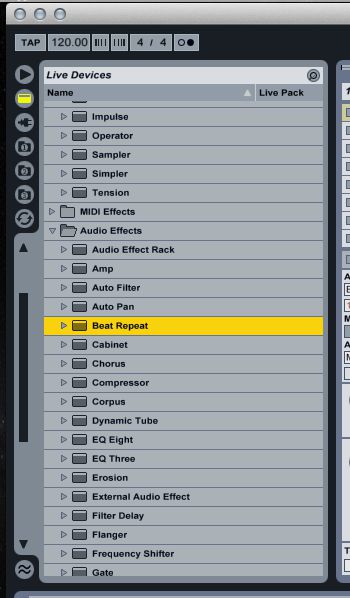 Le Beat Repeat plug-in est situé!
La boucle que nous allons utiliser:
[Audio id = "8256"]

Étape
Dans son état par défaut du Beat Repeat seront lus 16ème du-bar-répétitions. Nous avons donc besoin de faire quelques changements avant que nous puissions l'utiliser comme un outil de performance en direct. Il ya quatre principaux changements que nous devons faire ici ...
Turn the Chance parameter down to zero

Adjust the gate control to 1 bar,

Engage the 'No Triplet' control and, finally,

Change the routing mode to insert.

Vous pouvez voir la différence entre le patch par défaut et le modifier dans le screenshot ci-dessous.
Avec ces ajustements mineurs apportés, le plug-in est prêt à être modifié. Vous pouvez modifier les paramètres clés avec la souris, mais vous êtes beaucoup mieux d'utiliser un contrôleur matériel. Même quelque chose de simple suffira ici comme ayant les mains sur le contrôle est un must.

Une comparaison entre le patch par défaut et nos réglages personnalisés.
Étape
Il ne sont vraiment deux paramètres dont vous avez besoin de contrôler ici pour obtenir le maximum de ce patch. Pour commencer à cartographier ces derniers à votre contrôleur de youll besoin de frapper le gros bouton MIDI dans le coin en haut à droite de l'interface de vies.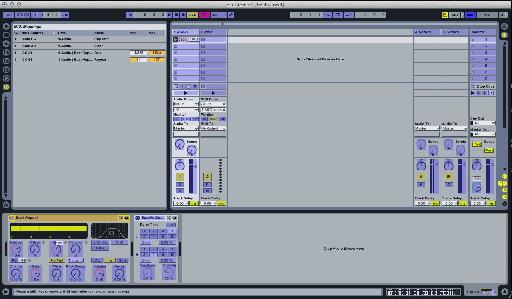 Le mode de mapping MIDI est activé.
Youll voir tous les paramètres cartographiables prendre une couleur bleu / violet. Maintenant allez-y et choisissez le paramètre Répéter et appuyez sur un bouton de votre contrôleur. Dès que vous faites cela youll voir un petit symbole apparaît, cela signifie que le contrôle est cartographié et prêt à l'emploi. Maintenant, répétez le processus avec la commande de grille mais l'utilisation d'un bouton au lieu d'un bouton.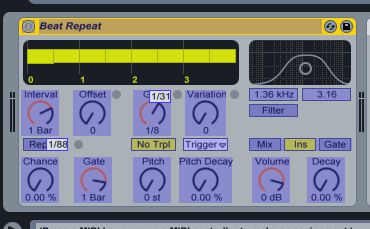 Un gros plan sur les mappages utilisés.
Maintenant, vous pouvez activer l'effet avec le bouton que vous avez utilisé et de modifier le calendrier de l'effet de répéter avec le bouton. Avec un peu de pratique, vous pouvez obtenir les choses parfaitement dans le temps et produisent vraiment cool remplit rythmique et rouleaux. Amusez-vous!

Un tir des mouvements enregistrés.
Le Beat Repeat plug-in dans l'action:
[Audio id = "8261"]

Besoin d'aller plus loin? Consultez ces Ableton Live tutoriel-vidéos .