Ableton Live cuenta con un buen número de efectos, pero uno de mis favoritos es el Beat Repeat plug-in. Esta pequeña belleza me ha seguido por todas partes y siempre que he tocado en directo sus sido un pilar de mi rack de efectos.
Vamos a echar un vistazo a cómo este conjunto para crear acumulaciones, problemas y el caos pista de baile! He mantenido las cosas bastante básico aquí, así que incluso si usted nunca ha usado el efecto que debe ser capaz de quedarse atorado pulg
Paso 1 - Carga de la Beat Repeat
El Beat Repeat plug-in de cargas de hasta igual que cualquier otro efecto de Ableton. Simplemente vaya a la sección de efectos de audio usando el navegador a la izquierda de la interfaz de vidas y localice el Beat Repeat.
El efecto ahora se pueden arrastrar y soltar en cualquier canal de audio, instrumento o retorno. Una cosa que yo diría es que esto funciona mejor como un efecto de inserción, por lo menos lo hace de la siguiente técnica!
Con el Beat Repeat cargado y un loop de audio en su lugar, es bueno ir y puede empezar a marcar en algunos lugares apropiados. Por supuesto, usted puede utilizar cualquier fuente de audio que, como aquí: un patrón de vocal MIDI, o un bus de batería completa. Para mostrar el Beat Repeat en su mejor momento he ido a dar un loop musical aquí, esto en cierta medida a emular a una mezcla completa.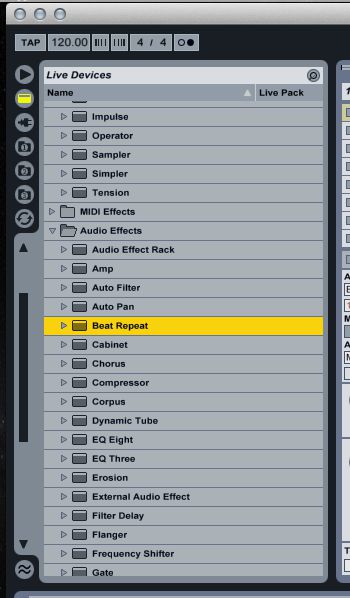 El Beat Repeat plug-in se encuentra!
El bucle se va a utilizar:
[Audio id = "8256"]

Paso
En su estado predeterminado de la Beat Repeat se reproducirá 16a de un bar-repeticiones. Así que tenemos que hacer algunos cambios antes de que se puede utilizar como una herramienta de presentaciones en vivo. Hay cuatro principales cambios que tenemos que hacer aquí ...
Turn the Chance parameter down to zero

Adjust the gate control to 1 bar,

Engage the 'No Triplet' control and, finally,

Change the routing mode to insert.

Usted puede ver la diferencia entre el parche por defecto y la alteración en la siguiente imagen.
Con estos pequeños ajustes realizados, el plug-in está listo para ser modificado. Usted puede cambiar los parámetros clave con el ratón, pero es mucho mejor usar un controlador de hardware. Incluso algo tan simple será suficiente aquí como tener las manos en el control es una necesidad.

Una comparación entre el parche por defecto y los ajustes personalizados.
Paso
Hay realmente sólo dos parámetros que necesita para controlar aquí para obtener el máximo provecho de esta revisión. Para iniciar la asignación de estos a su youll controlador tenga que pulsar el botón MIDI grande en la esquina superior derecha de la interfaz de vidas.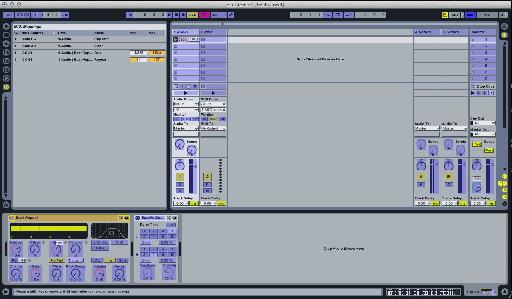 El modo de asignación de MIDI está activado.
Youll ver todos los parámetros asignables a su vez de un color azul / morado. Ahora, seguir adelante y elegir el parámetro de repetición y apretar un botón en el controlador. Tan pronto como lo hace el youll considera un pequeño símbolo aparece, esto significa que el control está asignado y listo para usar. Ahora repite el proceso con el control de cuadrícula, pero usar una perilla en lugar de un botón.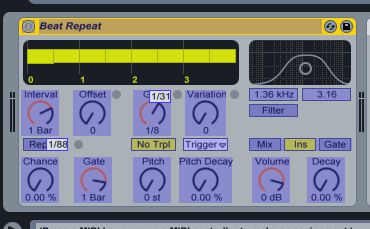 Un primer plano de las asignaciones de utilizar.
Ahora usted puede activar el efecto con el botón con el que el cambio y el momento en que el efecto de repetir con el mando. Con un poco de práctica se puede hacer las cosas perfectamente en el tiempo y producir llena rítmica realmente fresco y rollos. Disfrute!

Un tiro de los movimientos registrados.
La repetición de vencer plug-in en la acción:
[Audio id = "8261"]

Necesidad de ir más profundo? Echa un vistazo a estos Ableton Live tutorial-videos .