Ableton Live houses a good number of effects but one of my personal favorites is the Beat Repeat plug-in. This little beauty has followed me all over the place and whenever I've played live it's been a mainstay of my effects rack.
Let's take a look at how to get this set up to create build ups, glitches and dance floor mayhem! I've kept things pretty basic here so even if you've never used the effect you should be able to get stuck in.
Step 1 - Loading The Beat Repeat
The Beat Repeat plug-in loads up just like any other Ableton effect. Simply navigate to the audio effects section using the browser on the left of Live's interface and locate the Beat Repeat.
The effect can now be dragged and dropped onto any audio, instrument or return channel. One thing I would say is that this works best as an insert effect, at least it does for the following technique!
With your Beat Repeat loaded and an audio loop in place, we are good to go and can start dialing in some appropriate settings. Of course you can use any audio source you like here: a MIDI pattern, vocal or an entire drum buss. To show the Beat Repeat at its best I've gone for a musical loop here, this goes some way to emulating an entire mix.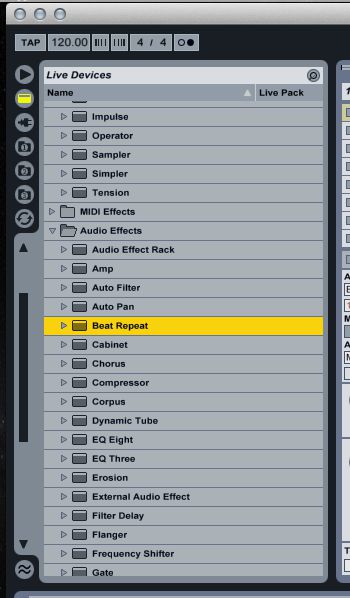 The Beat Repeat plug-in is located!
The loop we are going to use:
Step 2 - Dialing In The Correct Settings
In its default state the Beat Repeat will play back 16th-of-a-bar repetitions. So we need to make a few changes before we can use it as a live performance tool. There are four main changes we need to make here...
Turn the Chance parameter down to zero

Adjust the gate control to 1 bar,

Engage the 'No Triplet' control and, finally,

Change the routing mode to insert.

You can see the difference between the default patch and the altered one in the screenshot below.
With these minor adjustments made, the plug-in is ready to be tweaked. You could change key parameters with the mouse but you are much better off using a hardware controller. Even something simple will suffice here as having hands on control is a must.

A comparison between the default patch and our custom settings.
Step 3 - Mapping to Your Controller
There are only really two parameters you need to control here to get the most out of this patch. To start mapping these to your controller you'll need to hit the large 'MIDI' button in the top right hand corner of Live's interface.
The MIDI mapping mode is activated.
You'll see all mappable parameters turn a blue/purple color. Now go ahead and select the 'Repeat' parameter and hit a button on your controller. As soon as you do this you'll see a small symbol appear, this means the control is mapped and ready for use. Now repeat the process with the 'Grid' control but use a knob instead of a button.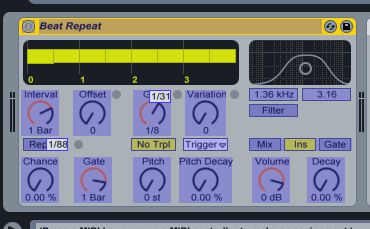 A close-up of the mappings used.
Now you can activate the effect with the button you used and change the timing of the repeat effect with the knob. With a bit of practice you can get things perfectly in time and produce really cool rhythmical fills and rolls. Enjoy!

A shot of the recorded movements.
The beat repeat plug-in in action:
Need to go deeper? Check out these Ableton Live tutorial-videos.