Ableton's Push is an amazingly versatile controller, efficacious in controlling both software and hardware alike. Being a huge fan of outboard gear, I have spent countless enjoyable hours discovering new ways to incorporate Push into my workflow, searching for inventive methods to maximize its potential.
Ableton Live makes controlling external hardware nearly effortless. Enabling an External Instrument Rack in Note Mode, allows for controlling outboard modules almost as easily as navigating Live's built in devices or other third-party software instruments. Readily record in notes and chords on the fly and, with the semi-recent Live 9.1 update, even step sequence melodically (hit Note Mode twice to access).
Laid out a bit differently than the melodic sequencer, Push's Drum Rack step sequencer is an equally powerful tool built for mapping out rhythmic content. Although it is entirely possible to use the melodic sequencer for charting out drum patterns, I longed to program hardware drum modules in the same fashion as I work with Live's Drum Racks. Using multiple instances of external racks within Drum Racks, I've discovered a few techniques for controlling multiple sounds across numerous hardware devices all on a single track.
The Setup
The first step to getting this working is to bridge connection between Ableton Live, your Audio/MIDI interface and your outboard gear. For those unfamiliar with this procedure, Ableton has published some very comprehensive videos explaining this process in detail.

Push: Playing Hardware Synthesizers:
https://www.ableton.com/en/blog/push-playing-hardware-instruments/
Once you have connected your setup properly, let's work through a couple scenarios starting with the basics. The first example works well for drum machines that use one MIDI channel to control all voices, where each sound is triggered by a different note value.

For example:

Global MIDI Channel 3

Kick= C1

Snare= C#1

Low Tom= D1

High Tom= D#1

CL HH= E1

OP HH= F1

... and so on. You might need to check your specific product's documentation for particulars or reprogram the assignments yourself.

Then... in Live, instantiate a blank Drum Rack onto a MIDI Track.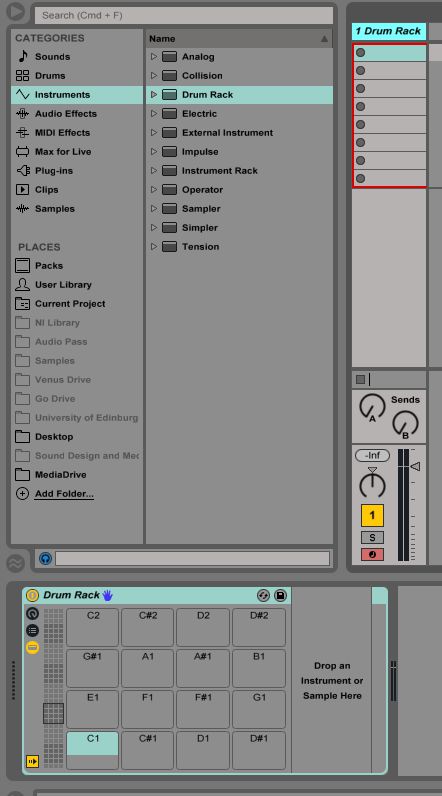 Selecting Drum Racks.
'