As wonderful as Push is for both Studio Production and Live Performance, it is fair to say that it's not tailored to those who want to use a traditional DJing setup within Live. Controllers like the Novation Twitch (which has the traditional DJing layout along with a Live Mapping Template) is much more suited to this purpose. However, with a little bit of outside-the-box thinking, there are many ways to turn Push into an adequate controller for the modern day DJ.

Basic DJ Setup using Push's User Mode
Push's Session mode will obviously come in very useful when DJing, however you may also want to make use of its User mode to map some traditional DJ Parameters to Push, for instance EQ controls. Let's take a closer look.

The first thing you need to be aware of is how to configure the MIDI settings in Live correctly when using the User Mode on Push. In the MIDI sync tab in Live preferences, switch both the Remote and Track buttons for the In and Out User ports for Push on.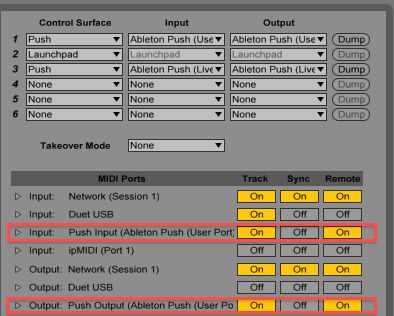 Create a DJ template to suit your type of performance. As I want to replicate the traditional DJ layout I have created three audio tracks or '