The generous people at Time + Space have got an offer Toontrack EXdrummer owners simply can't refuse...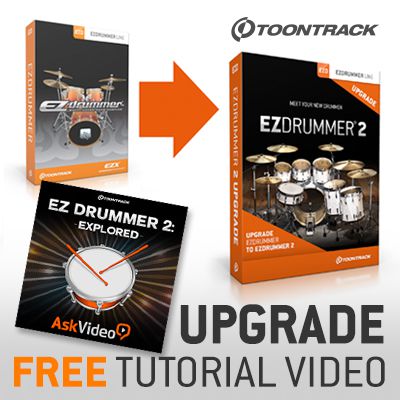 SPECIAL OFFER! Buy the EZdrummer 2 upgrade before 6th May and you'll also receive a free EZdrummer 2 tutorial video course from macProVideo / AskVideo worth £14!
The tutorial will be available on/around 6th May and a code for this will be sent to you upon release. Simply buy the upgrade to EZdrummer here before 6th May:
http://www.timespace.com/product/EZD2UP-120/3/9999929/toontrack_ezdrummer_2_upgrade_(serial_download).html

EZdrummer 2: What´s new and improved? EVERYTHING!
EZdrummer's unparalleled success revolves around one central fact '" that it is easy to use. In a creative songwriting moment, you want to keep momentum. You don't want to get stuck programming drums. Tweaking sounds. Be presented with endless options. You want to write music. So when presented with the daunting task of making the market's most easy-to-use drum software better without over-complicating it, what do you do? Well, Toontrack did something pretty hard. They made it even easier.

NEW FEATURES AT A GLANCE
Revolutionary songwriting tools

Advanced search functionality

New user interface

New sounds

New sound shaping tools

New audio engine

Upgrade NOW here.