Another day, another drop of goodness from our friends at Universal Audio! The latest trio of plugins from UA include a coveted preamp, a more sleek and modern Autotune, and a fairly aggressive amplifier for all to enjoy. I was excited, as always, to pull the update switch and get my hands on these. Here's my hot take on each!
V76 Preamp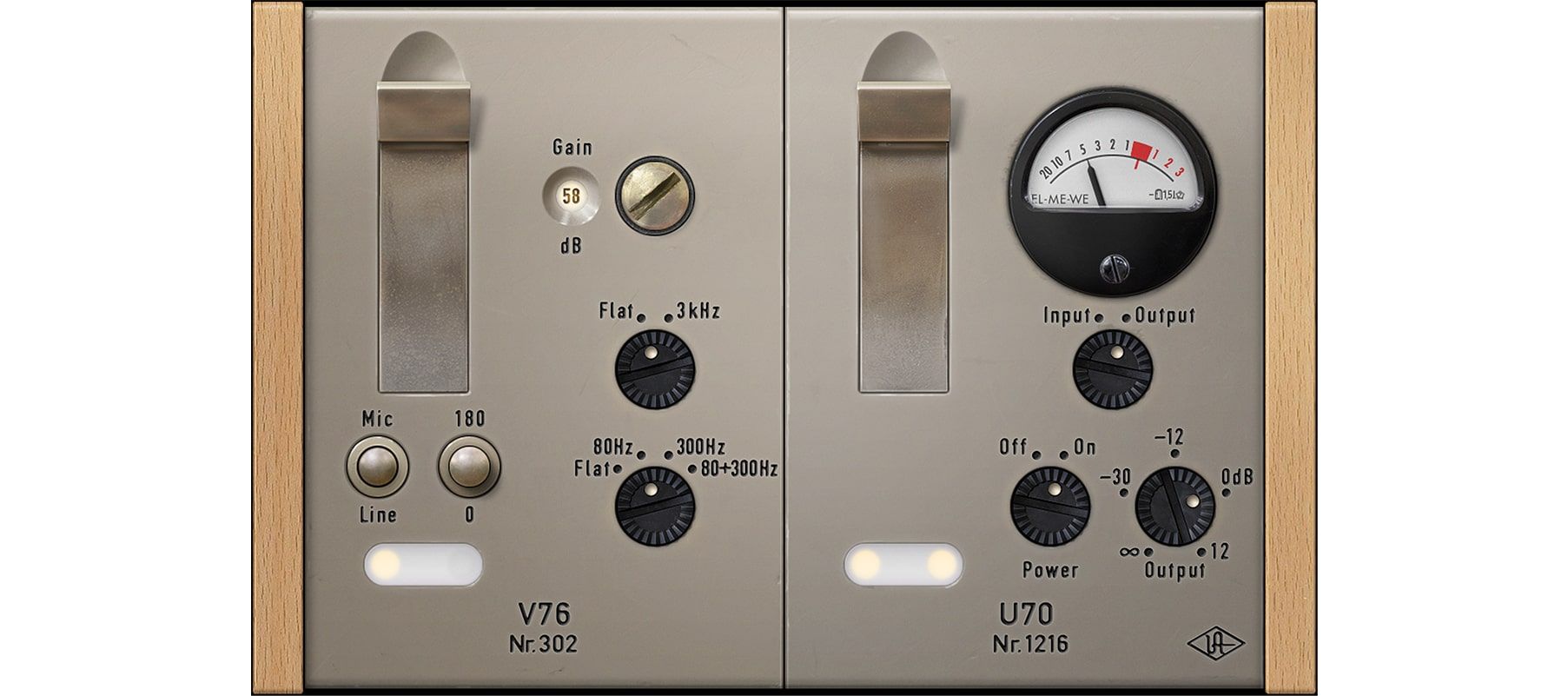 I was extremely curious to hear this emulation in action. Mostly because I'd of course heard of the v76 but never actually had my hands on one. This plugin was the first I tested of the bunch, putting it in the Unison slot and pairing it up with my trusty Shure SM7B. You can hear the results below - the first phrase is with no emulation, and the second has the V76 enabled.

I noticed fairly immediately that the V76 definitely has a sound. Some preamp emulations are a little heavier on features and 'channel-strippy', but the V76 adds a significant amount of color. This is heard the most, I think, in terms of intelligibility in the mid-range. I felt that even with the simplest of setups (simply turning on the emulation and dialing in the gain/output ratio) there is a real boost in the mid-range clarity and punch. You definitely have to get used to the 'stepped gain' if you haven't used a preamp that has such.
The gain moves up in specific increments and you adjust by moving the mic or attenuating the output stage - but this forces you to really find that 'sweet spot' for the preamp to really shine. It's almost akin to a photographer using a 'prime' lens that doesn't zoom. Sometimes you have your most creative and inspiring moments when you aren't given license to micro-manage.
Antares Auto-Tune Realtime Advanced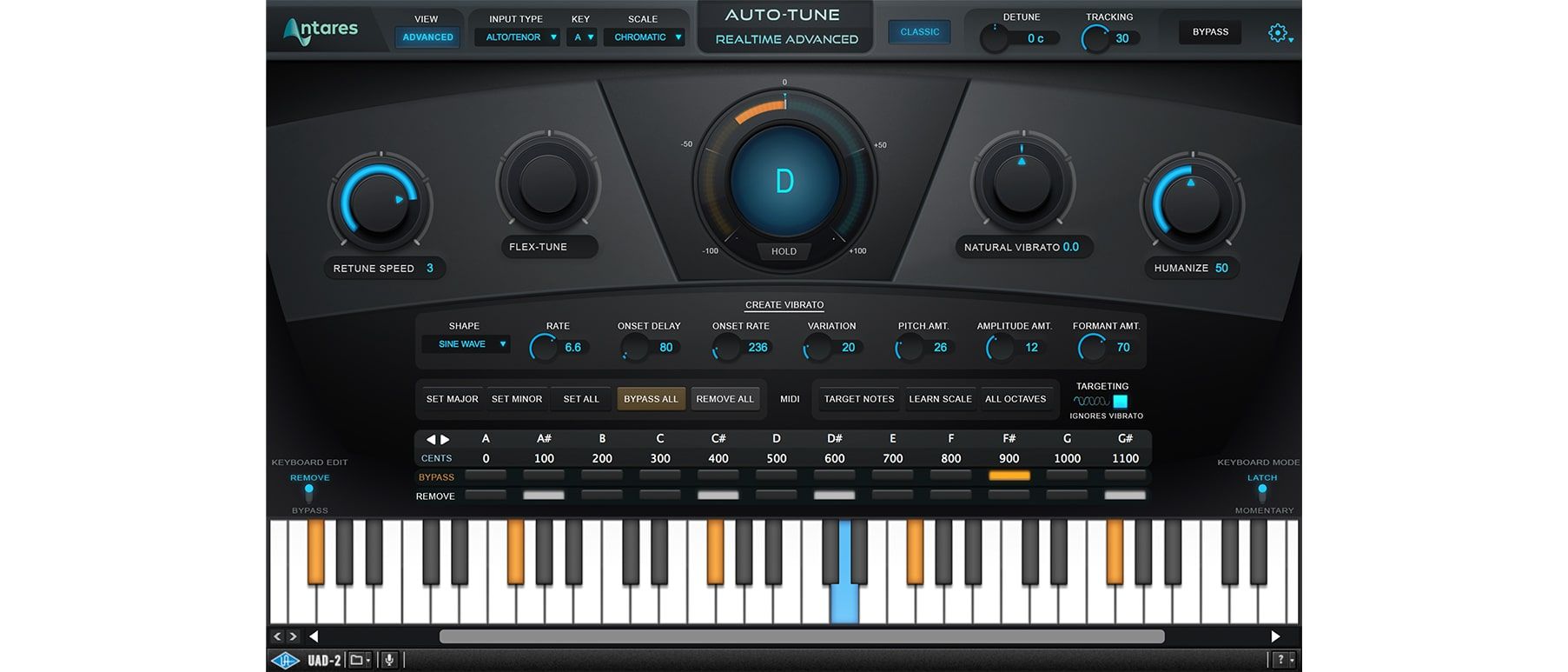 This one made me extremely happy. As an avid user of Auto-Tune, I didn't think that we'd be getting an updated version that matched the feature set and graphical interface of the more current native version - but UA and Antares responded rather quickly to this one! This updated version really streamlines the user interface, adds that coveted (and somewhat cult-ish) "Auto-Tune 5" mode for those of you that want to use this as more of an effect than a correction. Realtime MIDI input is a plus, making it way more clean and accurate if you have a phrase you just want to play in specifically.
One of the coolest features, though, is the ability to correct in real-time while tracking. Dropping this plugin in Console allows you to apply some real subtle and transparent 'help' in the tracking phase. Honestly, with how easy it is to dial in some subtle pitch correction, I'm not going to be that surprised if we see an evolution of our use of this plugin much like using 'stages' of gentle compression as opposed to Thor's hammer of dynamics. I think we're only just beginning to see how folks use this.
Diezel Herbert Amplifier

The Diezel amp emulation was the 'sleeper hit' for me. Honestly, I get more excited about the amp emulations I've never heard of than the ones I know. I had no idea what a Diezel was going to sound like, and all I can say is… wow. We've come a long way from 'Nigel' (shout out to you long-time UA users!).
I popped in a quick rhythm track using my Les Paul and the Diezel Herbert in a unison slot and was absolutely blown away. The 'deep' knob on the right side of the interface might as well be labeled the "get rid of any semblance of a plugin and make this sound like a real amp" knob. Although I can see why that might take up too much space in the user interface. 

This emulation is truly fantastic. I don't normally like to quote the marketing on these plugins, but when they say 'God-like clean tones' they are NOT kidding. The distortion tones were tight, and there is absolutely nothing 'plugin' sounding about this amp emulation. Check out the sample below (a touch of plate reverb added because we are civilized folks)

Conclusion
There is most certainly something for everyone in this update. I loved all three plugins, and will be using them often. The V76 has an unapologetic color to it that I'm a fan of, the Auto-Tune update brings the plugin into the future, and the Diezel came out of nowhere to be my new favorite amp emulation. Two very big thumbs up.