SCOTTS VALLEY, CA • November 14, 2019 — Universal Audio is proud to announce the release of UAD Software v9.11. Alongside the UA-developed Avalon VT-737 Tube Channel Strip, the latest software release features plug-in titles from UA's direct developer partners, Brainworx and Sonnox.
Sonnox Oxford SuprEsser DS - $249
Developed by Sonnox for UAD hardware and UA Audio Interfaces, the Oxford SuprEsser DS plug-in gives you transparent, precise linear-phase de-essing with near-zero latency when tracking in real time. A dynamic and powerful tool, the Oxford SuprEsser DS plug-in's spectral display and intuitive controls makes identifying and surgically eliminating unwanted sibilance or harshness easier than ever.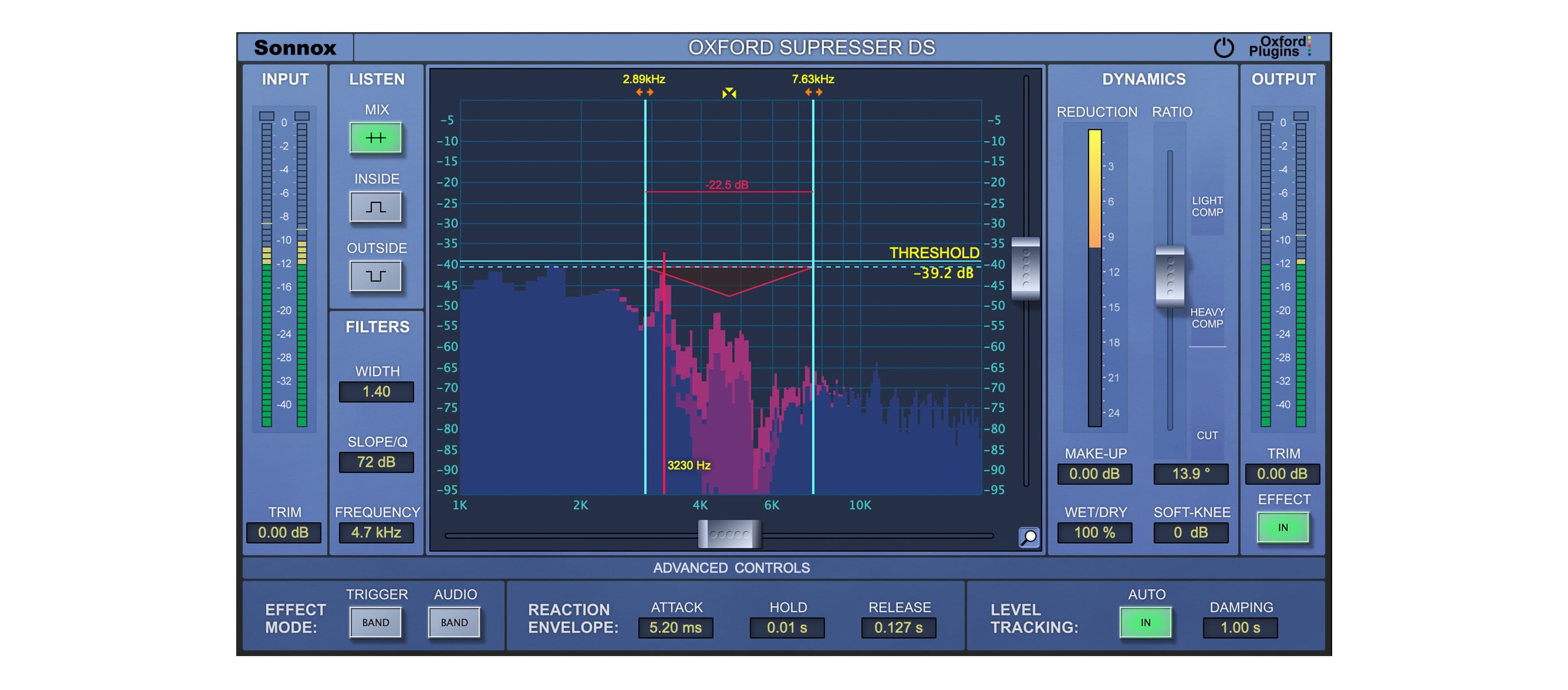 Key Features
Easily set level-tracking threshold for musical de-essing on loud and soft vocal passages
Interactive spectral analyser helps identify and control unwanted harshness
Variable-slope linear-phase filters for precise, transparent control
Comprehensive Listen and Effect modes for wide and narrow-band detection
Dry/wet mix control for built-in parallel processing
Near-zero latency with Realtime UAD Processing for precise de-essing while tracking and mixing
Diezel VH4 Amplifier - $149
Introduced in 1994, the VH4 amplifier was Diezel's maiden voyage — a 100-watt beast that dropped jaws with articulate cleans, dynamic distortion, and frothy high-gain tones. Still a modern tone giant 25 years after its release, the Diezel VH4 is ubiquitous in heavy rock and metal productions, used by Tool, Metallica, and tons more.
Developed by Brainworx, and officially endorsed by legendary amp builder Peter Diezel, the Diezel VH4 plug-in masterfully emulates this four KT77-equipped 100-watt beast, for UAD hardware and UA Audio Interfaces.
Key Features
Exacting emulation of the original 100-watt Diezel VH4 guitar amp, endorsed by Peter Diezel and Peter Stapfer
Four independent channels for a huge range of tones, from clean to ultra-high gain and all points in between
120 Recording Chains with multiple speaker cabinets – recorded in Brainworx´s studio using the NEVE VXS72 console, stellar outboard gear and world class microphones
FX Rack includes host-syncable lo-fi delay, noise gate, filters, power soak, pre and power amp bypass
Unison technology for UA Audio Interfaces offers authentic tone, touch, and feel of original Diezel VH4 amplifier thanks to impedance matching