SCOTTS VALLEY, CA • November 3, 2016 — Universal Audio, a leading manufacturer of professional audio recording hardware and software, is proud to announce the new API® 2500 Bus Compressor plug-in.
API 2500 Bus Compressor Plug-In — $299
The API 2500 Bus Compressor is a fixture on the stereo bus of many the world's top engineers and producers. Considered the best of the Paul Wolff-era API circuit designs, this iconic hardware is relied upon to deliver energy, movement, and tone to stereo mixes and subgroups.
Available in the UAD Store for $299, the API 2500 Bus Compressor plug-in for UAD-2 hardware and Apollo interfaces is a spot-on emulation of this classic compressor, capturing its all-discrete circuit path with Thrust® circuitry and features a fanatically detailed modeling of API's custom transformers and 2510 and 2520 op amps.
Using "for-your eyes-only" schematics made available to Universal Audio by API, our team of DSP experts analyzed two classic API 2500s — rackmount and in-console — ensuring one of UA's tightest behavioral circuit models to date — and the definitive representation of this iconic compressor.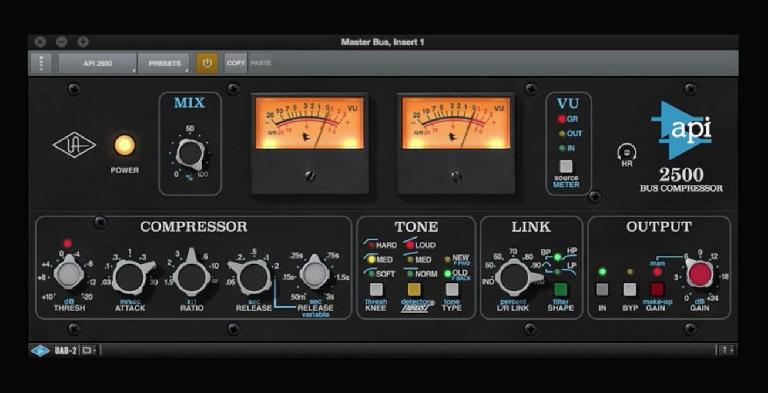 API 2500 Bus Compressor Plug-In Key Features:
Painstakingly modeled by Universal Audio's plug-in design team, licensed and authenticated by Automated Processes, Inc.,
Provides the entire circuit path and control set of the API hardware including custom API op amps and transformers
Signature API 2500 features include patented Thrust® sidechain filtering, "New" and "Old" Compressor Types, and Variable Sidechain Link
Plug-in-only features include Dry/Wet parallel processing and Headroom for user-customizable operating level
Artist presets from Jeff Balding (Faith Hill, Trace Adkins), Vance Powell (Chris Stapleton, Jack White), Ryan Hewitt (The Avett Brothers, Red Hot Chili Peppers) and more.