Blend your reverb
MorphVerb covers all reverb types you could think of - Spring, Ambience, Echoes, Room, Chamber or Plate. It also features great spaces like Hall or Cathedral and your reverb can even be Infinite.
MorphVerb fills the gaps between reverb styles and gives almost infinite possibilities. As the name suggests you can not only switch between the reverb types. MorphVerb gives you a chance to blend smoothly between any two neighbouring types.
Furthermore, MorhpVerb provides advanced features like Ducking which makes sure that your tracks won't drown in the reverb. The reverb sound can be saturated and compressed.
2D/3D GUI
MorphVerb is also user friendly. Some people like 3D graphics better, some prefer flat design. You may choose which GUI suits your more and switch between 3D and 2D any time.
2 levels of intro discount
MorphVerb is compatible with major VST/AAX/AU DAW applications on both Windows and macOS. The price is set to €149. But you may grab the hyper-intro discount which gives you 88% (€19) off until May 10. After this date, the price rises to intro discount. Morphverb will be available with 74% off (€39) through May 24.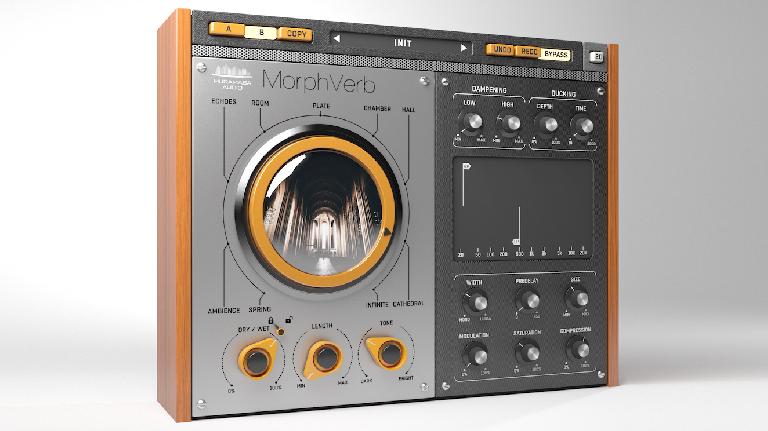 Price: Normally $149 (on sale until 9th May 2020 for just $19 !!)
About United Plugins
As implied in the carefully chosen wording for an apt appellation that really represents how the Prague-registered Limited Company came about and what it collectively creates, United Plugins is a federation of small, independent development teams comprised of individuals involved in the music industry. Indeed, the founding triad of FireSonic, JMG Sound, and SounDevice Digital can count engineers, producers, and artists amongst their 'united' names. Needless to say, all were seeking the freedom to create the tools that they would like to use in their studios and on their projects. And all agreed that this could be better achieved when working together. Though United Plugins' proliferating product portfolio — now numbering seven plugins (including FirePresser, FireMaster, and FireCobra by FireSonic; Hyperspace by JMG Sound; and Verbum Entropic Hall, FrontDAW, and Royal Compressor by SounDevice Digital) — may not necessarily be for the musical masses, surely someone, somewhere will always find those tools to be a perfect fit for their own music productions… just like those inventive individuals forming United Plugins' founding independent developer triad!
About Muramasa
The famous Japanese swordsmith Muramasa inspired generations with his masterwork. The craft, the quality and the precision is something we decided to put into our work too. We are passionate about every little detail. We quench, refine and forge multiple times before we unveil our pieces and we hope to bring the perfection of the old masters into the audio world. Because music is stronger then sword.
Price: Normally $149 (on sale until 9th May 2020 for just $19 !!)