SANTA CRUZ, CA, USA: Plugin Alliance, supporting all major plugin formats and uniting some of the best-known international audio companies under one virtual roof, is proud to announce availability of LION — latest release from fellow Californian company and plugin-creating partner Unfiltered Audio that this time sees it welcomed to the synthesis jungle with the King of soft synths, an extraordinarily deep VI (Virtual Instrument) anchored around an easy-to-use interface providing everything needed for quick patching, endless experimentation, and intuitive sound design.
LION lends itself to creatively crafting powerful sounds that feel as though they were produced by a colossal chain of plugins, tabs, and automation — and all from within its innovative single-screen GUI (Graphical User Interface) with clear, intuitive controls. Clearly, time is better spent focusing from the outset on the musical job at hand by harnessing LION's king-sized sonic complexity and versatility, rather than resorting to watching time-consuming tutorials to learn the intricacies and hidden features of a badly-executed synth — software based or otherwise.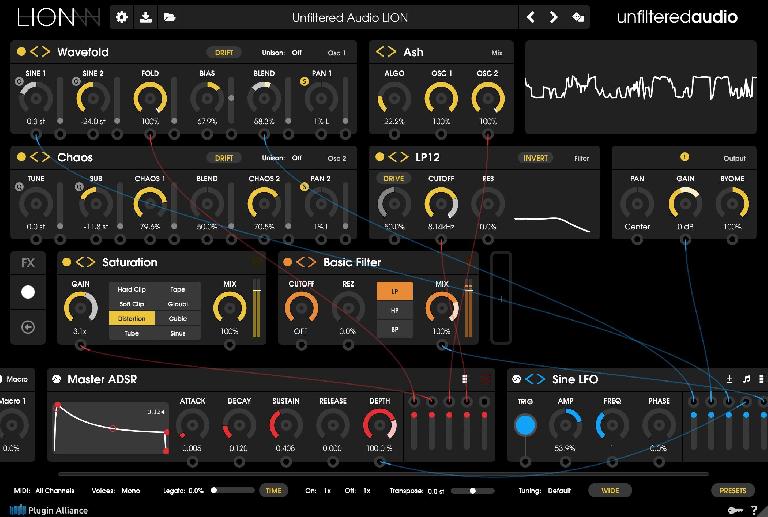 Other soft synths may well only provide a small library of forgettable effects almost as an afterthought, yet LION lets users ditch the need for external effect plugins, should they wish, with Unfiltered Audio's already-legendary BYOME effect row also integrated as a flexible library of over 40 modulatable effects. LION's synthesis engines and BYOME processing engine all have access to the same modulation sources, so users can create complete presets with detailed effect chains that react to their playing.