New York – October 2, 2019 — UK Sound, the project studio-focused imprint of BAE Audio, has unleashed a bevy of new products at the 147th AES Convention, including a mic pre/EQ channel strip and three new microphone preamplifiers modeled after the 1073 — the legendary preamplifier behind classic recordings of the '70s and one of the most beloved circuits of all time.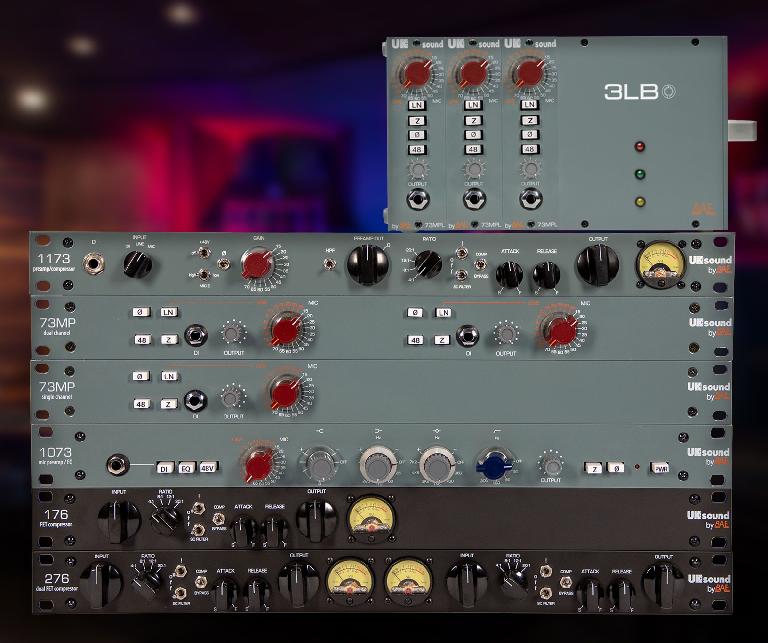 The new 1U rackmount 1073 Mic Pre / EQ, 73MP Single Channel and 73MP Dual Channel versions, as well as the compact 73MPL 500 Series Mic Pre units, emulate classic sounds from the original circuitry of the 1073. UK Sound is building on an authoritative audio legacy since its parent company, BAE Audio, has been building the 1073 for two decades — consecutively longer than any other company in history.
Different tools, same authentic sound character
The new 73MP Single Channel, Dual Channel and the 73MPL 500 series each contain the mic pre-amp version of the 1073 EQ, along with its harmonically rich low end, slightly resonant highs, and maintained focused mids. Each unit also features OEP Carnhill transformer coupled inputs and two selectable impedances — making them suitable for a wide variety of microphones. A line level input can be used to for adding depth to 2-bus mixes, and a DI input may also be used to add character to both active and passive instruments.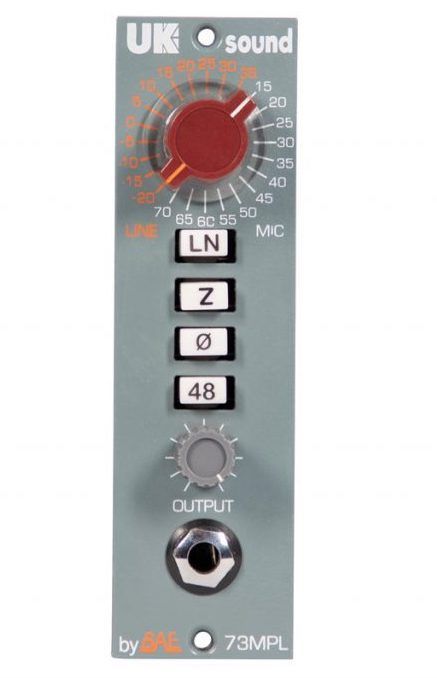 UK Sound 73 MPL
The 1073 Mic Pre / EQ is the economically-priced UK Sound version of the famous 1073 Mic Pre EQ, designed to bring authentic sound character to any input source with powerful tonal shaping options. The faceplate features the same footprint as the original, while the internal circuitry is laid out on a printed circuit board — saving many hours of manual labor and significantly decreasing the cost to the user. While a circuit board is used to minimize cost, high quality components such as OEP/Carnhill transformers and Elma switches are included and every unit is hand built in Southern California. Despite their lower price, Every UK Sound component features the same quality assurance and support as BAE Audio devices.
"With the launch of our 73 line of preamps and our new 1073 Mic Pre/EQ, UK Sound is fulfilling its mission of bringing extremely high quality audio to a much broader audience of recording and performing musicians," commented Mark Loughman, President of BAE Audio. "Now, home studios and project studio owners can access an entire ecosystem of products that actually deliver authentic sonic character at an affordable price.
All of UK Sound's products are hand built in the U.S.A. at BAE Audio's headquarters in West Hollywood, CA. Last July at Summer NAMM 2018, UK Sound was selected as a 'company to watch', with Vintage King's Matt Knobel effusing "This is going to revolutionize at lot of home studios."
73MP and 73MPL Specifications
Frequency Response: 6Hz to -3dB at 75kHz, flat within 0.5dB between 20Hz and 20kHz
Mic Input Impedance: ≈600/150 ohms
Line Input Impedance: 10k ohms
DI Input Impedance: ≈150k ohms
Output Impedance: 65 ohms
Common Mode Rejection Ratio: 100dB min @ 60Hz
Maximum Output Level: +27.4 dBu @ 600Ω
Power Requirements: 115/230 VAC, 30W
Gain dB: 0 to 71 dB
Equivalent Input Noise" -110 dBu; Unweighted 300kHz Bandwidth
3 Band Equalizer specifications
HF: +/-16dB fixed frequency shelving at 12kHz
LF: +/-16dB shelving with selectable frequencies of 35Hz, 60Hz, 110Hz & 220Hz
MF: +/-18dB peaking, fixed 'Q' with, selectable centre frequencies of 0.36kHz, 0.7kHz, 1.6kHz, 3.2kHz, 4.8kHz & 7.2kHz

Pricing for the new UK Sound products is as follows:

73 MPL: $550 USD
73MP Single Channel: $650 USD
73MP Dual Channel: $1200 USD
1073 Mic Pre / EQ: $1500 USD
For more information on UK Sound, please visit http://www.uksound.com