On behalf of all of us here at Twisted Tools, we'd like to wish you a very Happy Holiday! To celebrate, we've created a brand new snapbank and sample map for the legendary DRON-E Reaktor ensemble, originally created by Antonio Blanca and now exclusively available at Twisted Tools.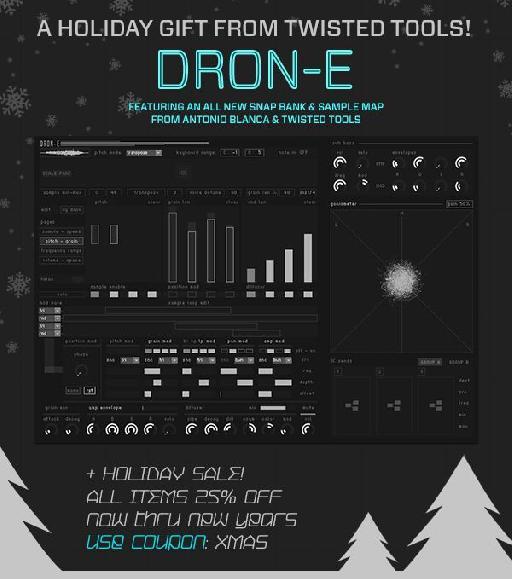 DRON-E from Twisted Tools has been used in AAA video game projects like Killzone Shadow Fall amongst others.
About Antonio Blanca
Antonio Blanca, known for his world class Lemur templates, Reaktor ensembles and sound design for companies such as Apple and Native Instruments, is the latest member of the Twisted Tools team so expect more great things in the near future!
" I find Dron-e to be a really flexible way of creating ambiences and soundscapes that are way outside of the norm and it gives you so many options to manipulate the sound in really interesting and innovative ways. I used it a good bit for making ambiences and alien soundscapes in Killzone Shadow Fall and I will definitely continue to use it on future projects..."
Lewis James, Lead Sound Designer, Guerrilla Games, Sony Computer Entertainment, Amsterdam.
Download DRON-E FREE Here
STOREWIDE HOLIDAY SALE
Save 25% OFF all items at Twisted Tools. Now thru New Years Eve, save 25% absolutely everything at Twisted Tools!