Sara Simms recently created her first turntablism course for Ask.Audio, Turntablism 101: Skratching Essentials. It's an exciting new tutorial course that teaches the art of turntablism, from setting up your turntables to basic skratches. Turntablism 101: Skratching Essentials features deejay stutter, Toronto-based turntablist and producer. Curious to learn more about skratching? Read on to discover exclusive skratch tips and check out videos from their new tutorial course.
Meet the Turntablists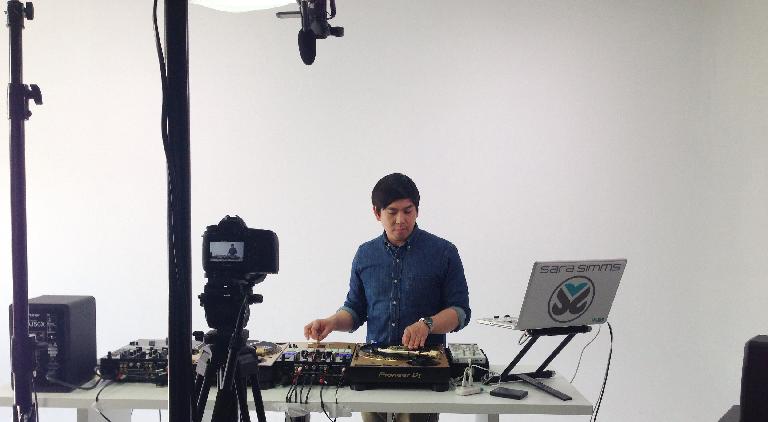 stutter: My name is Deejay Stutter and I started DJing 20 years ago with friends in high school. When I started skratching, I was heavily influenced by legendary DJ crews such as the Invislbl Skratch Piklz, The X-Ecutioners and The World Famous Beat Junkies. Eventually dabbled in production and formed a group named Fineprint, which lead to releasing two albums and touring Japan.
Simms: My name is Sara Simms, I began DJing over ten years ago. My original influences were DJs who battled in the DMC's and Vestax Extravaganza, including DJ Qbert, DJ Swamp, Infamous, DJ Hanger and DJ P-Money. I was mentored and taught by DJ Labo and deejay stutter in Toronto and inspired by great Canadian DJs like DJ Dopey, Junior Flo and the Turnstylez crew. I've battled in Toronto and Miami, and was the runner up in Scratch: The Ultimate DJ Contest competition. I've also been lucky enough to play shows around the world!
Top Five Turntablists
Who are the top five DJs that aspiring DJs should listen to? Are there any albums (or routines) by these artists that you'd recommend DJs listen to and watch?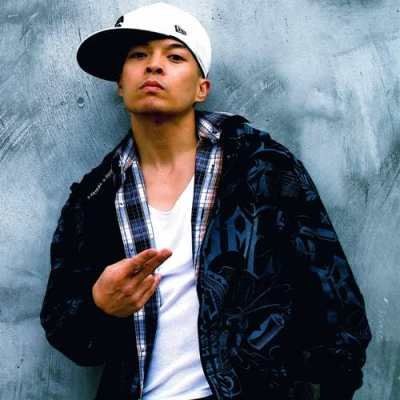 stutter: If you're interested in skratching and want to see it done to the highest degree, make sure to check out DJ Qbert, D-Styles, DJ Toadstyle, Kid Koala and Ricci Rucker. These DJ's changed my perspective in terms of how different sounds and skratch styles can emanate from a turntable. Also check out their skratch-based albums and live performances like Wavetwisters, Phantasmagoria, Klamz uv Death, Ned Hoddings and Carpal Tunnel Syndrome.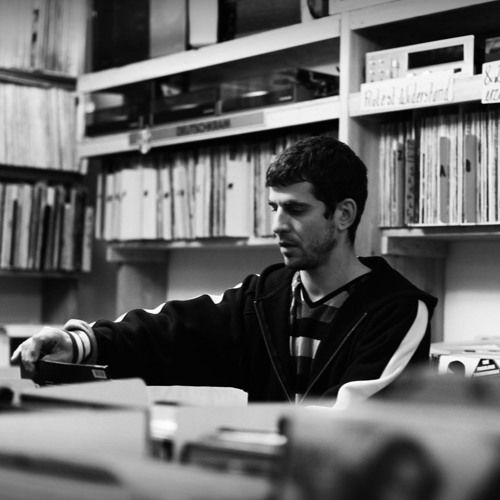 Simms: I recommend checking out DJ Brace, who recently won the Canadian DMC Championships, and the 2016 DMC Online Championship. Definitely watch his 2016 DMC Online Championship routine on YouTube. Other amazing DJs to check out include Killa Jewel, DJ Craze, Skratch Bastid and A-Trak.
Equipment
What type of equipment do you recommend for skratch DJs?
Stutter: Really and truly it all depends on budget. From the low end of the spectrum, I'd suggest to purchase a portable record player such as a Numark PT-01 or Vestax Handytrax and couple it up with portable fader such as the Raiden Fader or Frisk Fader. From a cost perspective it's the most affordable option plus this setup will provide any level of DJ the ability to skratch anyplace imaginable and still utilize the same dexterity you would on a proper two turntable and mixer setup. For actual full-size turntables, I'd recommend a pair Vestax PDX's or any other turntable with a high torque motor that has the ability to reduce the pitch to +-50. This feature allows for more flexibility in regards to mixing and skratching at different velocities. The most popular skratch mixer these days is the Pioneer DJM-S9, which is a fantastic mixer. Other options include various Rane mixers as well as DJ Tech's Thud Rumble's TRX series mixer.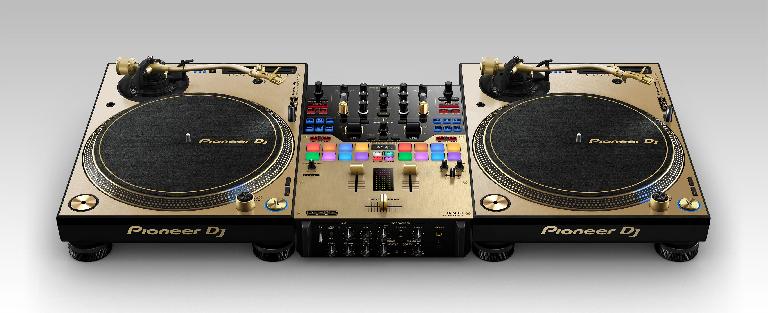 Simms: My favorite turntables for skratching are still Vestax, but unfortunately these are not being produced anymore. I would recommend to use Pioneer DJ's PLX-1000 turntables, and a battle mixer. If you're just starting out, a two-channel battle style mixer with a good quality cross fader will do the trick. When you're ready to invest in a more serious mixer, I'd recommend to go with either the Pioneer DJM-S9, or a Rane mixer. Native Instruments also makes the Kontrol Z2 mixer, which is popular with Traktor users.
Practice Tips
Do you have any practice tips you can share?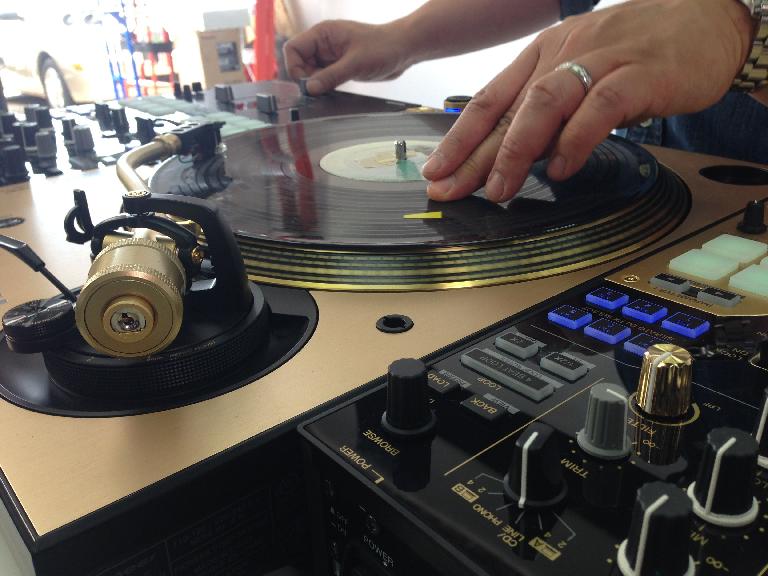 stutter: Just like you would with any other instrument, in order to improve you need to put in countless hours to build co-ordination, stamina and muscle memory. Skratching can seem overwhelming at first, but once your brain understands the basic functions of these movements, it definitely gets easier and you have a lot more "aha" moments. In terms of tempo, I find myself practicing to all types of beats crossing over all musical genres. Lastly, for hand control/fader practice on the go, check out my invention the Skratchin Pad. It's a simulated record platter and removable fader that allows you to practice anywhere to help build the muscle memory important to basic and advanced skratches. Check out Skratchin Pad at:
www.instagram.com/skratchinpad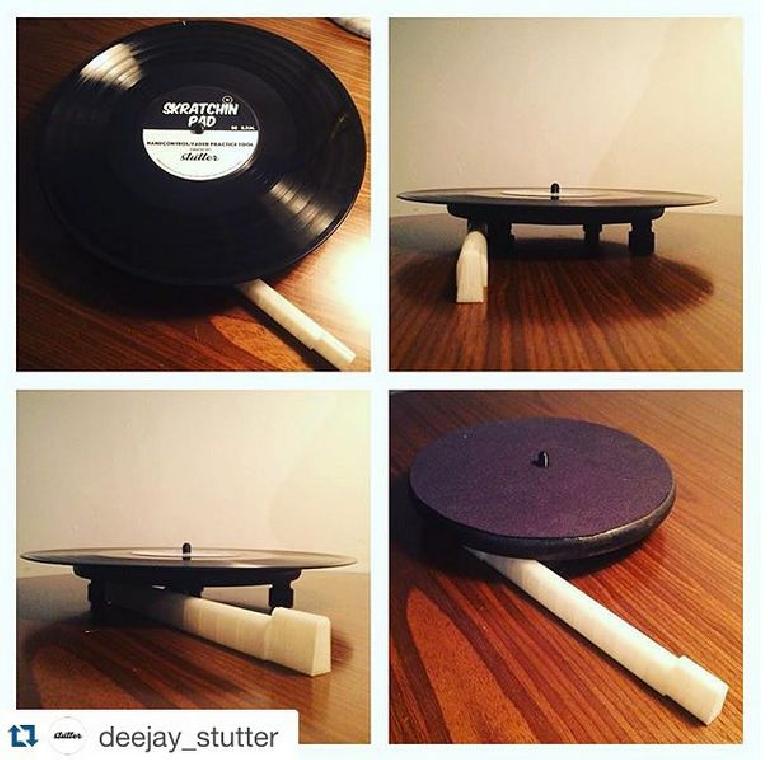 Simms: I would recommend to begin a daily practice schedule, even if it's just for 15 or 30 minutes a day. When you're first starting out, it's much more important to master each skratch at a slow, steady tempo before attempting to try to do the skratch at a high speed. I would encourage new DJs to make friends with a skratch DJ who is more experienced than you; you can session with them and learn a lot about technique and phrasing from them. Courses like our Turntablism 101: Skratching Essentials will help you to learn cuts, but it's still important to jam with other turntablists in order to grow and develop your style.
Cuttin' It Up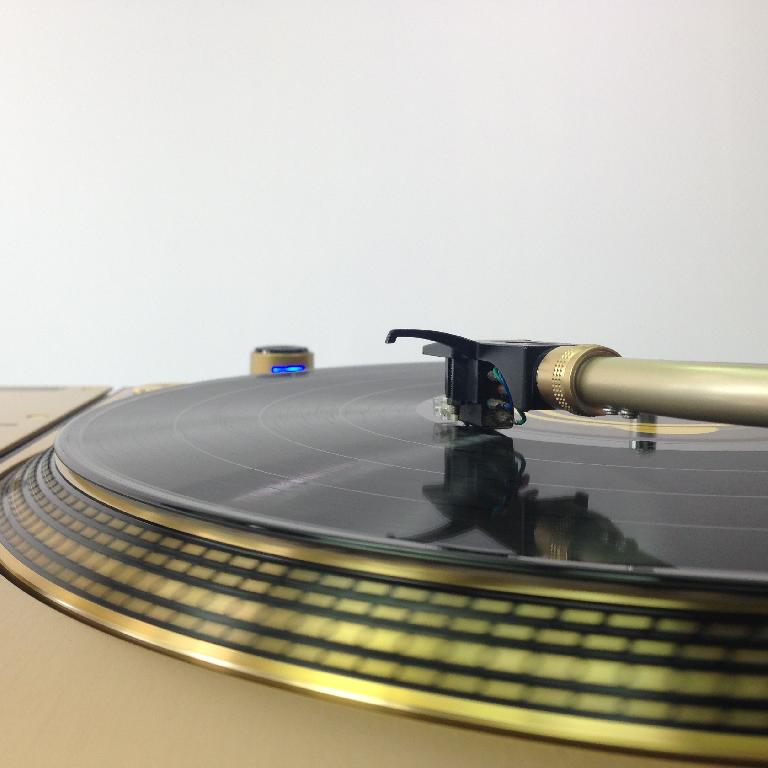 There are so many types of skratches to master! Are there any foundational skratches in particular you recommend beginners to learn first?
Stutter: For me, I have a tendency to always circle back to the military skratch, stabs, tears, and crabs. These four skratches really test record movement, hand control and basic fader rudiments that are transferable to advanced skratches. Perfect these and you'll be well on your way.
Simms: Start right at the beginning with the baby skratch, and learn to skratch in time! I agree with stutter, one of the best first skratches to learn is the tear, which will help DJs to develop their hand control on the record.
Da Beats
Where can new DJs find beats to skratch over?
stutter: For any type of skratch marathon, definitely check out the plethora of skratch loopers available online, e.g. tablist.net or on the tablebeats app, as they always have a wide array of beats from leading skratch DJs/producers. Look out for amazing loopers made by Skratcher, AsthmaFunk, LostTonePros, DJ Zuckell, DJ Rockwell, etc.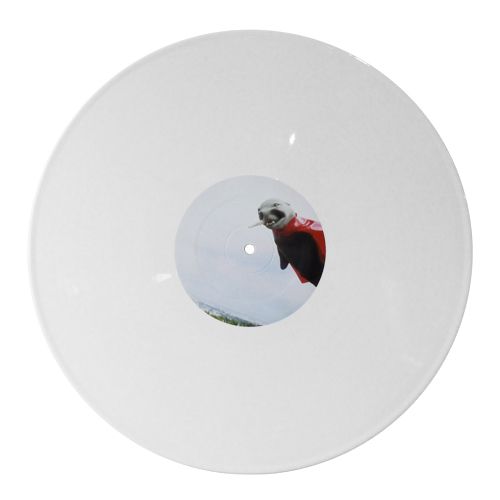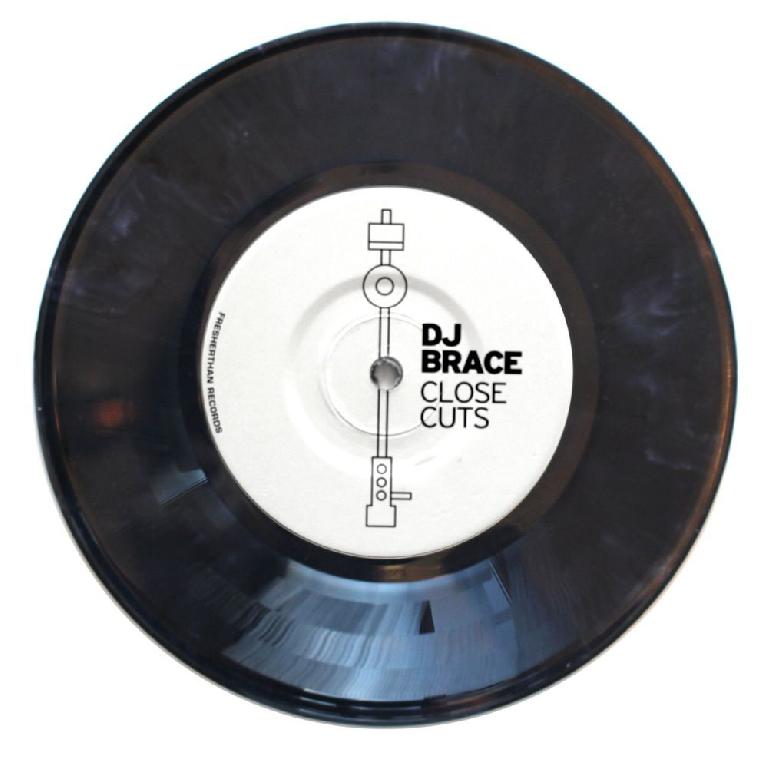 Simms: DJ Brace has a lot of great skratch breaks available on colored vinyl, with skipless loops on each side. Find them in his store here: http://djbrace.bigcartel.com/products. The Thud Rumble store has plenty of classic breaks available on vinyl, check out their collection here: https://www.thudrumble.com/collections/vinyl. For digital beats, I'd recommend searching on Beatport.
Q and A Sessions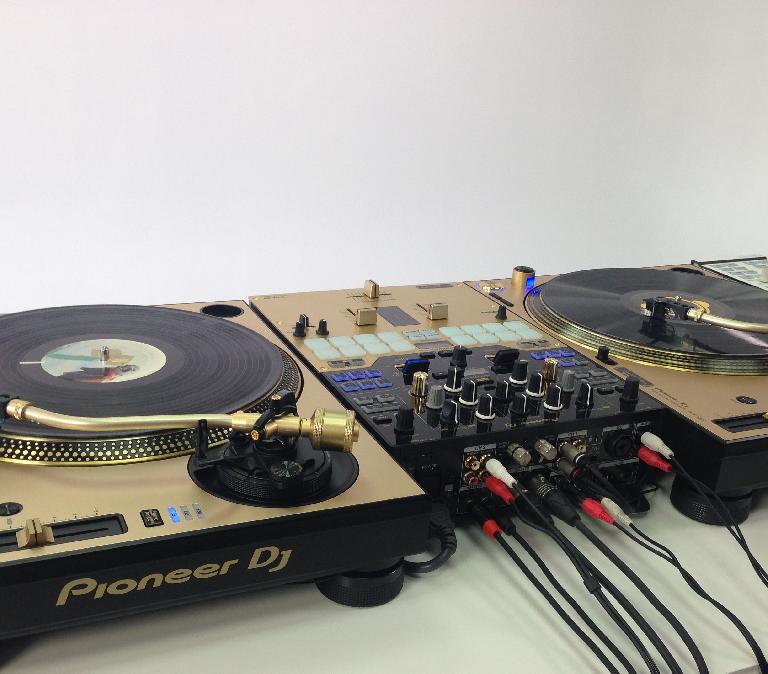 Once DJs have learned to skratch, one of the best ways to for DJs to advance their skills is by having a Q and A session. Do you have any advice to share with DJs who are new to Q and A sessions?
stutter: Simple, learn how to count your bars and research if there are any local skratching events in your city like Skratcher. Take these instances as an opportunity to ask the other DJs how to do a certain skratches, what advice they may give beginners, etc. as these events always have DJs ranging from novices to experts. We're really seeing a resurgence in the turntablist community and it's amazing.
Simms: The best advice I can give for DJs new to Q and A sessions is learn to count bars and skratch in time. Listening skills are really important in Q/A sessions; listen carefully to the phrase the DJ before you skratches and use your bars to respond to them.
Tips from the Pros
Any other tips you'd like to share with aspiring skratchers?
stutter: Sounds cliché, but practice, practice, practice…and ask questions, questions, questions. Keep at it and be diligent…it'll get easier.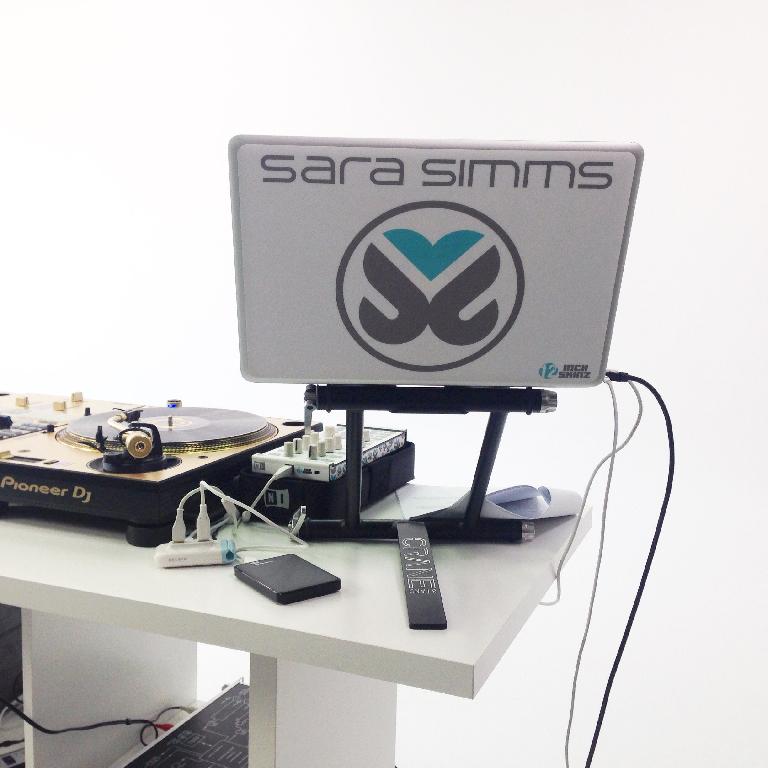 Simms: Watch a lot of routines, go out to shows and meet other skratch DJs. There's a skratch community around the world and the people involved in skratch culture are supportive and helpful to new talent. It's helpful if you have a mentor or two on your side. Balance practice time on your own with jam sessions with other DJs. Study and learn from the best, and hopefully you'll follow in their footsteps! Always make musical sense when you're skratching and have a great time in sessions and at shows.
Watch these videos from the complete course by Sara Simms:
What is a turntablist?
What you need for skratching:
Fades: