Traktor has a special mode called Flux mode. There are a couple cool sounding tricks that you can perform using Flux mode that will really add some original sounds to your sets. Ready to check them out? Here we go…

Flux mode uses a virtual timeline that is represented inside the decks in Traktor. It enables DJs to jump to cue points, loops and hot cues without losing the phrasing of your tracks. It's a virtual timeline based transport technique that lets you interact with Traktor's transport controls and once you're finished using these commands, the track immediately jumps back to the original position of the timeline where the track would have been if it had continued playing. It's as if for a second, the virtual playhead continues forward in the song while Traktor loops or jumps to a cue point. When you release the loop or cue point, the relevant cue playback resumes at the playhead position. The longer your loop is, the farther ahead the playhead position moves and therefore, the farther ahead playback will jump when you release the Cue button.
Turning On Flux Mode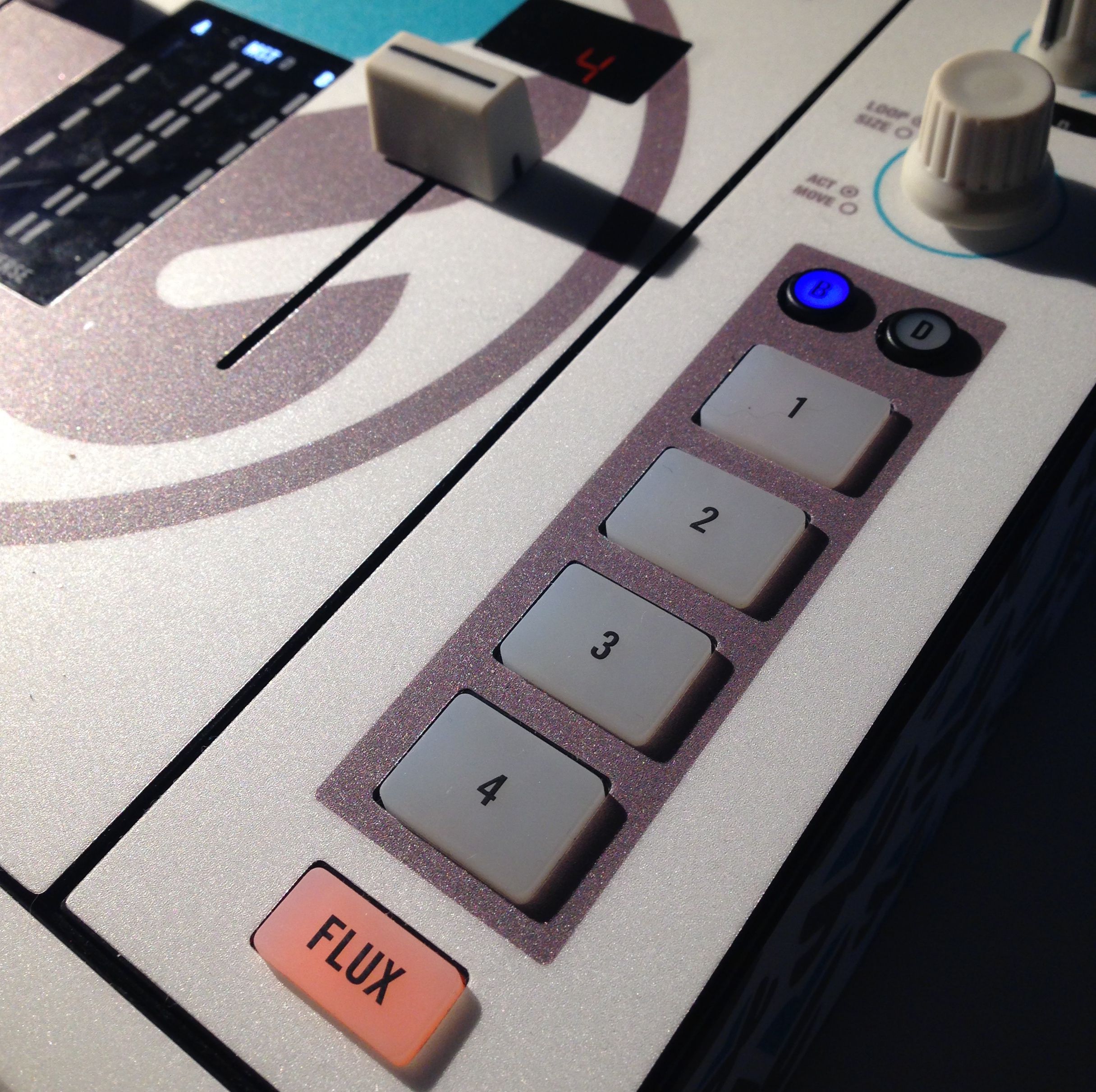 If you own the Traktor Kontrol Z2 mixer, Flux mode can be engaged by pressing a button on the mixer. There are also two ways to switch Flux mode on and off in Traktor's software.
Next to the Cue and Cup buttons in the Deck's playback control section is the Flux mode button. Simply select it to turn on Flux mode.

In the drop-down menu on each deck, click on the deck header letter and select Flux Mode.

Flux Mode can also be mapped to any MIDI controller in Traktor Controller's Manager. Simply assign the function to the Assignment table under Add in... > Deck Common > Flux Mode On. To add Flux Mode to your Traktor Kontrol X1, S2 or S4, use the override function in the Controller Manager (see this link to learn how to use the override function in the controller manager).
Flux Mode Tricks and Tips
Once Flux mode is on, there's a few very useful tips and tricks that you can use to create cool sounds!
Effects
Start off by turning on Flux mode. In Traktor, load up samples into a track deck or remix deck. Using your controller, CDJ or turntable scratch the sample back and forth. Move the pitch back and forth to modulate the pitch (and tone of the sound). To take this one step further, add effects on top of your samples like delay, echo and reverb. There's a wealth of sonic possibilities you can create using this technique, if you're willing to invest some time exploring!
Backspinning
Backspins can be a tasteful addition to DJ sets, when you take the time to practice and perfect them. To use backspins while in Flux mode, rewind (backspin) your track and then let go of the platter to have your beat continue. This technique sounds best during the instrumental parts of your song, or where the beat is more minimal.
With a bit of experimentation, there are many more great tricks that you can perform using Flux mode. Have you found a great technique that you think other DJs might like? Feel free to share your Flux mode tricks in the comments below. Happy spinning!