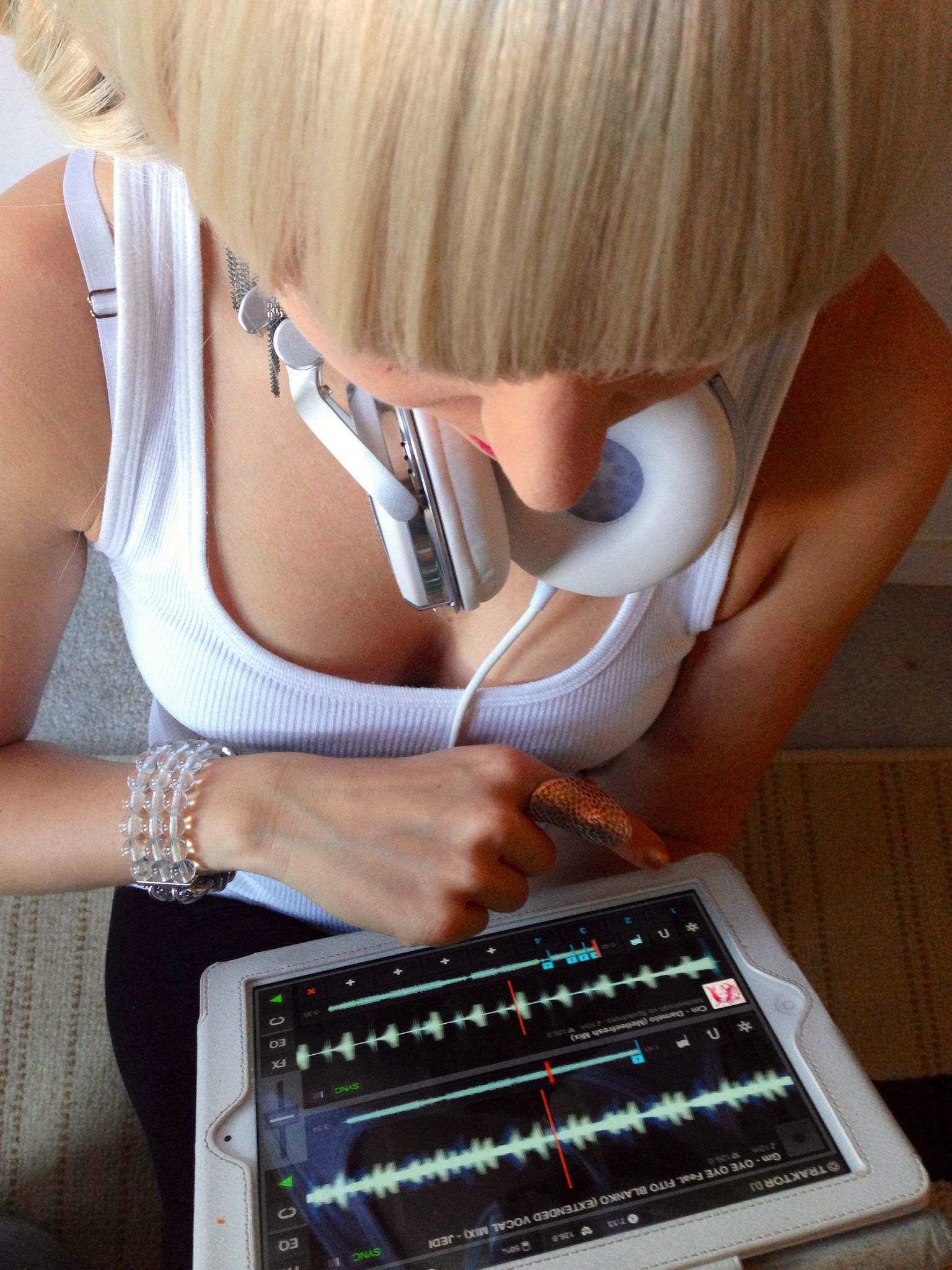 The Traktor DJ App was the world's first professional DJ software for iOS. It's a hands-on DJ app that allows you to play and remix tracks, and is a great program for both beginner and professional DJs. The app can be used for live performances and as a tool for preparing DJ sets. One of the best features of Traktor DJ is Metadata Sync, which allows DJs to exchange information between the playlists in Traktor Pro and Traktor DJ and vice versa. If you're a Traktor Pro user, Metadata Sync lets you set cue points and loops using Traktor DJ, and when Traktor Pro is opened, all of the cue points and loops you've stored will show up inside Traktor Pro.
In order for Metadata Sync to work correctly, Dropbox needs to be installed on both your computer and iPad. Traktor Pro takes information from Dropbox and puts it into Traktor DJ, or the system can work in the opposite way. The same iTunes library will need to be shared on both your computer and iPad, and you'll need to have the latest versions of Traktor and iTunes installed.
Overview
To begin using Traktor DJ, you'll need to load it with music by syncing playlists in your iTunes collection. Once you've imported songs, Traktor DJ gives DJs two decks and a crossfader for creating mixes. Music can be accessed in Traktor DJ by pressing the 'music' button in the upper right hand corner, or by swiping up on the iPad screen. The app has harmonic mixing built in and features automatic BPM detection. You can use Traktor DJ to set cue points and loops on your track, or if you already have playlists in Traktor Pro embedded with this information, synchronize your systems using metadata sync.
Metadata Sync
Before you can start to do anything creative, you're going to have to do some legwork to sync Traktor DJ with your current music collection. Traktor DJ uses a powerful feature called Metadata Sync that enables your tracks' metadata information, including cue points, loops, BPM, key information and beat grid information to be automatically synced together in Traktor DJ and Traktor Pro.
Here's how to get started…
Software and Updates
Install latest version of Traktor Pro and Traktor DJ and iTunes (on both your computer and iPad).

If you want to update an existing Traktor (DJ or Pro) installation on your system, download the most recent update from the Native Instruments Service Center application (found on your computer in Applications/Native Instruments/Service Center) or the personal update manager on the Native Instruments site. To install the latest version of iTunes, open up iTunes, click on iTunes, then click Check for Updates.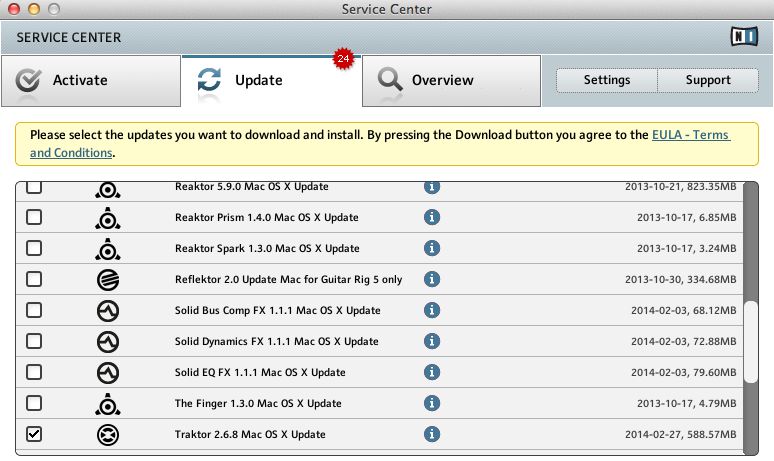 You'll need to install Dropbox on your computer and iPad, which can be downloaded from: https://www.dropbox.com. Once you have registered for a free account, log in on your computer and iPad.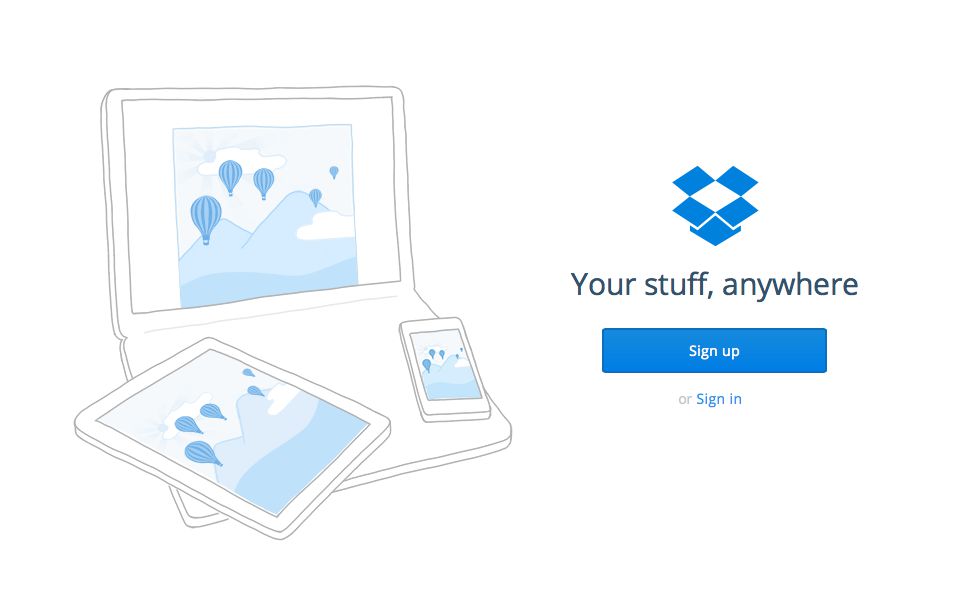 On your computer, open up Traktor Pro. Next you'll need to navigate to Preferences/File Management/Directories/iTunes Music Library and be sure that your computer is pointing to the location of your iTunes location. Your iTunes library should end with the file name .xml.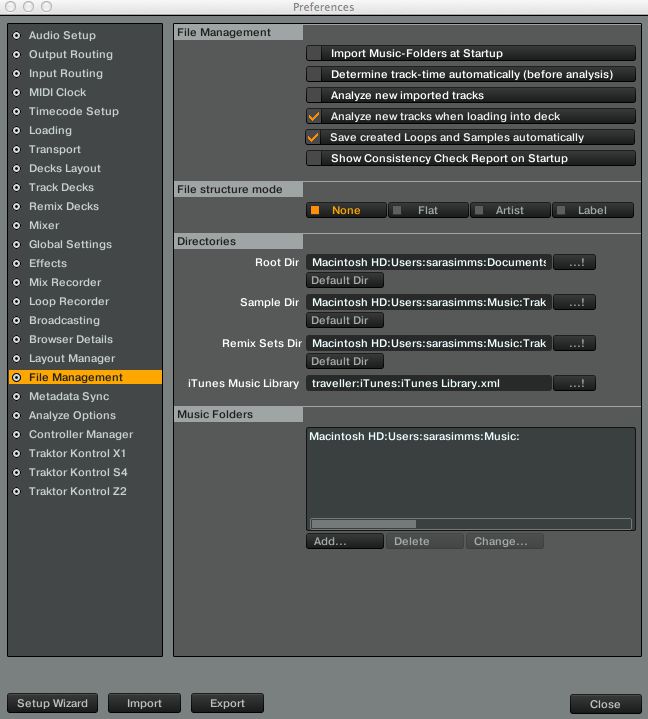 On the iPad, navigate to Settings, then click on iTunes, and switch the iTunes Match option to off and make sure your Automatic Downloads are off as well. Still in the Settings, click on Music and set the iTunes Match to off as well.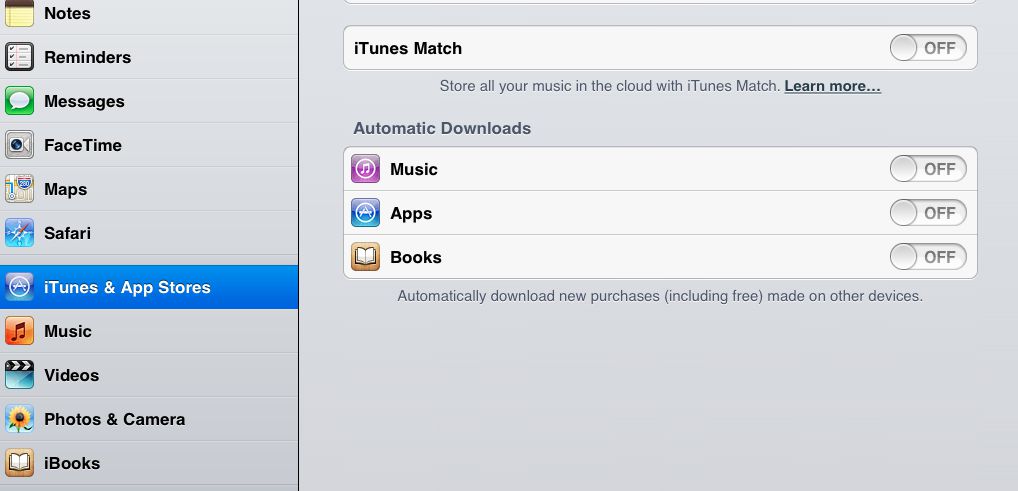 Syncing Your Playlists
When syncing your playlists on the computer and the iPad, you'll want to ensure that you're only syncing high-quality files. Plug your iPad into the computer using a USB cable and open up iTunes on your computer. Inside iTunes, click on the iPad icon, and then click on the Summary page. In the Options sections, you'll want to make sure that the Option 'Convert Higher Bit Rate Songs to 128 kbps' is turned off.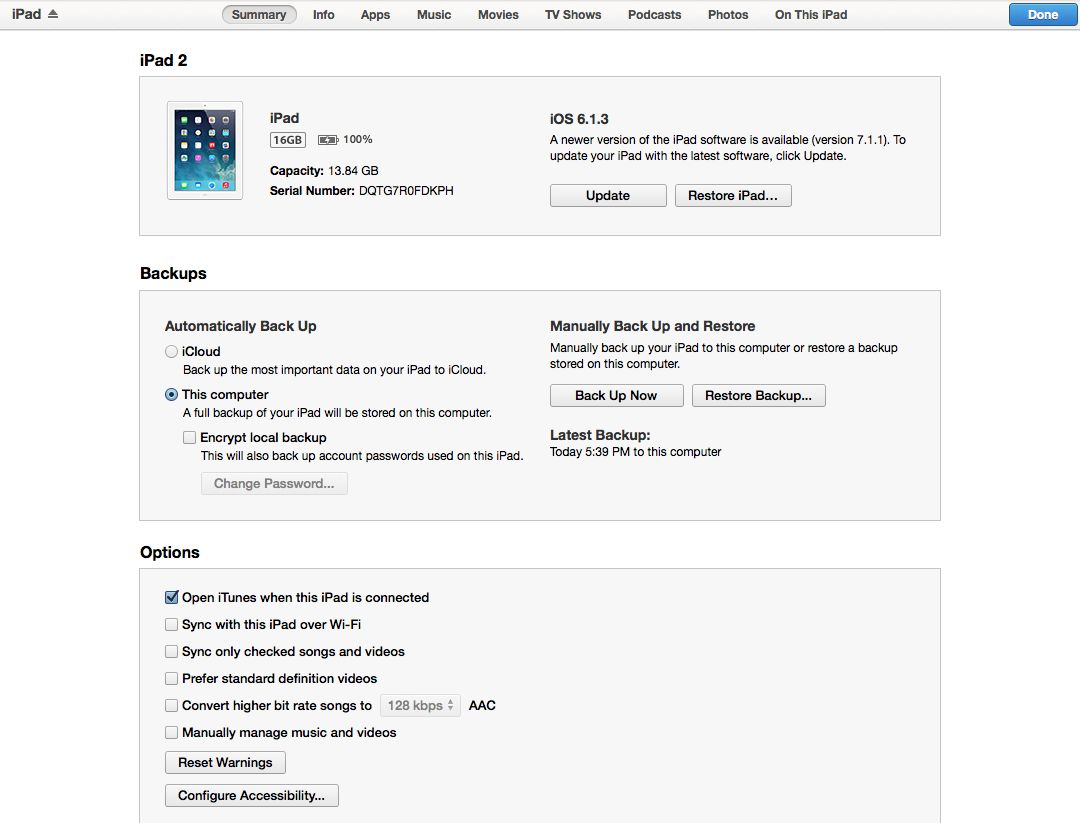 In iTunes, click on the Music Tab, and make sure Sync Music tab is turned on, then select the playlists you'd like to sync by putting checkmarks beside them. Press done to finish.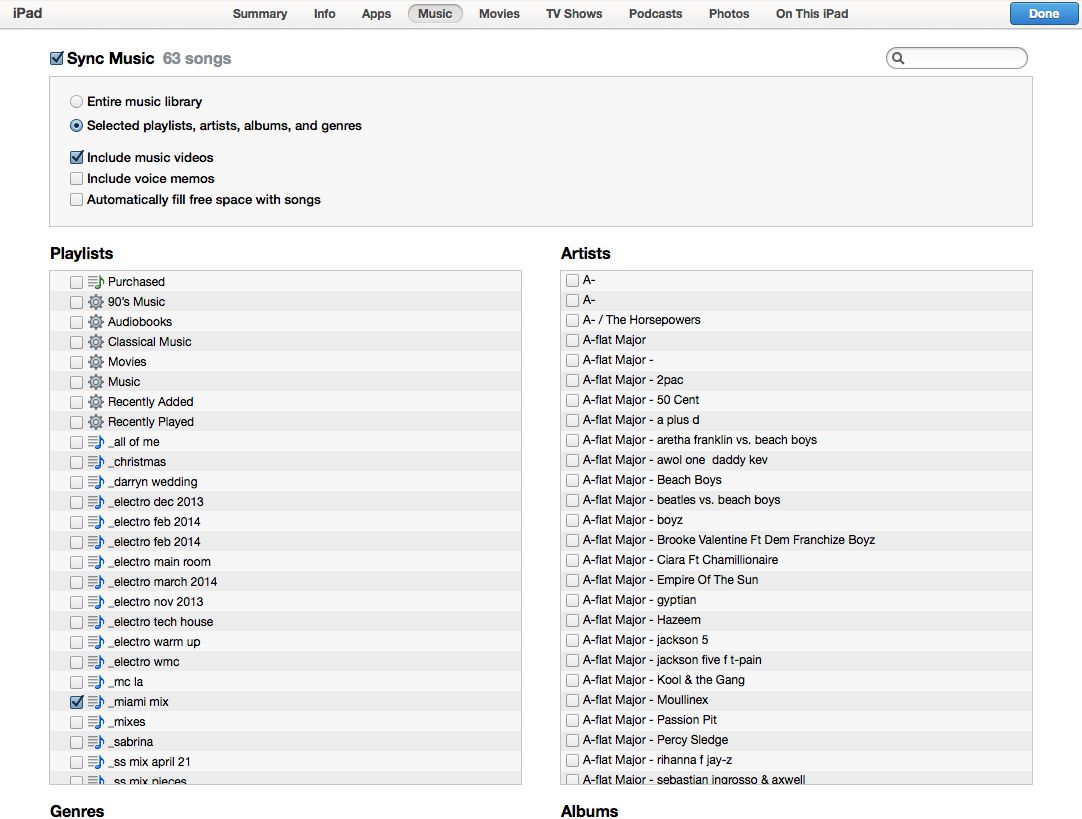 On your computer, in iTunes, click on Store (on the top left navigation menu) then click on Turn Off iTunes Match. Next, click on Preferences inside iTunes and click on Store to access the Store Preferences. Navigate to the the Automatic Downloads section, and make sure that automatic downloads are turned off.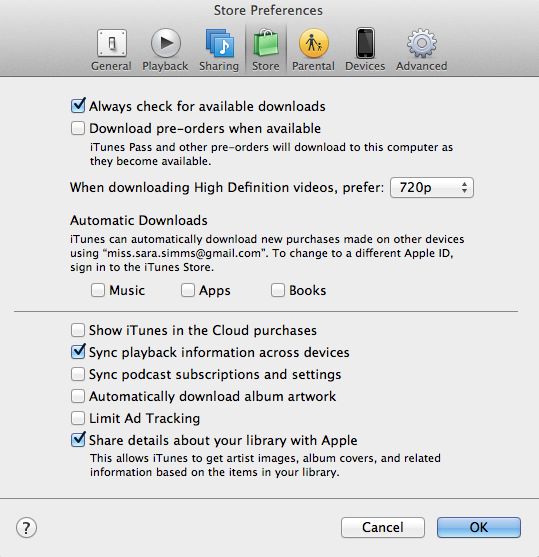 Still working inside the Preferences, click on the Advanced tab and put a check mark next to Keep iTunes media folder organized and Copy Files to iTunes Media Folder.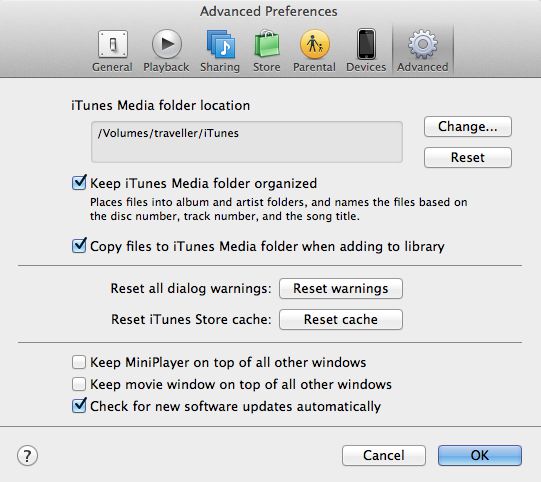 Almost there!
Syncing Metadata in Traktor DJ & Traktor Pro
We'll set up the metadata preferences first on the iPad, then inside Traktor Pro on your computer. Open up Traktor DJ, then click the Music icon in the top right hand corner, then click the gear icon in the lower left to open the Preferences. Click on the Dropbox tab, and swipe the marker located next to Dropbox Sync to the right hand side to enable this function.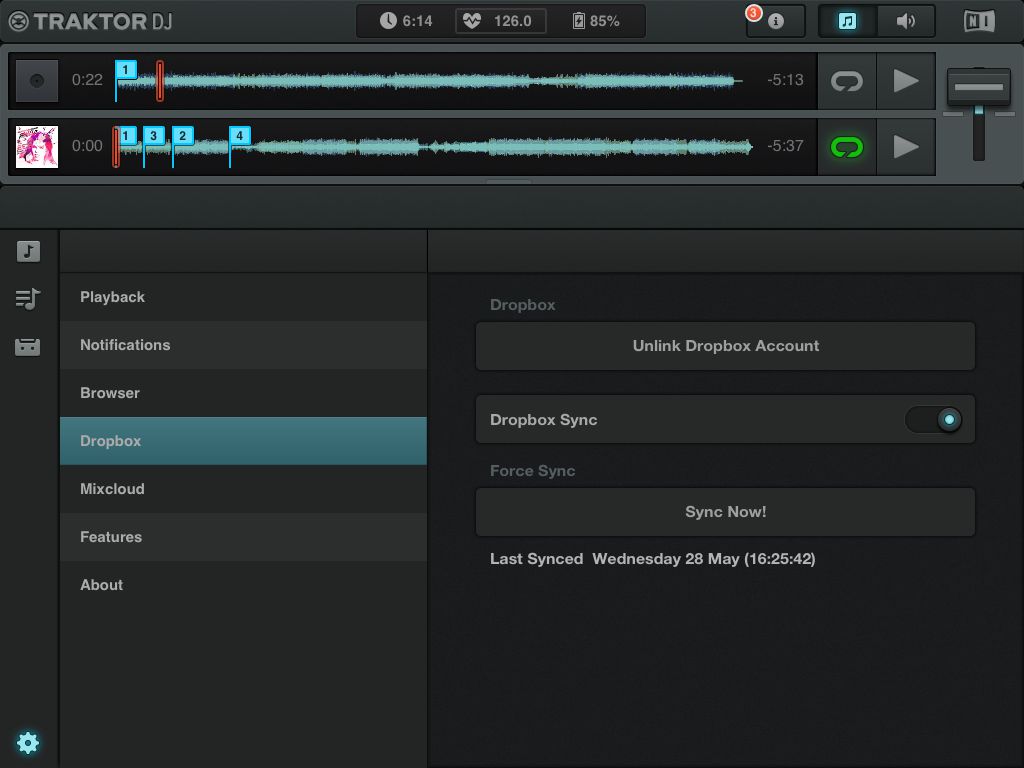 On your computer, launch Traktor Pro to open the software, then click on Preferences. Navigate to Metadata Sync. In the first heading, Metadata sync, click to create a checkmark next to Enable Metadata Sync via Dropbox. Then, in the Status section, click on Active—Click to Sync.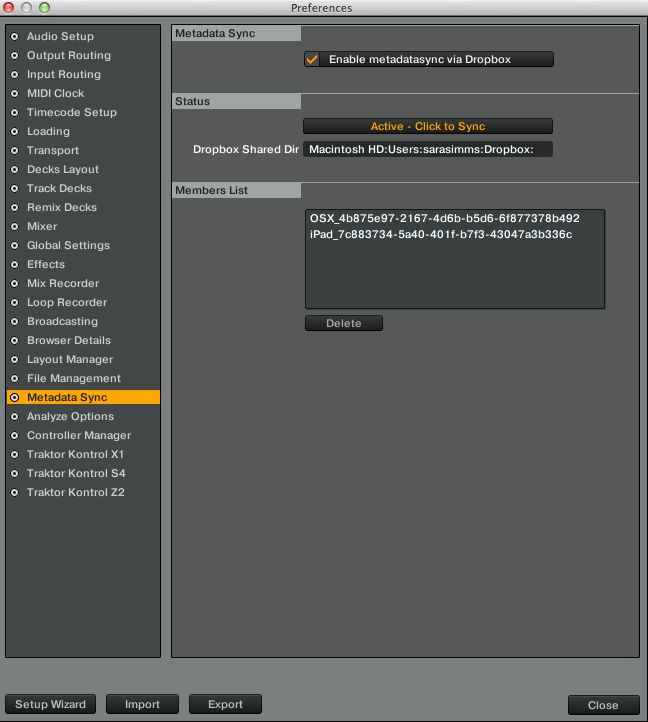 The first time when you sync your collections, you'll want to be very careful, as you don't want to overwrite any information. The first time you use metadata sync, you'll get a message that says 'Do you want to keep the information on this computer, or would you like the information in Traktor DJ to overwrite the information on this computer'? Choose Keep, as you want to keep all of the information (eg. Cue points, loops, etc.) that you've saved in Traktor Pro. However, if you've been using Traktor DJ for a long time and you're just getting started with Traktor Pro, choose overwrite. This will sync any cue points or loops you've set in Traktor DJ with your Traktor Pro collection.

How the Metadata Sync feature actually works is when you close Traktor DJ, metadata information is sent to Dropbox, and from Dropbox it gets sent to Traktor Pro. When you click on the iPad home screen, or switch applications on the iPad, Traktor DJ sends information to Traktor Pro. You can sync metadata manually in Traktor DJ by pressing Sync Now in the Dropbox section, or in Traktor Pro by pressing Active: Click to Sync. When you close either program, metadata information will be automatically synced.

Try this out by creating a loop or cue point on a song in Traktor DJ, and sync Traktor DJ to Traktor Pro. Load up the same song in Traktor Pro, and you should immediately see the cue point you've just created.

Once you've got your collection synced, you can begin to DJ using Traktor DJ for exciting live performances or as a preparation tool for Traktor Pro sets. Good luck getting synced up!

Learn more about Traktor DJ here:
https://www.askvideo.com/course/native-instruments-traktor-dj-for-ipad