タッチ·トラックは、複数の MIDIリージョンもキーボードコントローラを使用してMIDIæƒ…å ±ã''含ã'€ãƒ•ã'©ãƒ«ãƒ€ã''再ç"Ÿã™ã'‹æ–¹æ³•ã§ã™ã€'ã"ã'Œã¯å…ƒã€…論理の世界は、すべてのMIDIたときに曲ã''試聴すã'‹ã«ã¯ã‹ãªã'Šæ¥½ã—ã"方法だったã€'私たちは、曲の全ä½"のã'»ã'¯ã'·ãƒ§ãƒ³ã''取得し、æˆ'々が言ってã"ます、そã'Œã'‰ã''ä»»æ"ã®é †åºã§å†ç"Ÿã™ã'‹ã"とができますã€'
今、私たちは、オーディオとMIDIの世界に住んでいる、タッチトラックは少し少なめにエキサイティングに見えるかもしれません。我々はそれらを得るために環境のウィンドウを使用する必要があり、特に以来。たとえそうであっても、タッチトラックの環境オブジェクトの可能性はサンプラーのトラックにオーディオを変換することができて以来、再び面白くなってきた。
病気だけでそれらがどのように動作するかをお見せしなければならない、ともあなたが思い付くものの可能性参照してください!
ステップ1 - 環境でのタッチ·トラックを作成します。
OK、まず最初にすること:私たちは、環境のウィンドウを開いて、ローカルの[新規作成]メニューから、選択する必要があります。

我々は、タッチトラックの画面が表示されます。タッチトラックのオブジェクトが自動的にアレンジウィンドウ内の割り当て可能なトラックとして利用できるようになると、ポップアップタッチトラックウィンドウには、我々はこの環境のウィンドウを閉じても、フロートします。
ステップ2 - アレンジウィンドウにタッチトラックを割り当てる
アレンジウィンドウで、新しいトラックを取る(これは現在使用されていないものでもかまいません)と、トラックリスト内のアイコンを選択しながら、 コントロールを押したままにします 。これは、私たちはタッチトラックがになっていることを環境の層を見て、それに応じてトラックを再割り当てすることができます。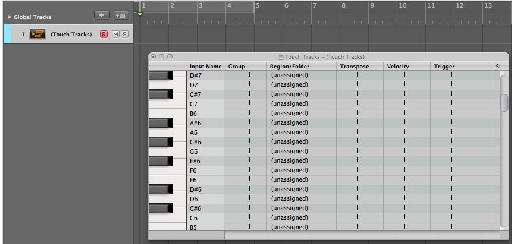 ステップ3 - 一部のコンテンツに持参
アップルループブラウザに移動し、アレンジウィンドウにドラッグするためにいくつかの緑のApple Loopsã''選択しますã€'ãƒ"ã'¢ãƒŽã€ãƒ™ãƒ¼ã'¹ã€ãƒ‰ãƒ©ãƒ のã'³ãƒ³ãƒœã''試してみてくださã"ã€'多分ã'·ãƒ³ã'»Â·ãƒ'ッドã''è¿½åŠ ã—ã¾ã™ã€'自分ã''ノッã'¯ã'¢ã'¦ãƒˆã€'
ステップ4 - タッチトラックを読み込む
今すぐ簡単に開いているタッチトラックのウィンドウに上のMIDIリーã'¸ãƒ§ãƒ³ã''ドラッã'°ã—ますã€'ã'¿ãƒƒãƒãƒˆãƒ©ãƒƒã'¯ã'¦ã'£ãƒ³ãƒ‰ã'¦ã®å·¦å´ã«ã'­ãƒ¼ãƒœãƒ¼ãƒ‰ä¸Šã®ã"ずã'Œã‹ã®é ˜åŸŸã''ドラッã'°ã—てくださã"ã€'そã'Œã¯ã'なたがC3、D3、およびE3ã®ä¸Šã«é ˜åŸŸã''ドラッã'°ã—ãŸå ´åˆã«ã©ã®ã'ˆã†ã«è¦‹ãˆã'‹ã‹HERESに: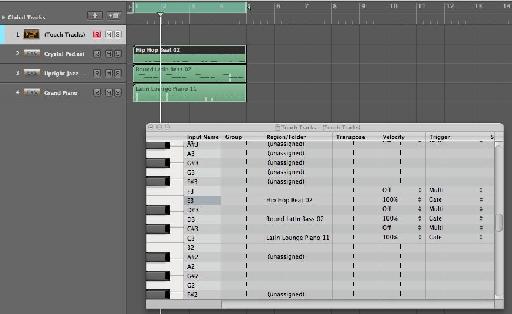 ステップ5 - それをテスト
ä»Šæœ€å¾Œã®é ˜åŸŸã¯ã€é…åˆ—ã§çµ'了した後に再ç"Ÿãƒ˜ãƒƒãƒ‰ã''設定し、再ç"Ÿã''押してくださã"ã€'ã'¢ãƒ¬ãƒ³ã'¸ã'¦ã'£ãƒ³ãƒ‰ã'¦ã§é¸æŠžã—たã'¿ãƒƒãƒãƒˆãƒ©ãƒƒã'¯ã®ãƒˆãƒ©ãƒƒã'¯ã''持ってã"ã'‹ã"とã''確認してくださã"ã€'ロã'¸ãƒƒã'¯ã¯å†ç"Ÿãƒ¢ãƒ¼ãƒ‰ã«ã'ã'‹é–"は、一度にMIDIリージョン1ã''トリã'¬ã™ã'‹ã"とができますã€'å"地域は現在、独自のã'°ãƒ«ãƒ¼ãƒ—に割ã'Šå½"てã'‰ã'Œã¦ã"ますã€'ã'ãªãŸã¯ã™ã¹ã¦ã®é ˜åŸŸãŒä¸€åº¦ã«å†ç"Ÿã§ãã'‹ã'ˆã†ã«ã™ã'‹ãŸã'ã«offまたは0にグループのすべての設定を有効にしてください。
あなたは、他のタッチのトラックのノートの値に変更するいくつかの設定をされることがあります。私は通常それらを無視します。
今、私たちはタッチトラックが動作していることを決定した、アレンジウインドウでリージョンをミュートします。タッチトラックが排他的に使用することができます。
ステップ6 - フォルダを試してみてください
ã'なたがフã'©ãƒ«ãƒ€ã«é ˜åŸŸã''è©°ã'ã'‹å ´åˆã¯ã€å˜ä¸€ã®ã'­ãƒ¼ã§ãƒ•ã'©ãƒ«ãƒ€å…¨ä½"ã''果たす可能性がã'ã'Šã¾ã™ã€'ã'¢ãƒ¬ãƒ³ã'¸ã'¦ã'£ãƒ³ãƒ‰ã'¦å†…ã®ã™ã¹ã¦ã®é ˜åŸŸã''選択しã'ˆã†ã¨ã™ã'‹ã¨ã€ãã'Œã'‰ã®ãƒŸãƒ¥ãƒ¼ãƒˆã''解除し、 リージョンを使用してフォルダにそれらを詰め込む
今全体のフォルダには、タッチ·トラック内の単一のキーで再生されます。このフォルダは、全体として今転置することができることに留意して、混合結果を持つことができます。あなたが確認する必要がありますそのドラムトラック、 移調ないためのインスペクタで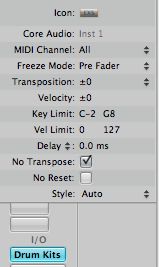 これは、同様に転置され得ることからあなたのドラムを維持します。
その他の設定
タッチ·トラックの他の設定を試していることを確認してください。
Groups: any regions or folders assigned to the same group will mute each other when playing back. This is similar to a hi-hat mode, where a closed hi-hat silences an open one.

Velocity: At 100%, your velocity will increase or decrease the velocity of the entire region. When set to 'off', the region plays exactly as it was created in the Arrange window.

Trigger: This Determines whether the region loops, toggles, or behaves as a gate when the key is released.

Start: Always be on the beat when you trigger a region, or leave it free.

タッチ·トラックは、地域が終了する前に、キーを解放するため保持サステインメッセージ若干challenginglikeすることができますが... (awkward!)それはまた多くの楽しみにすることができます。私は非常に彼らと遊んでお勧めします。