Tracés est une façon de jouer de multiples régions MIDI et même des dossiers contenant des informations MIDI en utilisant un contrôleur de clavier. C'était à l'origine d'une manière assez agréable à écouter une chanson où le monde de la logique était d'autant MIDI. Nous pourrions prendre des pans entiers d'une chanson et les lire dans n'importe quel ordre nous avons aimé.
Maintenant que nous vivons dans un monde de l'audio et MIDI, les pistes Touch peuvent sembler un peu moins excitant. Surtout depuis que nous avons besoin d'utiliser la fenêtre de l'environnement pour se rendre à eux. Même ainsi, les possibilités de l'objet de l'environnement tactile chansons sont devenues intéressantes à nouveau puisque la capacité de convertir l'audio en pistes de l'échantillonneur.
Ill suffit de vous montrer comment ils travaillent, et bien voir quelles sont les possibilités vous venez avec!
Etape 1 - Créer Tracés dans l'environnement
Ok, premières choses d'abord: Nous avons besoin d'ouvrir une fenêtre et l'environnement dans le menu contextuel Nouveau, sélectionnez

Nous sont présentés avec le Touch Tracks l'écran. Pistes toucher les objets deviennent automatiquement disponibles comme une piste assignable dans la fenêtre Arrange, et la fenêtre tactile chansons qui surgit va flotter, même lorsque nous fermer cette fenêtre de l'environnement.
Étape 2 - Attribuer le Touch pistes dans la fenêtre Arrange
Dans la fenêtre d'arrangement, de prendre une nouvelle piste (il peut être tout ce qui n'est pas actuellement utilisé) et maintenir la touche Ctrl enfoncée tout en cliquant sur ​​l'icône dans la liste des titres. Cela nous permettra de voir la couche de l'environnement que les titres de contact sont en, et de réaffecter la piste en conséquence.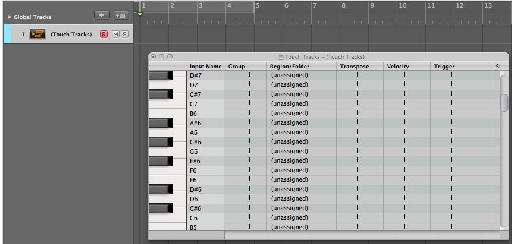 Étape 3 - Apportez Certains Contenus
Aller au navigateur de boucles Apple, et cueillir des boucles vertes Apple pour glisser dans la fenêtre Arrangement. Essayez un Piano, Basse, Batterie et combo. Peut-être ajouter une nappe de synthé. Vous assommer.
Étape 4 - Remplissez les titres tactiles
Maintenant faites simplement glisser les régions MIDI sur la fenêtre tactile pistes ouvertes. Assurez-vous de faire glisser les régions, un par un sur le clavier sur le côté gauche de la fenêtre tactile chansons. Heres ce qu'il devrait ressembler si vous étiez à glisser sur les régions C3, D3 et E3: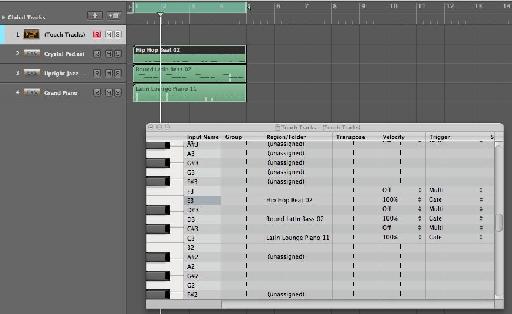 Étape 5 - Testez-le
Maintenant, placez la tête de lecture après la dernière région a pris fin dans l'arrangement, et appuyez sur Lecture. Soyez sûr que vous avez la piste tactile pistes sélectionnées dans la fenêtre Arrangement. Alors que la logique est en mode lecture, vous serez en mesure de déclencher le MIDI régions à la fois. Chaque région est maintenant affecté à son propre groupe. Vous devez activer tous les paramètres du groupe Off ou 0 pour autoriser toutes les régions à jouer à la fois.
Vous remarquerez peut-être certains paramètres changeants sur les valeurs tactiles d'autres notes de piste. J'ai l'habitude de les ignorer.
Maintenant que nous avons déterminé que les pistes sont tactiles de travail, couper les régions dans la fenêtre Arrangement. Les pistes tactiles peuvent être utilisées exclusivement.
Étape 6 - Essayez un dossier
Si vous emballez les régions dans un dossier, vous pouvez jouer l'intégralité du dossier sur une seule touche. Essayez de sélectionner toutes les régions dans la fenêtre d'arrangement, les désactiver, et le emballez-les dans un dossier en utilisant la région
Maintenant l'ensemble du dossier va jouer sur une seule touche en titres Touch. Gardez à l'esprit que ce dossier peut être transposée maintenant dans son ensemble, ce qui peut avoir des résultats mitigés. Vous devez être sûr que, dans l'inspecteur pour une piste de batterie, la transposition Non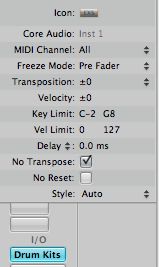 Cela permet de garder vos tambours de se faire ainsi transposé.
Les autres paramètres
Assurez-vous d'expérimenter avec les autres paramètres dans les pistes tactiles:
Groups: any regions or folders assigned to the same group will mute each other when playing back. This is similar to a hi-hat mode, where a closed hi-hat silences an open one.

Velocity: At 100%, your velocity will increase or decrease the velocity of the entire region. When set to 'off', the region plays exactly as it was created in the Arrange window.

Trigger: This Determines whether the region loops, toggles, or behaves as a gate when the key is released.

Start: Always be on the beat when you trigger a region, or leave it free.

Bien que les pistes Touch peuvent être légèrement challenginglike un message d'attente en raison de sustain que vous avez relâché une touche avant de la région a pris fin ... (Awkward!), il peut aussi y avoir beaucoup de plaisir. Je vous suggère fortement de jouer avec eux.