Canciones Touch es una forma de reproducir varios pasajes MIDI e incluso carpetas que contienen información MIDI usando un controlador de teclado. Esta fue originalmente una forma muy divertida a la audición de una canción que el mundo de la lógica era todo MIDI. Podríamos tener secciones enteras de una canción y reproducirlos en cualquier orden que nos gustaba.
Ahora que vivimos en un mundo de audio y MIDI, pistas Touch puede parecer un poco menos emocionante. Sobre todo porque tenemos que usar la ventana de Medio Ambiente para llegar a ellos. Aun así, las posibilidades para el objeto táctil medio ambiente se han convertido en temas de interés de nuevo ya la capacidad de convertir las pistas de audio en la toma de muestras.
La enfermedad sólo tiene que mostrar cómo funcionan, y así ver qué posibilidades le ocurrió!
Paso 1 - Crear las canciones Touch en el Medio Ambiente
Ok, primero lo primero: Hay que abrir una ventana de medio ambiente y en el menú local, seleccione Nuevo,

Se nos presenta la pantalla táctil de pistas. Pistas de tocar los objetos se convierten automáticamente disponible como una pista de asignar en la ventana Organizar y la ventana táctil pistas que apareció flotará, incluso cuando cerramos esta ventana medio ambiente.
Paso 2 - Asignar el Touch pistas en la ventana Organizar
En la ventana de arreglos, tener una nueva pista (puede ser cualquier cosa que no está siendo utilizado actualmente) y pulse la tecla Control mientras selecciona el icono de la lista de pistas. Esto nos permitirá ver la capa de Medio Ambiente que las pistas están en Touch, y reasignar la pista en consecuencia.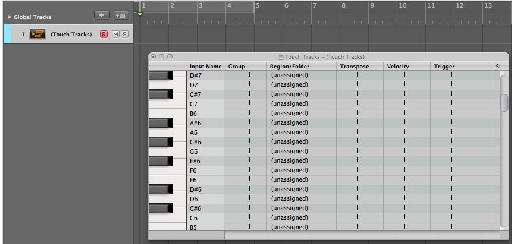 Paso 3 - traer un poco de contenido
Ir a el navegador de bucles de Apple, y recoger algunos Apple Loops verdes para arrastrar a la ventana de arreglos. Pruebe con un piano, bajo, tambores y el combo. Tal vez añadir un teclado sintetizador. Golpee a ti mismo.
Paso 4 - Llenar las canciones Touch
Ahora sólo tiene que arrastrar las regiones MIDI en la ventana abierta de temas de táctil. Asegúrese de arrastrar las regiones uno a uno en el teclado en el lado izquierdo de la ventana táctil pistas. Aquí está lo que debe verse como si tuviera que arrastrar regiones en C3, D3 y E3: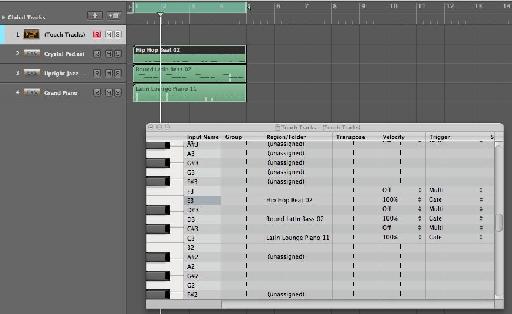 Paso 5 - probarlo
Ahora ponga el cursor de reproducción después de la última región ha terminado en el acuerdo, y pulsa play. Asegúrese de que tiene la pista táctil pistas seleccionado en la ventana de arreglos. Mientras que la lógica está en el modo de reproducción, usted será capaz de desencadenar la regiones MIDI a la vez. Cada región está ahora asignado a su propio grupo. Usted debe activar todas las opciones del grupo en Off o 0 para permitir que todas las regiones para jugar a la vez.
Usted puede notar algunos cambios en la configuración en otros valores táctiles nota de la pista. Por lo general caso omiso de ellos.
Ahora que hemos determinado que las vías de contacto están trabajando, silenciar las regiones en la ventana de arreglos. Las vías de contacto pueden ser utilizados exclusivamente.
Paso 6 - Trata de una carpeta
Si empaca las regiones en una carpeta, usted puede jugar toda la carpeta de una sola tecla. Trate de seleccionar todas las regiones en la ventana de arreglos, que activar el sonido, y el que meter en una carpeta con la Región
Ahora toda la carpeta se reproducirán en una sola tecla en las pistas táctiles. Tenga en cuenta que esta carpeta se puede trasladar ahora en su conjunto, que puede tener resultados mixtos. Usted necesita estar seguro de que en el inspector de una pista de batería, la transposición no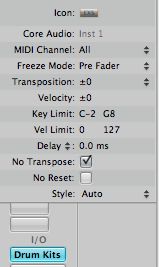 Esto mantendrá a sus tambores de conseguir incorporado también.
Otros ajustes
Asegúrese de experimentar con los ajustes en otros temas de Touch:
Groups: any regions or folders assigned to the same group will mute each other when playing back. This is similar to a hi-hat mode, where a closed hi-hat silences an open one.

Velocity: At 100%, your velocity will increase or decrease the velocity of the entire region. When set to 'off', the region plays exactly as it was created in the Arrange window.

Trigger: This Determines whether the region loops, toggles, or behaves as a gate when the key is released.

Start: Always be on the beat when you trigger a region, or leave it free.

Aunque las canciones Touch puede ser un poco challenginglike un mensaje sostenido de posesión, porque le den de alta una clave antes de que la región terminó ... (Awkward!) también puede ser muy divertido. Lo recomiendo encarecidamente a jugar con ellos.