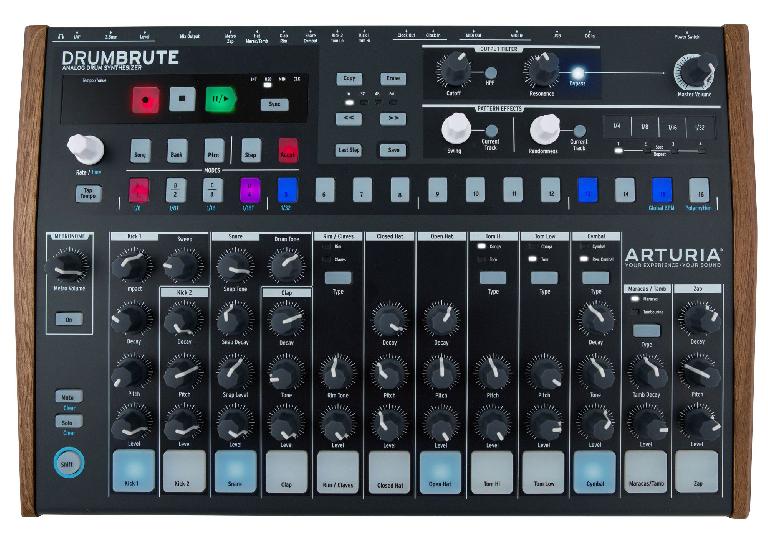 Full specs and video for Arturia DrumBrute here.
There's nothing like news of a new music making machine or software to get the heart beating a little faster... especially when you know it's from Arturia.
We've been given the heads up by our friends at Arturia that something VERY special will be announced in about 24 hours or so. We've got two pieces of news about this mystery product we can share with you now... and some amazing things we can't say anything about until tomorrow when it is offically launced.
So, what can we say about the new Arturia product? Well, product X has been "designed with performance and in-depth sound editing at its heart"... and it's got a number of features which place it right at the top of its category, but at "a fraction of the price." And we certainly think the price is very reasonable... The feature set on paper is awesome and will appeal to many producers and performers out there.
I wish I could say more... but it's time to stop typing... just a few hours to go... ;)
Thanks to a collaboration with Arturia and Midiware (Italian dealer), NoiseCollective and Torino Synth Meeting will be part of the world premiere of the new Arturia product.
PRESENTATION 1 (TURIN, ITALY):
PRESENTATION 2 (Roma, ITALY):
So, for the next few hours feel free to speculate... what is this new thing coming from Arturia? What would you like it to be?
Stay tuned to AskAudio as the new product from Arturia will probably be announced on Friday 7th October 2016 and is defintely worth the wait!