As any DJ out there probably already knows, the internet offers no shortage of articles and reviews about DJ mixers. Far outnumbering audio players like CDJs or turntables, and possibly controllers as well, (but they are catching up). The DJ mixer market has many options in any price range, any size, across a multitude of popular (and unpopular) brands. However, as a long-time working DJ on the club and underground party circuit, I have noticed that you encounter a much smaller range of mixers at gigs, and that's where the performance you might have worked out in your own music space really counts.
In my studio currently I am using the Behringer DDM400, upgraded with the Infinitum X1 optical cross-fader (of course). Before you judge on the Behringer name, this mixer isn't as well known as it's lamer DJX counterparts, and is more akin to the digital studio line of Behringer mixers, with crisp 24bit digital sound and two very powerful efx processors, assignable to any channels including doubling them up, and save-able user settings to jump to my best efx, filter settings for mixes. I ignore the on-board loop sampler because it's 2016 not 1992. I personally love it and bought it at an unbelievably low price for what it does, all my recent studio mixes are recorded on it. The club I am a resident at, called Gorg-O-Mish after-hours in Vancouver, has the much more costly Pioneer DJM-2000 nexus installed in the booth, and this mixer and me have become quite familiar with each other over the past couple years. It's like the Ferrari of DJ mixers to me, if you spend the time to explore it enough to actually use it deeply, it's pretty crazy, a contender for most features on a DJ mixer surely. However much I like these two DJ mixers, I gotta say I have yet to encounter either this past few years of extensive playing and travel to gigs. The DJM nexus 2000 probably being too excessive to be common, and the DDM400 just being made by Behringer.
What DO I encounter? Well I'm glad you asked. Since I seem to be faced with the challenge of playing on certain mixers quite often, I have developed enough familiarity with certain mixers to give you my two cents on the most common ones, for what it's worth. I am neither recommending you buy these mixers, or telling anyone not to either, it's just one working class DJs impression of a few boards you might encounter gigging, even if, like me, you can't afford to buy most of them for your own set up. Here are the top 5.
1. Pioneer DJM-900 nexus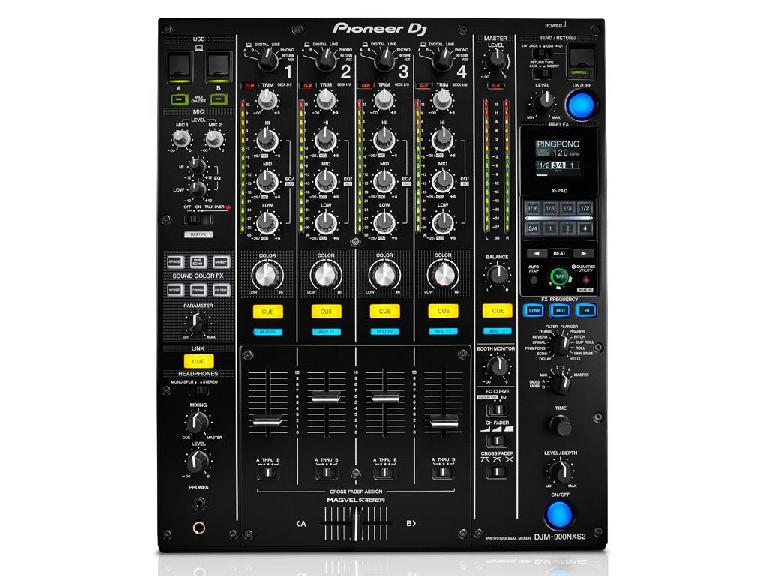 Who is the current reigning champion you wonder? There is no argument, it's the DJM 900 nexus (and slightly newer NXS2). I also have to mention the DJM 800, since it ruled for so long and was so popular, I still play on it very commonly. Since the DJM 500 and 600, which were not as nice sounding or as functional, the Pioneer DJ mixers started to steadily take over from the Vestax boards I saw so often at underground events, and high quality brands I would bump into, like the Spanish Ecler and Belgian Rodec, were nowhere to be seen. By the time the DJM 700 was out, even the Allen and Heath boards that had Richie Hawtin's endorsement at one time, were rare. The DJM 800 finally came along and sealed the deal as being the definitive techno mixer, and I gotta admit, it's been my preferred board since it came out, I'd own one if I could afford it probably. The truly important differences between the newer DJM 900 variations, and the DJM 800, are mostly in the sound quality, the DJM 900 NXS2 boasting 64-bit/96 kHz. Important to buyers and sound techs, but to guest DJs using the gear at an event, the standard approach to using this mixer is the same. The efx can be used drastically, like the infamous "echo" to create build ups and tension, or as subtly as dubbed out reverb on an accapella. Combined with the filter on each channel, high-pass or low depending on which way you turn a single knob, the assignable efx processor can become a very creative tool, or be very annoying, depending on the taste and skill of the DJ wielding it's power.
2. Allen and Heath Xone:92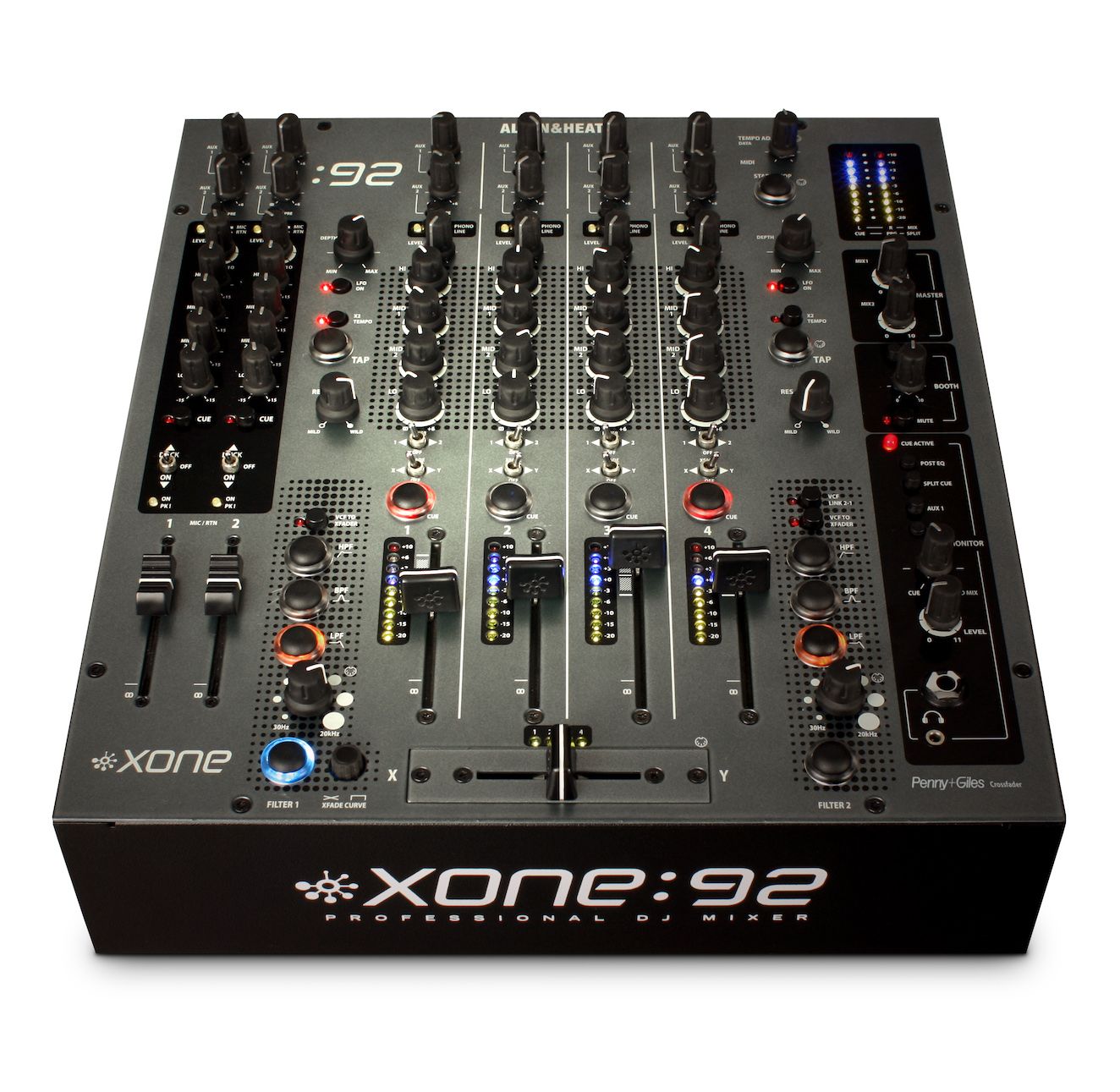 At one time Allen and Heath bumped into Pioneer awkwardly in the elevator on the way to the top, but now, I bump into one A&H board for every ten or twenty stamped Pioneer. The most common being the analog mixers, Xone:92 and smaller Xone:62, with the mat silver seemingly the preferred colorway. The owners of these mixers are adamant of their enduring popularity and often die hard fans of the brand, giving these mixers a sort of cult status and endearing appeal for DJs. Many top jocks favour these boards over Pioneer, and some clubs stock both a Pioneer mixer, and an A&H, to accommodate guest DJs tech riders. This gives them the underdog champion rating of second place. Part of this appeal is the legendary VCF filters, with resonance set on MILD, long, subtle blends can take your audience deep, or when set on WILD can make your tracks sound like warehouse acid circa 1988. Although they can be replaced with shorter ones, similar to a Pioneer style mixer, or even rotary knobs, I find that more often than not, these boards feature the stock throw faders that are longer than a usual DJ mixer, more similar to a studio mixer. For a DJ like me that does a lot of Detroit techno style cutting and chopping of tracks, this is undesirable, but for DJs who stick to smooth blends and long layering, it's just what the doctor ordered. Personally, I prefer the digital Xone:DB4, which similar to Pioneer's DJM 2000NXS, takes the efx system way beyond standard and into really creative territory. Sadly, I have yet to drive that particular high end sports-car through a club.
3. RANE MP 2016S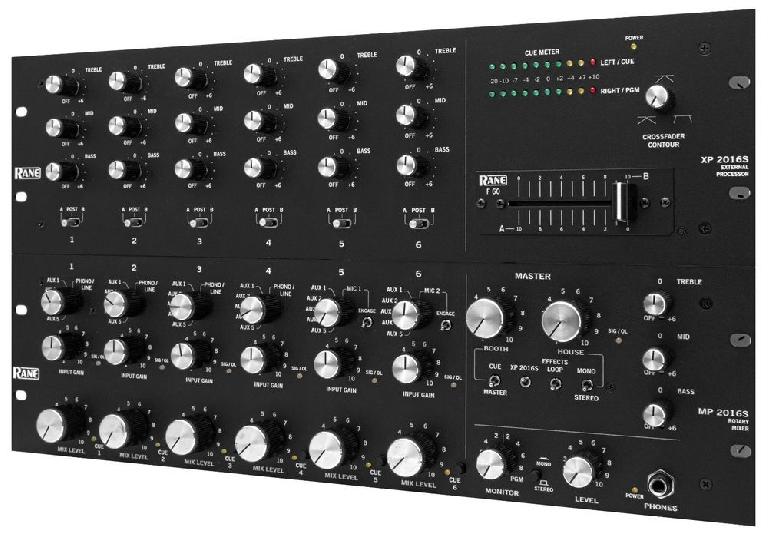 Vinyl vs. digital is still a thing for DJs in the underground and as a DJ who plays digital media, but releases a lot of vinyl records, I am familiar enough with both perspectives to stay the hell out of that discussion here. A lot of vinyl purists, and even the selectors who use CDJs or DJ software, but play music with a refined edge, are more and more favouring a rotary style mixer. Inspired by pioneering DJs like Larry Levan, the demand for rare, expensive and beautiful sounding mixers, by brands like UREI and BOZAK is on the rise. This trend has peaked the interest of companies with their eye on the core DJ business, like Vestax who offer the PMC46 MK2, or a kit to install rotary knobs on their more common mixers. The most successful to infiltrate the actual clubs currently though seems to be RANE, who bring their solid black style to the MP 2015 and 2016S, both popular and more and more common at house music events. Luckily, this quality board is often coupled with the XP2016 Processor, a rack mountable unit that adds an assignable crossfader for cuts between any of the channels, and an EQ strip for each as well capable of full kill on bass, mid, and treble. The actual mixer has a large silver knob for level, and a smaller gain knob, to really get finicky with that rare hand stamped disco edit.
4. RANE Empath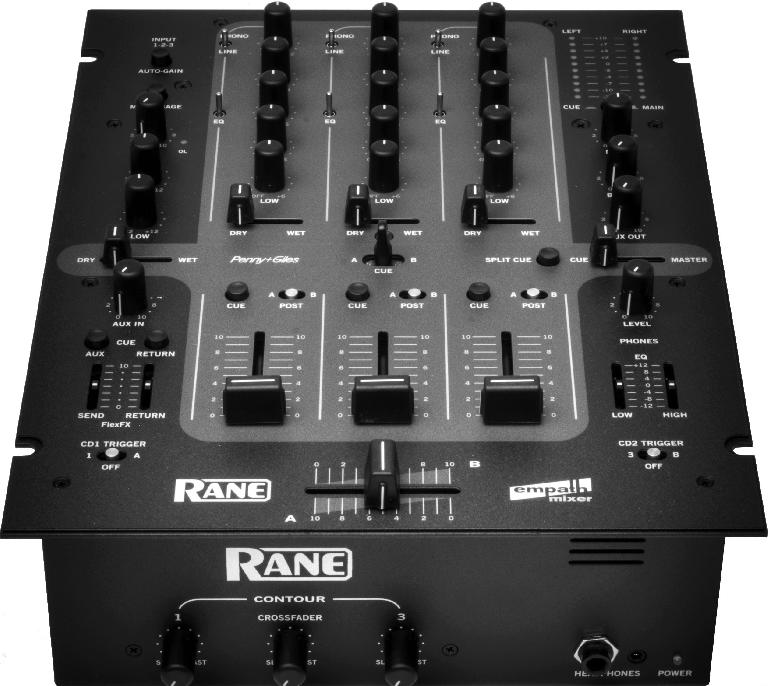 If you play a gig at a club where mainly Hip Hop is played, and they have only one mixer, it will be mostly likely be this little black ninja box, also by RANE, but exactly the opposite approach than the previously mentioned MP 2015 or MP 2016S. Possibly even more common is the TTM 57SL MKII, which is a similar 2 channel mixer, but with an interface built into the mixer to run Serato Scratch Live, the favoured timecode driven DJ software of turntablists. When the TTM57 mixer was first introduced, I was the only non-Hip Hop DJ on the team promoting the mixer in Japan, until I was booted for never using it at gigs basically, but I used the one they gave me a lot in the studio, so I know a bit about it. The short line faders on both boards are perfect for quick slicing and dicing, and I came to really appreciate the detail of the adjustable contour on all the Empath's faders, allowing a DJ to go from smooth blends to quick cuts easily within the same mix. This sleek mixer also has a fader style cue system that makes it very easy to adjust the balance of the booth and mix differently for every mix if you want. There is no efx or on-board filters to distract you, and unlike the two or three channel Hip Hop mixers of the old school, all channels get a powerful three band, RANE EQ strip, so it's well suited to play a quality set of any club music genre.
5. Denon DN X1100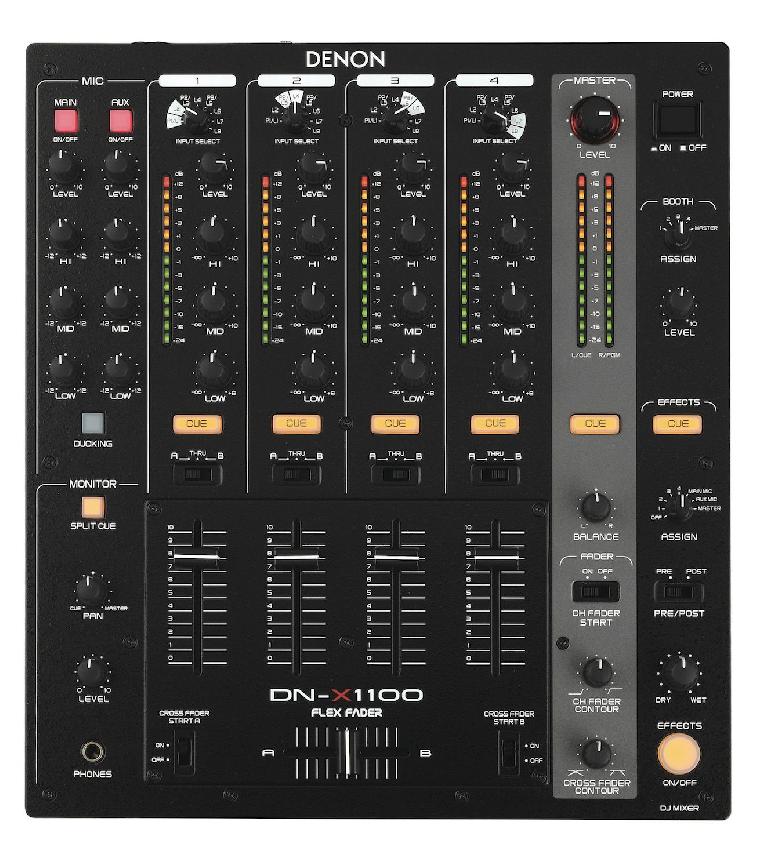 This one I have encountered enough times to give it the honourable mention. The DN X110 clearly takes it's design cues from the more popular, and expensive, Pioneer DJM series. Denon's DJ mixers and CDJs both seem to be the next best affordable choice for many consumers, and as such have found their way into rental sound systems and lots of crews that do parties in warehouses and small clubs. One weird thing about the X1100 is that it looks like it has a Pioneer style efx processor in it, but the familiar bright, round button in the bottom right corner has no meaning without your own efx unit connected, so ignore that or your track will run out while you are trying to find the efx. The best feature about this mixer is the contour on the line faders is adjustable by a knob, not just a switch from fast to slow, so you can really fine tune the faders for blending or fast cuts, similar to how other mixers allow DJs to adjust a crossfader. Denon's 24bit digital DJ mixer, the DN-X1600, is unfortunately quite a bit less common than the X1100, but is actually a much more respectable beast with a powerful efx unit. The even cooler DN-X1700 has an assignable dual efx processor with two separate tap buttons if you are into the minimal techno delay madness. Haven't encountered those at any gigs yet though.
Learn more DJ tips and tricks in The AskAudio Academy here.