If you are new to Cubase and are just getting the hang of production you may be slightly overwhelmed by the myriad of plug-ins you are presented with. Cubase now bundles an impressive array of processors as standard and there's no doubt this collection could be daunting to the newcomer.
To break down the Cubase plug-ins a little, here is a quick list of my top five essential plug-ins to head for in your first session...

01 - Compressor
In any Cubase session getting a grip on your dynamics is essential. There are quite a few dynamics processors available but the essential choice would have to be the standard compressor.
This is a true workhorse and provides just about every control needed to bring any wayward dynamics into line. Whether you are processing a newly recorded vocal, a difficult percussion loop or generally tightening up a signal this straight forward plug-in should handle anything you throw at it.
If you are new to compression you could try using some of the presets supplied as a solid starting point. Studying these patches should also help you to understand how to set the compressor up.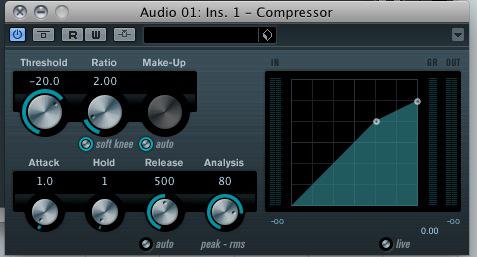 02 - Studio EQ
Another indispensable process in any recording or mixing session is equalization. Again you have a few choices of EQ here but the most versatile of the bunch has to be the Studio EQ.
Of course you could opt for the highly talented channel strip EQ that is an integral part of any channel in Cubase but if you prefer to have the extra flexibility of an independent plug-in this is surely the way to go.
With it's four fully parametric bands of EQ, huge graphical interface and simple click and point editing system, you should be finely sculpting your sounds in no time. Again it's well worth taking a glance at the included presets for inspiration.
03 - REVerence
Moving onto dimensional effects we have an impressive reverb processor called Reverence. This is a reasonably new arrival to Cubase and features convolution technology, as opposed to the more traditional algorithmic, number crunching reverbs you might be used to.
Without getting bogged down in anything too technical, the use of convolution technology means that you'll get stunningly realistic spaces without too much hit on your CPU. The graphical interface and patch list here is nothing short of amazing, so get this loaded up and introduce some space into your first mix.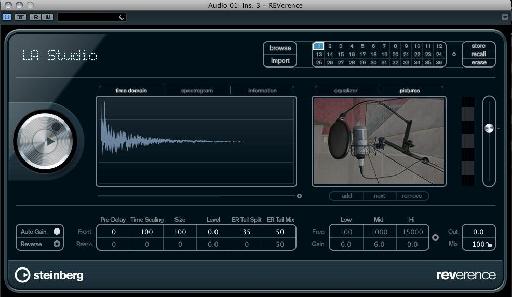 04 - Stereo Delay
Another essential spacial effect is stereo delay. We can use delay to add dimension to vocals and pace to programmed synth patterns, in fact this simple stereo delay line is probably the most versatile of all the spacial effects in Cubase's collection.
The stereo delay plug-in's interface is extremely stripped down and each side of the stereo field simply contains duplicate controls of the same single delay line. Even beginners will find they are able to create their own tempo synced delay effects.

05 - Studio Chorus
Finally we couldn't of run this top five without including some kind of modulation based effect. Any modulation based effect (chorus, flangers, phasers and ensembles) are capable of transforming dull lifeless sounds into wide, lush textures.
If I had to pick one of these effects I would have to go for a great chorus unit and that's exactly what Cubase's 'Studio Chorus' plug-in is. Although chorus is often the most subtle of the modulation effects it is probably the most useable.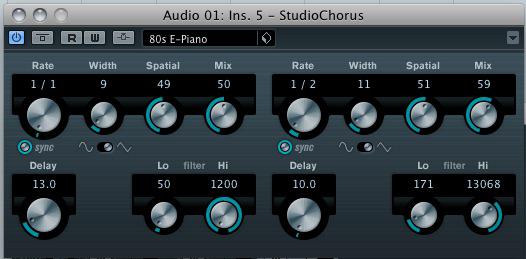 Try using this effect on rhythm guitar parts, or synths that lack sparkle. Using the presets will give you a pretty intense enhancement and this really is a great way to be introduced to the world of chorus units.
Hungry to learn more about Cubase and it's plugins? These tutorials will help you find out more!