iOS apps for guitarists and other instrumentalists have become numerous as iOS develops into a mature mobile operating system. Audio devices that connect via the Lightning port as well as wirelessly over bluetooth are becoming more and more popular. Seeing a musician performing with an iPad, iPhone, or iPod as a sidekick is no longer the rarity it once was. With these developments, it's time to focus on what iOS can do for you as a singer. Here are four of my favorite apps that make performing, practicing, and teaching vocals better in a variety of ways.
Vocal Warm Up from Musicopoulos

Vocal Warm Up is hands down my favorite app to help with a good vocal warm up. As a music director, I often find myself in a situation where I have to warm up my choir or cast of a musical in a hallway with no piano available. I'll also find myself backstage as a singer or in the car on the way to a gig with no real way to warm up in the consistent and controlled manner that I know is best for me.
Vocal Warm up is completely customizable and allows you to take known, effective vocal warm ups and put them in a range that perfectly matches you. You can save each customized warm up into a playlist and have playlists for short warmups, choral warmups, and even warmups matched to specific vocalists you might work with. There are a ton of warm up pitch combinations available and you can customize just about every aspect of them to fit your needs. This is not a simple pitch pipe, this is a powerhouse of vocal pedagogy in your pocket. It's one of the few apps I absolutely require my voice students to have on their devices.
VocaLive from IK Multimedia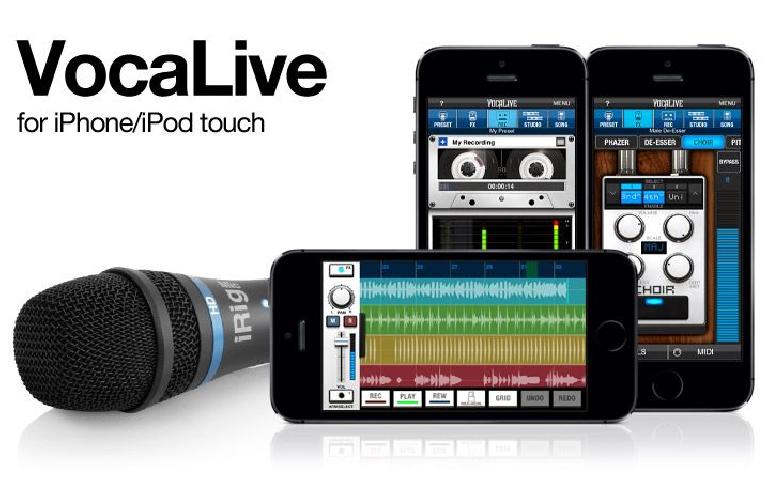 I've always been a big fan of vocalists taking control over their own sound with vocal processors. Guitarists and other musicians often spend hours crafting their perfect tone, so why should vocalists pursue sonic possibilities as well? With microphones that work perfectly with iOS as well as iOS audio interfaces that work perfectly with near-zero latency, it's within any singer's range to start amping up their vocal sound with some effects.
VocaLive allows you to choose from a suite of 12 real-time effects, as well as utilize a real-time recorder. You may or may not utilize the recorder live, but it's incredibly convenient to help tweak and craft your vocal sound. Voice cancellation allows you to utilize any song in your iOS library as a practice tool, so you can make instant karaoke-type tracks to sing along with in the car on the way to a gig. The Studio section of the app allows for easy recording as well as drag-and-drop looping, so you can really craft some interesting textures with this app as a performer.
forScore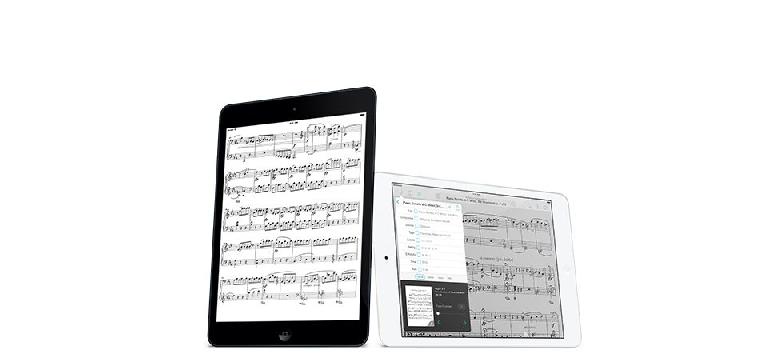 forScore is hands down the Porsche of apps dedicated to keeping your sheet music and charts organized. The feature set they've added at this point is so diverse it's just ridiculous. If you have a lot of tunes in your setlist, you likely are carrying a huge binder around with you or possibly even several. With forScore, you can kiss that goodbye. ForScore will allow you to manage your music in a way that will make you wonder how you ever lived without it.
You can scan right into forScore using the 'darkroom' function. Annotations are quick and painless. Program repeats, cuts, codas, and just about every other musical event you can think about. Need lyrics to a tune? You don't even have to type them. Find the lyric you need online, take a screenshot with the iPad, and simply open it in the darkroom page. There are extensive file backup/sharing options, setlists, a metronome, pitch pipe… the list goes on.
forScore has more features than you could ever know what to do with, but they are laid out in such a smart way it feels like a Russian nesting doll. The fact that they are able to pack this much power into an app and yet maintain a simple user interface is a marvel of engineering. If you're a professional musician, and you have an iOS device, you need forScore. It's as simple as that.
iReal Pro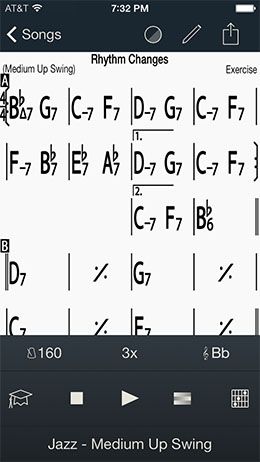 iReal Pro a fantastic app that will generate a backing band for you to sing along with that will match any chord progression you throw at it. It's a fascinating app that started its life out as a 'real book' collection (all you 'jazzers' will know what I mean) and when faced with some questionable copyright issues evolved into something incredibly more useful. Now, instead of providing you with simple lead sheet chord charts, iReal Pro allows you to quickly and easily make your own lead sheets. You can build a song by clicking inside of the measures, choosing what chord belongs there, inserting repeats and endings as needed, then… voila! You've got your lead sheet.
It doesn't end there, however. iReal Pro will take that lead sheet and automatically generate musical accompaniment that follows the chords you have programmed in. You get full control over a backing band that sounds unbelievably good for a computer-generated rhythm section. You can alter the feel, instruments used, key, mix, effects, and even how many times the song repeats if you're working on a solo. It's quickly becoming the new standard for jazz musicians and practicing, but with the wide selection of pop and rock 'feels' it works for almost any style of music as both a practice and notation tool.
Conclusion
The options for vocalists on iOS are quickly growing, and with iOS devices also growing in popularity, companies are giving us more options than ever. With a full-sized iPad Pro you now can have sheet music even larger than before all packed into an incredibly portable and powerful device. Sing on!
Learn more about using your iOS device to make music in The Academy.