Audio interfaces are maturing rapidly into devices which are more powerful, more flexible and more interesting than they ever have been. A device which used to do a single thing'"get sound into your computer'"now can come with a host of features to streamline your workflow, jumpstart your creativity, and save you a bunch of time in editing. Let's look at 4 specific interfaces that are helping to set the bar in terms of what they offer to musicians.

The Universal Audio Apollo Twin
The UA Apollo Twin has a whole lot to like about it. The chassis is sleek and sexy, it's intelligently designed, it has a UAD chip inside it and you get 2 great UA mic preamps! It has an ADAT port to accept 8 additional inputs (which pairs up nicely with their 710-D mic preamp) and uses Thunderbolt connectivity. All that is great, but the flagship feature here is access to both the vast UAD plugin library as well as the new Unison Mic Preamp library.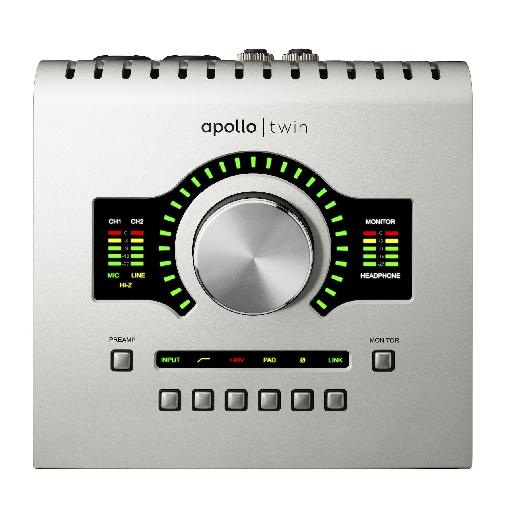 UAD Apollo Twin - The Unison technology on the Apollo Twin works as advertised'"the sonic versatility of these preamps is just amazing.
The plug-ins are powered by the Apollo Twin, so the processing burden is lifted from your computer and placed on the audio interface. You can actually record with UAD plug-ins and experience no discernible latency. The preamps are also digitally controlled analog, and they model classic preamps of old. Instead of using a plug-in that simulates the impedance level and gain-stage of a classic preamp, why not call up a Unison preamp model that actually changes the physical behavior of the preamp on the Twin? It's revolutionary, and the sound is incredible. Check out our in-depth review here.
Price: $699 USD for single processor SOLO, $899 USD for dual-processor DUO.
The Apogee One
I've yet to find an Apogee interface, no matter the price level, that isn't crystal clear and noise free. The Apogee One is a great way to get into the Apogee line of products at an entry level price. However, nothing about the One is entry level! The mic pre is pristine, the included software integrates into OS X at a level many other interfaces can only hope for, and the physical design is aesthetically beautiful.
Apogee and Apple have always been close partners, and if you're using GarageBand or Logic, then support for the One is extensive. It just feels like it was built specifically for your Apple device. The One also works flawlessly with iOS devices, and will even charge your iOS device while in use.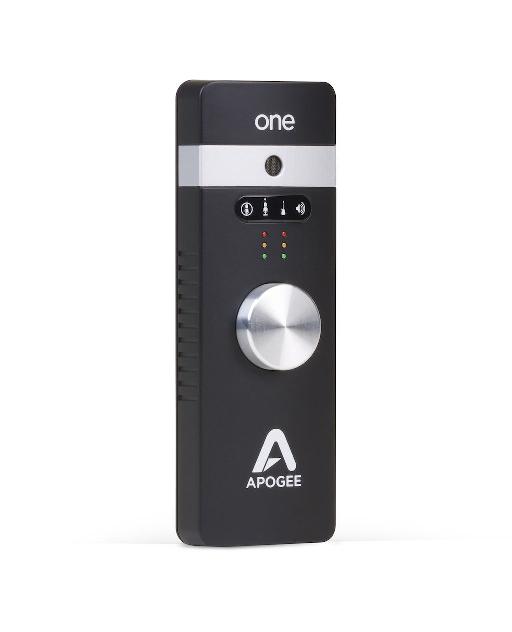 Apogee One - The Apogee One is not only a high-quality audio interface, it doubles as a microphone as well!
One of the most unique features of the One is that it actually has a built in microphone. You read that right'"a microphone is actually baked directly into the interface. It's a studio-quality condenser mic and the One comes with a mic clip that actually allows you to mount the interface like a microphone. So cool.
The MOTU 828x

The 828 from MOTU is a legendary piece of gear. It was the first FireWire audio interface available, and MOTU helped shape our expectations of what an audio interface could and should be. The 828x is a Thunderbolt beast that allows you to get an unthinkable 58 streams of audio I/O going in a single interface. Dual ADAT optical ports, rugged XLR main outputs, 192 kHz recording and two incredibly flexible mic inputs with hardware limiting and a ton of headroom.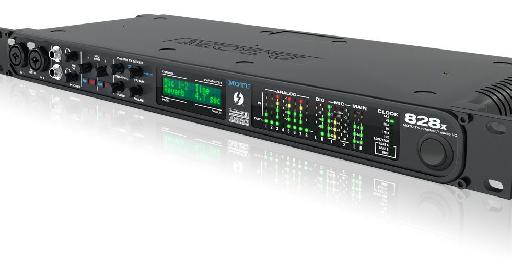 MOTU 828x - The rock-solid reliability and pedigree of MOTU now with Thunderbolt.
One of my favorite features of any MOTU audio interface is the wonderfully capable Cuemix FX digital mixer. Setting up no latency monitoring with or without effects on every single input and output is a breeze. The device will even '