You can experience savings of up to 84% via Time + Space for instruments, effects and samples from Toontrack, Spitfire Audio, iZotope , Heavyocity, UVI, Overlouds, Cinesamples, Rob Papen, Synthogy, and many more.
Click here: http://www.timespace.com/special_offers/ to view all the special offers now.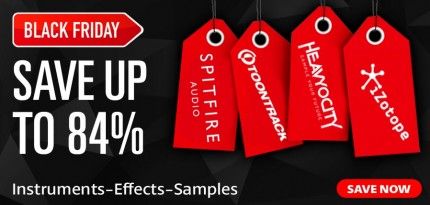 Here's a list of most of the deals Time+Space are running this Thanksgiving weekend.
33% off Hybrid Two cinematic sound design libraries – FRIDAY ONLY!
Friday, November 27, 2015
Creators of high quality Kontakt sample libraries, Hybrid Two, are offering their incredible Project BRAVO and Project ALPHA for 33% less on Friday only! Or buy both in the bundle for just £139.
40% off all Cinesamples libraries and instruments
Friday, November 27, 2015
CineSamples - creators of premium Kontakt virtual instruments are offering a notable 40% off ALL their products until the 1st December. Included in this deal is the brilliant CineSymphony range, as well as products from their Artist series, such as the Abbey Road Classic Upright Pianos, and Randy's Celeste.
30% off UVI instruments
Friday, November 27, 2015
UVI are offering 30% off all titles in their extensive library - consider this your golden opportunity to pick up instruments such as Mayhem of Loops, Vintage Legends, The Beast and much more. Offer ends 1st December and excludes Falcon.
50% off Overloud effects plugins
Friday, November 27, 2015
Overloud build digital audio tools with the same sound characteristics as the most acclaimed sound processors and musical instruments. Until 30th November you can save 50% off all titles (excluding the brand new TH3).
30% off Rob Papen synths and effects
Friday, November 27, 2015
Synthesis expert Rob Papen has announced 30% off his virtual synths and effects libraries including the Urban Synth and EDM Synth bundles. Love a thundering bassline in your music? Check out the cone-rattling SubBoomBass. Or, if your music spans numerous styles from cinematic to dance - Blue II is for you.
79% off Toontrack EZX Rock! Expansion for EZdrummer 2
Friday, November 27, 2015
Recorded by Grammy award-winning engineer Neil Dorfsman, Rock! is one of Toontrack ´s biggest EZXs to date with a jaw-dropping selection of completely unique kits – hybrids of mixed and custom made drum sets, tailored for any kind of rock. For use with EZdrummer (1 or 2) and Superior Drummer – now only £11.95!
84% off Toontrack EZkeys Retro Electrics Virtual Piano
Friday, November 27, 2015
EZkeys Retro Electrics includes two carefully captured electric pianos from classic German manufacturer Hohner - the Clavinet D6 and the Pianet N. Combined with the revolutionary and creative songwriting features of the EZkeys engine, this virtual piano delivers a timeless and distinct sound reminiscent of the golden ages of funk, soul and British Invasion.
84% off Toontrack EZmix 2 Multi-Effects Plug-in
Friday, November 27, 2015
Whether you´re mixing drums, bass, guitar, vocals, piano or adding that final touch to your master, with its more than 300 professionally designed audio processing settings, EZmix 2 is your one stop to a perfect, ready for release mix. For a very limited time only you can buy it for just £17.95 – that´s a whopping 84% off!
Up to 50% off Heavyocity Cinematic Instruments
Friday, November 27, 2015
Heavyocity develop cutting edge instruments and sounds for Kontakt with The AEON Collection, Gravity and the Master Sessions series at the heart of their product offering. Until 6th December, there´s up to 50% off the entire range.
Get a FREE world class Synthogy piano
Friday, November 27, 2015
Synthogy's Ivory II virtual pianos have received critical acclaim for their incredible level of realism and sublime playability. Until 4 January 2016, when you buy Ivory II Grand Pianos or Upright Pianos , we'll send you Italian Grand or American Concert D for free.
Save up to 66% on iZotope creative effects and instruments
Friday, November 27, 2015
Need some inspiration or just want a quick and easy way to shake up your signature sound? iZotope has launched savings of up to 66% across its range of creative effects and virtual instruments.
30% off Best Service Virtual Instruments
Thursday, November 26, 2015
Best Service are offering 30% off their virtual instruments and sound libraries including the extremely popular range of titles from Eduardo Tarilonte such as Cantus, Era Medieval Legends 2, Shevannai and more. Offer ends 30th November and excludes Emotional Cello and Organum Venezia.
50% of all Samplephonics titles!
Thursday, November 26, 2015
From jazz vocals to analogue synths, twisted mangled FX to drum and bass, Samplephonics offer a huge choice of sample libraries in a variety of formats to suit your music production preferences. Until 30th November there´s 50% off all of them!
20% off Epic Soundlab
Thursday, November 26, 2015
Epic Soundlab produce sounds and FX for film, TV and video games all delivered in the popular Kontakt instrument format. Until 1st December, you can save 20% on Maliki Epic Adventure Drums, Octomorph FE (scapemorphing sound design tool) and hybrid scoring instrument The Forge.
25% off Spitfire Audio virtual instruments and sound libraries
Thursday, November 26, 2015
The ethical sound smiths at Spitfire Audio are giving you 25% off their huge range of sample libraries and instruments until 1st December. Excludes recently released products.
Up to 80% off all Vir2/Big Fish Audio virtual instruments and sample collections
Wednesday, November 25, 2015
Vir2 and Big Fish Audio are offering discounts of up to 80% across a huge choice of sample libraries and Kontakt instruments, until the 29th November. Whether you need cinematic sound fx, some urban inspiration, or Indie instruments, there´s plenty to choose from.
Save up to 30% on ProjectSAM Symphobia Orchestral Virtual Instruments
Tuesday, November 24, 2015
From immersive ensemble recordings and intense cinematic orchestral effects to an instrument that dives into a world of fantasy mystery animation, ProjectSAM ´s Symphobia series has become a staple in the studios of composers around the world and can be heard on many a TV and movie soundtrack. Now also available to download!
35% off Soundiron Instruments and Samples
Monday, November 23, 2015
Kontakt sample library and instrument developer, Soundiron , has 35% off all titles* until 30th November. Amongst the extensive range of titles you´ll find a selection of libraries containing sounds derived from unusual instruments and sound sources for a unique sonic twist to your music. *Offer excludes The Omega Collection.
Save big on bundles with up to 66% off Zero-G Sample Libraries
Monday, November 23, 2015
Sample specialists Zero-G are giving you the opportunity to bag yourself a bundle of cinematic and sound design libraries for an incredibly low price. There are five bundles to choose from each featuring three or four libraries that will send your soundtracks or electronic music to another level.
30% off The Unfinished Omnisphere expansion packs
Monday, November 23, 2015
If you own Spectrasonics Omnisphere , this is a deal for you! Save 30% off all sound sets from The Unfinished until the 30th November and add an injection of extra inspiration to your Omnisphere sound banks. Also includes Rapture for Spectrasonics Trilian. *excludes Colossus titles.
20% off Cinematic Strings 2 Kontakt Instrument
Friday, November 20, 2015
Cinematic Strings 2 is a phenomenal Kontakt virtual instrument makes it quick and easy to create classy-sounding orchestral string scores of great vibrancy, colour, power, lushness and emotionality. Save 20% until 4 th December.
50% off Audiority soundsets for Omnisphere
Friday, November 20, 2015
A great deal for users of Spectrasonics Omnisphere! Audiority sound sets are reduced in price by 50% until 1st December! These high quality presets include titles for producers creating atmospheric soundtracks and underscores as well as creators of electronic dance music.
Complete your Rob Papen Virtual Synths and Effects Plugin collection for less
Friday, November 20, 2015
Want to own the entire Rob Papen virtual synths and effects product line for an incredibly low price? We´ve got eXplorer III crossgrade deals for users who own at least one Rob Papen plugin and if you own three you can get the entire collection for just £99.95!
3 for 2 Boom Library Sounds Effects Black Friday offer!
Monday, November 16, 2015
The Boom Library Black November Sale starts today, with 3 for 2 on all Boom Library titles. This is your chance to upgrade your personal SFX library with some fresh sounds.
Toontrack offer additional free products with EZ range of software
Thursday, October 29, 2015
On the day that sees the launch of their infamous Metal Month , Toontrack has announced some fantastic offers across their EZ line of software. EZdrummer 2, EZkeys and EZmix 2 are all designed with the intention of giving users the tools they need to get inspired and create tracks quickly and easily.
Save up to 50% on Toontrack drum software
Thursday, October 29, 2015
Save 40% on Superior Drummer now only £101.95 / 139.00 Euros*. Save 50% on SDX Expansion packs for Superior now only £50.95 / 68.99 Euros each*. Save 50% on EZX Expansion packs for EZdrummer now only £20.95 / 28.99 Euros each*. Offers end 31st January 2016 and exclude recently released titles.
Web: http://www.timespace.com/special_offers/