The NeoFM expansion has a clear focus on the best that FM synthesis has to offer. Tapping into the depths of Nemesis' powerful neoFM synthesis, it offers unique sounds that are impossible to get with other synthesisers. Featuring 200 exclusive neoFM presets, it is the ideal library to expand your Nemesis with. Imagine the sweetest FM keys and semireal sounds, evocative pads, cut-through synths and organic atmospheric sounds, all the way up to the dirtiest basses & warped arpeggios.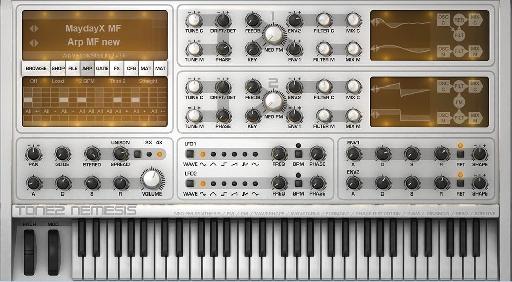 One of three skins the neoFM expansion pack brings to Nemesis.
The NeoFM expansion also contains an inspiring collection of 152 new waveforms that you can use to create your own sounds, or edit existing presets with. 3 fresh new skins are included to change the way your Nemesis synth looks.
This expansion is packed with rich sounds ready to be used in any production and covers the complete range of styles, whether you're interested in that classic FM sound or looking for nasty FM vibes, NeoFM is there to provide!
Highlights
200 superb presets by professional sound designers

152 additional waveforms

Customize Nemesis with 3 additional skins (Blue, Gold and Green)

Unique sounds by using the innovative neoFM synthesis

Comfortable installation

Perfect integration into the user interface

Perfect for many genres, such as, Complextro, Trance, Electronica, EDM, Cinematic, Dubstep, Drum and Bass, Dirty Dutch, Progressive, Techno, HipHop and a wide variety of other music genres.
For more info please visit the NeoFM expansion product page: https://tone2.com/html/neofm.html