A major upgrade to our ElectraX synthesizer, Electra2 offers a large range of new features and enhancements. Like a comfortable patch browser to give you an instant overview of all available categories and sounds.

16 new effects, a sample editor, Physical Modeling synthesis, 5 new filter types, enhanced sound quality, improved user interface and a huge number of further enhancements.
Electra2 breathes new life into the term "synthesizer workstation". With its powerful and sonically versatile approach to audio production, it provides you with truly outstanding new sounds. Electra2 is ready for any type of music you play!
The instrument is equipped with a high-end quality sound engine, multilayer support and a wide range of music production features, but it's designed to put you in control. Its friendly hands-on interface allows first-timers to easily create sounds and experts to delve into sound design as deeply as they want to. And with Tone2's high quality sound technology at its core, you're not only working with a greater palette for creating original sounds, but also the best sound quality possible, with a lower CPU usage than any other type of workstation or synthesizer.
Electra2 comes with an astounding sound collection of over 1200 production-ready sounds by professional sound designers. A comfortable patch browser is provided to give you an instant overview of all the available categories and sounds, together with an on-screen keyboard to audition them from within the patch browser. Picking the sound you want is as easy as it can be.
In addition to its huge sound library, Electra2 is equipped with many user-friendly control options, in case you want to tweak sounds or craft your very own. Each of its 4 layers consists of a powerful multitimbral synthesiser with no fewer than 14 different synthesis methods.
Mix your own synth sequences with effects, import your own samples with a mouse click, use multiple arpeggiators to produce that massive bass line, create orchestral stacks, program groovy drumloops or play vocoder sounds with samples of your own voice. The sky is the limit...literally.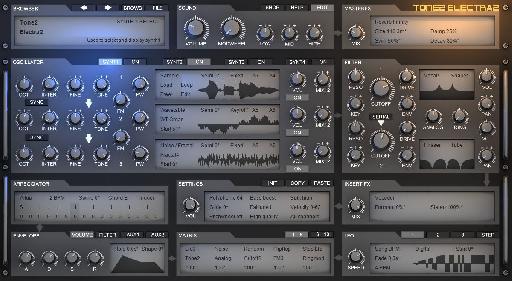 Multilayer = power4
Playing with Electra2 is big fun, since the multilayer architecture allows you to create impressive tracks just by pressing a single key. "Multilayer architecture" means that you have access to four synthesizers at the same time and all within one comfortable interface.
Each of the four layers works as an independent, full-featured multitimbral synthesizer consisting of up to 54 oscillators, dual multi-mode filters, a flexible modulation system, an effects section and its own arpeggiator. With this and the 14 different types of synthesis available, it's guaranteed your sound design possibilities are virtually endless.
You can edit your sounds layer by layer, or edit multiple layers simultaneously. Separate synthesizer layers can be saved and loaded, which allows you to simply grab a layer you like from a patch and load it back into another patch. Combine different layers, mix different types of synthesis, use keyboard splits and use different play modes like Poly, Mono, Legato or Glide per synth layer. Most of the patches that come with Electra2 already use multiple layers so mixing and merging your favorite patches into a new multilayer sound is extremely simple.
Samples have never been so easy to use
Electra2's sample capabilities go far beyond normal playback. Load and manipulate your samples in ways that are impossible with other synths or samplers. If you want, samples can be automatically tuned when you load them. Electra2 makes sure that your samples are always played back in the highest quality possible.Play back samples in single, loop mode or use the loop markers to set your own loop points. A comfortable auto loop function allows click-free loops with no hassle.

The sample engine offers an edit menu with a wide selection of sample edit options, as well as no less than 12 effects to further process your samples. Special Quick-import-sample- and Quick-Vocoder menu options are provided to guide you through setting up a sample or vocoder patch, just follow the on-screen directions and Electra2 will do all the work for you.
Your custom sample content is stored automatically with your songs or as a compact and compatible fxp file. That's why you won't have to deal with broken songs, missing files or managing huge archives as in conventional samplers.
With a higher sound quality than competing products, using samples together with synthesis has never been this easy: import your own samples, edit & process them where needed, and play.
Oscillators and Synthesis
With an incredible selection of 14 different types of synthesis, Electra2 truly is the "Swiss army knife of synthesis methods" (Beat Magazine). Its versatile synthesis engine can easily replace a studio filled with hardware.
The synthesis types range from traditional ones like the classic Virtual Analog, Wavetable, Subtractive, Phase Distortion and FM synthesis, up to Physical Modeling, Ultra-saw, Vocoder, Sync, Ringmod, PWM, Noise, Wave-shaping and Tone2's exclusive Fractal synthesis.
Each synthesis type was designed with careful attention to sound quality, musical potential and low CPU usage. They offer enormous scope for sound creation, being limited only by your imagination. So let your creativity run wild!
Mix different types of synthesis within one or multiple layers, import samples, resynthesize a waveform or use a vocoder on one of the layers. You can literally build any sound imaginable and open up whole new worlds of sonic capabilities in innovative and inspiring ways.
Filters
No synthesizer workstation would be complete without an excellent filter section, which is why each layer within Electra2 contains two multi-mode filters with 37 unique filter types, and 3 tone controls, as well as multi-mode distortions.
These filter types range from traditional analog filters like Moog Low Pass, High Pass and Bandpass, up to digital ones like Vocal, Phaser, Aliaser and Fractal filters. A large number of these filter types are exclusive to Tone2 and not available in any other product.
The filters are able to self-oscillate and to produce a wide range of timbres, allowing you to further sculpt your sound to perfection. Most of the filter types use a special Analog control, which allows you to vary the amount of analog behavior applied by the filter. The filters use a real-time display to make it easy to see and understand how the filter is modifying your audio signal. A dual distortion unit completes this section with six different modes, which range from classic tube pre-amp distortions, to fuzz-box type distortion, and all the way to wave shaping.
Effects
As important as anything else within a synthesizer workstation are the effects. A great deal of time was spent to ensure that Electra2 featured a suite of high-end quality FX that perfectly sync to BPM.
No less then 32 different effect processors are available from the effects section, ranging from reverb, delay, multi-tap delay, smart unison, trancegate, chorus, flanger and phaser, up to vocoder, tremolo, vibrato, surround encode, rotary, EQ, distortion, amp simulation and compressor. A very unique 'Reverb Infinity' effect is also included, which allows you to have an endless reverb signal that continues on forever. Both a master effect and 4 insert effects are provided to offer a wide variety of effect possibilities.
Electra2 also offers smart micro tuning, which makes chords sound fatter and more transparent at the same time. Optional punch and psychoacoustic features are also included to add a little kick to your sound.
Arpeggiator
The arpeggiator section offers an extended, yet hands-on way to both create and play arpeggios. By employing smart algorithms it ensures melodies are more useful musically than those offered by conventional arpeggiators.
Best of all, using Electra2's multilayers you can have 4 arpeggiators at the same time, together with a host of editing features this allows you to make your arpeggio sequences as simple or diverse as you want it to be.
The arpeggiator also supports optional advanced features such as autochords, pitch slides, legato, swing-shuffle and matrix integration. And working with the arpeggiator is simple, just select your notes as you normally would and set the play direction.
Modulation
Electra2 features an extensive modulation section for each of its layers, allowing you to add modulation when or wherever you need it. Modulation is done using fast and punchy-sounding envelopes, high quality LFOs which can be synchronized to BPM and modulate up to the audible range, as well as a step LFO which can be used to create rhythmic sequences or custom wave shapes.
LFOs and Envelopes each use a real-time display to make it easy to see changes and get an instant overview of which settings are used. Using the modulation matrix you can further enhance your sound and modulation can be as simple or complex as you want it to be. Electra2's modulation system is there to provide whichever modulation routing you require to create the perfect sound.
For more info please visit the Electra2 product page: https://tone2.com/html/electra2%20overview.html