Es gibt einige grundlegende Prozesse, die fest in den "Jargon der Kategorie" bis zu einem gewissen Anfänger bleiben. Obwohl Normalisierung ist als Feature in fast jeder DAW (und Audio Editing Software) einige Nutzer vielleicht noch nicht wissen, wann es zu benutzen.
Hopefully this Quick Tip will go some way to clarifying when to apply normalization techniques to your music.

Was ist Normalisierung?
Da dies nur eine kurze Beschreibung des Prozesses werden wir nicht zu stark vertiefen sich in die Mathematik. Im Wesentlichen ist die Normalisierung ein Prozess, der das Niveau eines jeden Audio-raist auf eine vordefinierte maximale ohne Clipping.
Wenn Audio normiert ist Ihre Software wird die Datei für einen Spitzenpegel suchen und verschieben Sie diese auf den definierten Maximalwert. Der Rest der Datei wird dann bis zu der gleichen relativen Niveau gebracht werden. Dies ist, wie Null-Clipping erreicht wird.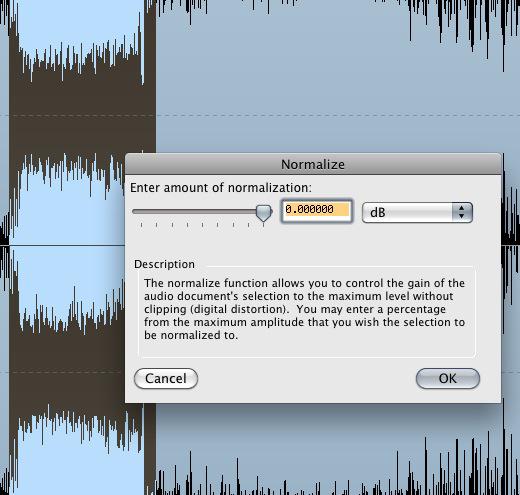 Viele Anwendungen vereinfachen die Normalisierung verarbeiten und nutzen 0db als Standardwert für die maximale, während andere dem Benutzer zu ermöglichen vordefinieren der Ebene zu tun. Sie werden in der Regel feststellen, dass engagierten, professionellen Sample-Editoren wie Peak Pro (OSX) und Wavelab (Windows) wird ein umfassender Feature-Set Sport.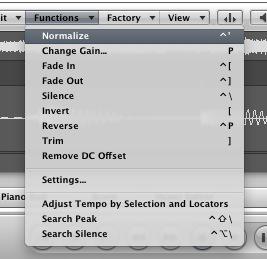 Wenn zu normalisieren
Die Normalisierung kann ein großes Werkzeug für die schnelle Steigerung der Wert einer Probe oder Aufnahme ohne sich Gedanken über Clipping werden. Denken Sie daran, dies ist nur eine relative Steigerung des Signals, so dass keine wirkliche Verarbeitung stattfindet. Ihr Ton sollte herauskommen klingende die gleiche wie in ging!
Die ideale Bühne, um eine Normalisierung gelten nur, nachdem Sie einige Verarbeitung angewandt und exportiert das Ergebnis. Compression-, Modulations-Effekten oder ein anderer Prozess kann Ihr Gewinn reduziert haben. Die Normalisierung kann Ihnen dabei helfen.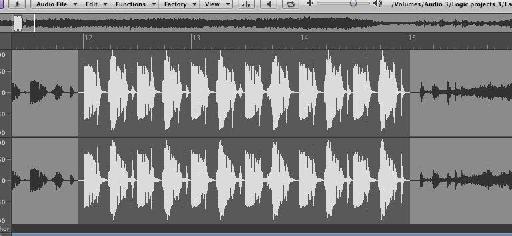 Natürlich könnte man einfach erhöhen den Gewinn später aber die Anwendung Normalisierung kann eine schnelle Lösung und geben Ihnen einen guten gesunden Pegel direkt an der Quelle. Dies kann oft helfen, einen dynamischen Sound-Mix und geben Ihnen einen schönen heißen Signal auf weitere Prozessoren.
Fortschreitende Vorsichtig
Es gibt Situationen, in denen Sie sich gut überlegen, Normalisierung als Option könnte. Der Hauptgrund dafür ist, dass bei einer Erhöhung des Kanals mit einer Technik, es ist nicht nur das Signal, dass eine erhöhte Ebene, sondern auch die Höhe eines etwaigen Störungen oder Defekte in Ihre Audio.
In diesem Sinne, wenn Sie eine sehr ruhige Aufnahme, die eine relativ hohe Grundrauschen hat normalisieren wählen, wird das Rauschen mit dem Signal erhöht werden. Dies wird nur zu einem höheren Lärmpegel führen und das ist nie eine gute Sache.
In diesen Situationen ist es wahrscheinlich eine gute Idee, zurück ans Reißbrett oder darüber nachdenken, Wiederherstellung oder Rauschunterdrückung Werkzeuge. In vielen Fällen jedoch kann die Normalisierung ein äußerst nützliches Werkzeug und sicherlich ein Prozess bewusst zu sein werden.
Schauen Sie sich diese Tutorials für mehr Studio-und Recording Techniques!