Where do we start with SLOO, Tim Exile's latest instrument? SLOO stands for "Shed Loads Of Oscillators." It's also using a type of synthesis unlike those you'll find in traditional monophonic or polyphonic synths, called voice swarming. (Think: swarm of birds flying and readjusting in flight). In a nutshell, this allows you make super fast transitions between completely different types of sounds.
From Tim Exile's SLOO press release:
"SLOO breaks the traditional paradigm of mono/poly synths by using a technique called Voice Swarming which allows lightning fast transitions between huge basses, complex pads, fractal sound FX and mutated polyrhythms.
"SLOO is designed for live performance as much as it is for composition in a traditional DAW environment. It has performance features such as Live Quantise, Scale Maps, Adaptive key mode."
Just watch the video promo here. Just do it.
So what is voice swarming exactly? Tim Exile explains how voice swarming works:
"Voice swarming works by generating a swarm of variations for each parameter. This swarm is controlled by the centre, pattern and amount controls. Close swarms behave more like a monosynth, distant swarms more like a polysynth. Individual parameters can swarm in different densities. For example the pitches could be very close while the filter cutoffs are far apart.
"The relative positions of each voice to each other is called a swarm pattern. Swarm patterns can be randomised individually or all at once using the Randomise buttons. The last 16 randomisations are automatically stored and recalled using the History Wheel."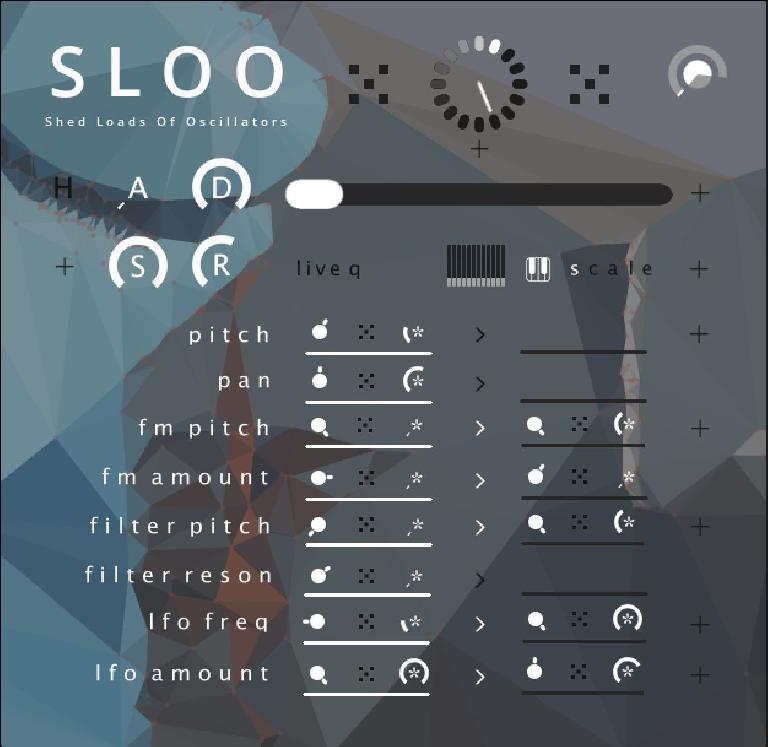 We asked Tim where the inspiration for SLOO came from. He explained is was "from a project I was doing with IBM where they asked me to come up sonifications for some of their algorithms. The very first prototype for SLOO was to generate one of those sonifications. It sounded so good that I just had to push it… and push it and push… until I ended up with the SLOO that's released today."
Seeing as SLOO uses quite a unique and complex approach with voice swarm tech, Tim found "the biggest challenge in creating SLOO was CPU usage. SLOO is pretty heavy but it could easily have been heavier. I wanted to make the best use of the dense sound that SLOO is so good at creating".
The sound design potential of SLOO is nothing short of incredible. Take some food and drink into your studio space and prepare to be immersed in a shed load of oscillators for a long time..!
Features at a glance
Standalone or plugin operation through Native Instruments' Reaktor 6.1.1
103 original presets
Support for Komplete Kontrol S-series keyboards
48 parametric voices with multi-shape oscillator, FM, multimode filter and tempo-synced parametric LFO
Swarm pattern randomising with history and automation
Parameter morphing
Scales and scale automation
Live quantise
System requirements
MacOS 10.10 onwards, Intel Core 2 Duo or higher
Windows 7, 8, 9 and 10, Intel Core 2 Duo/AMD Athlon 64 X2 or higher
Installation of Native Instruments Reaktor 6.1.1 with full licence
Native Instruments Reaktor Player is not supported
Price: £39 GBP / $48 USD / €45 EUR.